Phuket has long established itself as a prime holiday destination in Thailand, both for international visitors and Thai nationals. One of the many attractions of this diverse area is its large choice of golf courses, catering to players of varying levels and all set against a stunning natural backdrop that is hard to beat.
Phuket is easily one of the top golfing destinations in Thailand. With the number of courses reaching double figures, there are sufficient opportunities to challenge yourself with different layouts, long drives and short holes. One place that combines all these challenging aspects with panoramic mountain vistas and sparkling turquoise sea is Aquella Golf and Country Club, the Phuket golf community's new kid on the block.
Location, Location, Location
Built in 2021, Aquella Golf Course & Country Club nestles in a prime location in the Phang Nga province, bordered by the pristine Andaman Sea on one side and distant tropical mountains on another. It lies along over 2km of private beach and is a short 25-minute drive from Aleenta Phuket-Phang Nga Resort & Spa, making it easily accessible for resort guests who want to try their luck around 18 holes.
The golf course is just one part of a resort complex that encompasses more than 1.8 million square kilometres, and is a one stop shop for luxury leisure activities in the area. While golf lovers are swinging their irons on the beautifully landscaped course, those who prefer something a little more calming can enjoy the spa facilities, while others who like to feel the burn can whip their bodies into shape in the state of the art gym. It's an exclusive spot for a recreational day out before heading back to Aleenta for some exotic Asian cuisine.
What Golfers Want to Know
Designed by the award-winning Australian outfit Pacific Coast Design and built on the site of the former Thai Muang Golf Course, Aquella is an 18-hole par 72 course that stretches over 7,000 yards. The undulating fairways are dotted with strategically-placed bunkers ensuring that each hole has its fair share of challenging play. Additionally, the bunker faces are lined with vintage railway sleepers so each shot out of the sand must be carefully planned and executed.
Imposing water hazards add a further degree of difficulty. However, with accuracy off the tee and good shot control, you should be able to avoid these with ease.
The signature hole at Aquella Golf Course is the par three eleventh, a mere 161 yards from the white tee and possibly one of the shortest holes on the course. This hole thrills the senses, with sights, sounds and smells of the Andaman Sea at every turn. A large bunker on either side of the green means the accuracy of your shot is key, while the downward slant to the back of the green demands a significant level of control. A par on this hole shouldn't be taken for granted.
Thailand is prone to monsoon rains and the Phang Nga province gets its fair share of rainfall. For this reason, special attention was given to the drainage element of the course to ensure that Aquella is playable all year round. Additionally, it's laid throughout with Paspalum Platinum Grass which is proven to be tolerant to salt and particularly well-suited to warm climates. This grass has a tendency to grow straight upwards assisting the lie of the golf balls on fairways and enabling them to sit up in the semi-rough and rough.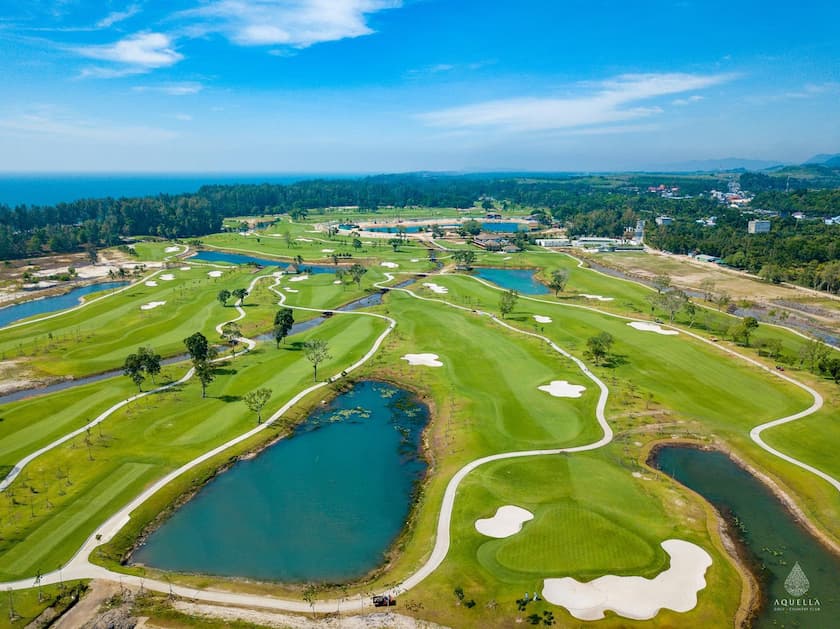 Navigating the Course
While it is certainly possible to walk the course, you can also purchase a green fee package that includes a golf buggy. All buggies are equipped with GPS so you should never find yourself on the wrong hole, unless you've put your ball there with a badly place shot!
Distinct buggy pathways assist in your navigation of the course, while making sure you don't stray onto the fairways and greens. The pathways are dotted with bamboo tunnels that add a cooling element to your trip between shots, shielding you from the harsh sun and opening out onto stunning vistas as you approach a new tee box.
Caddies are available for a small fee and their knowledge and experience of this fledging course may make all the difference to your final score.
Golfing Extras
To get off to the best start possible start, warm up for your tee shots at the 20-bay covered driving range. The range features state of the art automatic ball dispensers and the well laid out bays give a feeling of space and allow you to focus on your shot.
The resort includes an 18-hole mini golf course also designed by Pacific Coast Design. It's complete with natural hazards and bunkers making for good family fun to mirror your adventure on Aquella's championship course.
A well-stocked pro shop is a must at any course and Aquella has a range of golf clothing, accessories and equipment from top brands as well as its own branded gear. It's a great place to treat yourself to a souvenir from this top-quality golf course before you head back to the beautiful Aleenta Phuket Resort to continue your sun-filled holiday.
Related Articles
ALEENTA PHUKET RESORT & SPA
33 Moo 5, Khok Kloi,
Takua Thung, Phang Nga
82140 Thailand