Embracing the allure of azure skies, sun-drenched shores, and a wellness culture steeped in centuries-old traditions, Thailand has long been a magnet for discerning travellers seeking a balance of relaxation and rejuvenation. For German tourists, this enchanting Southeast Asian nation offers an irresistible blend of sun, sea, and wellness experiences beyond the standard holiday fare.
Thailand, the land of smiles, is a medley of experiences. It sparkles with golden temples and lush landscapes, hums with vibrant markets and nightlife, and soothes with its tranquil beaches and wellness retreats. Here, wellness is not just an afterthought; it's a lifestyle deeply ingrained in the culture. From traditional Thai massage and meditation retreats to organic culinary experiences, Thailand offers a cornucopia of wellness experiences that blend seamlessly with its natural allure of sun and sea.
Whether it's the tropical allure of Phuket and Hua Hin or the mountainous tranquillity of Chiang Mai, Thailand promises a diverse palette of experiences that cater to a broad spectrum of preferences. Through the lens of Aleenta Resorts, we will explore these unique locations and their offerings, ensuring that you, as a German traveller, have a comprehensive guide to crafting your perfect sun, sea, and wellness holiday in Thailand.
Why Thailand
Thailand has long captured the hearts of globetrotters and wellness seekers alike with its warm hospitality, diverse landscapes, and deep-rooted culture of wellness. This convergence of elements makes it an idyllic setting for a sun, sea, and wellness holiday.
Offering a tropical allure year-round, Thailand has abundant sunshine, making it a paradise for sun-seekers. The country's climate plays a significant role in its appeal. The dry season is particularly enticing from November to April, with clear skies, lower humidity, and gentle warmth. It is an ideal time to bask on the sun-drenched shores or partake in outdoor activities.
The diverse landscapes of Thailand further enhance its allure. From the turquoise waters and white sandy beaches of the southern islands to the verdant hills and valleys of the northern highlands, each region offers its unique charm and experiences. These landscapes provide not only a stunning backdrop for relaxation but also numerous opportunities for outdoor activities, from beach yoga and sea kayaking to mountain biking and hiking.
However, what truly sets Thailand apart is its wellness culture. Rooted in the age-old practices of traditional Thai medicine and Buddhist philosophy, wellness in Thailand goes beyond the physical. It encompasses a holistic approach to health that includes the mind, body, and spirit. This ethos is reflected in the myriad wellness experiences available, from traditional Thai massage, yoga and meditation retreats, to therapeutic hot springs and wellness-oriented culinary experiences.
Moreover, Thailand is renowned for its spa and wellness resorts, many of which have been recognised globally for their exceptional services and commitment to wellness. These resorts, including the Aleenta Resorts, offer a harmonious blend of luxury and wellness, providing guests with personalised wellness programs in stunning natural settings.
Whether you're a seasoned wellness traveller or just beginning your wellness journey, Thailand has something to offer to enrich your mind, invigorate your body, and soothe your soul. In essence, Thailand presents a holistic holiday experience. It's a place where you can bask in the warmth of the tropical sun, cool off in the crystal-clear sea, and immerse yourself in transformative wellness experiences.
Journey from Germany to Thailand
Travelling from Germany to Thailand offers several options to ensure your journey is as smooth and comfortable as possible. Several airlines provide direct flights from major German cities like Frankfurt and Munich to Bangkok, the leading international gateway to Thailand. Furthermore, airlines such as Thai Airways, Lufthansa, and Emirates provide frequent connecting flights, allowing you to customise your travel plans. The flight duration is approximately 11 hours, depending on the city of departure.
Basic requirements for German tourists:
Visas: German citizens are allowed a 30-day visa-free entry via an international airport and a 15-day visa-free entrance through a land border checkpoint from a neighbouring country. For stays longer than 30 days, a tourist visa should be obtained from a Royal Thai Embassy or Consulate before arrival.
Vaccinations: While no vaccinations are officially required to enter Thailand, it's advisable to be up-to-date with routine vaccinations like measles, mumps, rubella, diphtheria, tetanus, and pertussis. Vaccinations for Hepatitis A and B, Typhoid, and Japanese Encephalitis may also be considered based on your travel plans and medical history.
Travel Insurance: Although not a requirement, it's highly recommended to have travel insurance that covers medical expenses, trip cancellation, lost luggage, and other potential travel disruptions.
Remember, it's always a good idea to check the latest travel advisories and guidelines from the official website of the
Sun, Sea & Wellness Holidays with Aleenta
Among some of Thailand's most scenic landscapes, Aleenta Resorts have carved a niche in luxury hospitality, redefining the paradigms of sun, sea, and wellness holidays. Balancing the sophistication of modern comforts with a profound respect for the environment, each Aleenta Resort embraces the essence of its location to provide immersive experiences that resonate with tranquillity, wellness, and sustainable luxury.
Let's delve deeper into the unique charm and offerings of each of the three Aleenta Resorts.
1. Aleenta Phuket
Nestled along the sun-kissed shores of Natai Beach, Aleenta Phuket Resort and Spa is a beachfront haven in the tranquil environs of Phang Nga. The resort seamlessly blends into its natural surroundings, offering a private and serene escape from the world. Its commitment to sustainability is evident in its eco-friendly practices and locally-sourced cuisine. The resort boasts a world-class Ayurah Wellness Centre, offering bespoke wellness experiences that align with the healing rhythms of nature. Guests can enjoy beach yoga and Thai boxing classes or explore turquoise waters through various water sports.
2. Aleenta Hua Hin
In the quiet seaside town of Pranburi, Aleenta Hua Hin Resort and Spa present a tranquil retreat amid lush tropical gardens and serene beaches. A pioneer in sustainable tourism in the region, this resort takes pride in its organic farm, which supplies fresh produce for its culinary delights. The resort's wellness offerings include yoga, tai chi, reiki, and various spa treatments using organic products. The resort's proximity to Pranburi Forest Park allows guests to engage with nature through guided treks and eco-tours.
3. Aleenta Chiang Mai
Perched in the mountainous landscape of Chiang Mai, the Aleenta Chiang Mai Resort and Spa offers a unique wellness retreat. The resort merges traditional Lanna architecture with modern design elements to create a tranquil sanctuary celebrating the region's cultural heritage. The wellness programs at Aleenta Chiang Mai focus on mindfulness, detoxification, and rejuvenation, incorporating elements like yoga, meditation, and traditional Thai therapies. The resort's location also allows guests to explore the rich cultural tapestry of Chiang Mai through temple visits, artisan village tours, and local cooking classes.
Each Aleenta Resort uniquely encapsulates the quintessence of a sun, sea, and wellness holiday, offering German tourists myriad experiences that harmoniously blend relaxation, rejuvenation, and responsible travel.
Aleenta Phuket Resort & Spa

Beachfront Bliss in Phang Nga
Aleenta Phuket Resort and Spa, nestled along the pristine coastline of Natai Beach, offers a luxurious escape into Thailand's natural beauty. Renowned for its crystal-clear waters and white sandy beaches, this award-winning beachfront resort epitomises a tranquil, sun-soaked getaway.
The resort's beach is a paradise for sun and sea enthusiasts. The stunning coastline allows for various activities, from leisurely beach strolls and sunbathing to more adventurous pursuits like paddleboarding and kayaking. The absence of large crowds adds to the sense of exclusivity, creating a serene setting where guests can truly connect with nature.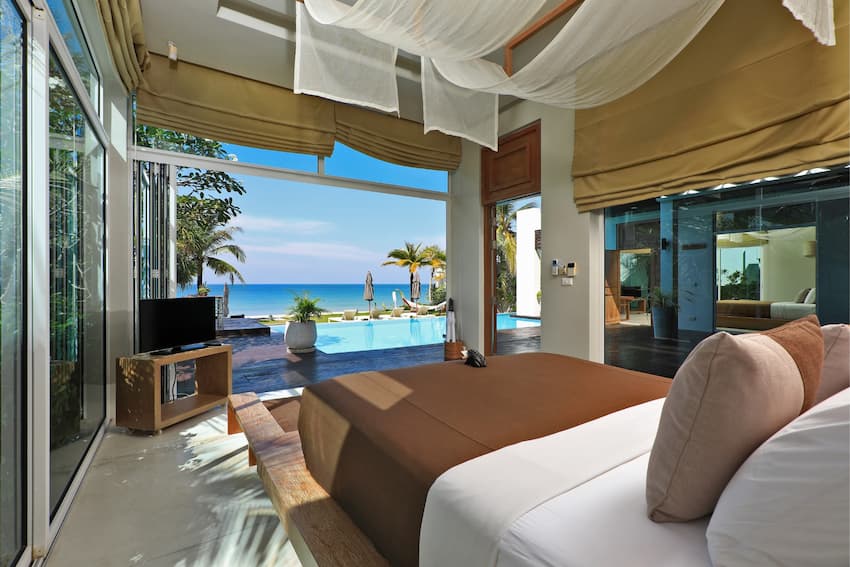 Central to the Aleenta Phuket experience is its focus on wellness. The resort's Ayurah Wellness Centre takes a holistic approach to health and well-being, offering various therapies and treatments designed to rejuvenate the mind, body, and spirit. Guests can partake in personalised wellness retreats, yoga classes, and traditional Thai therapies, all guided by expert wellness practitioners. The wellness journey extends to the resort's culinary offerings, with a menu that emphasises organic, locally-sourced ingredients prepared in ways that preserve their nutritional integrity.
Aleenta Phuket also offers many activities beyond the beach and wellness centre. Guests can explore the natural and cultural treasures of Phang Nga through guided tours, including trips to the stunning Phang Nga Bay, known for its limestone karsts and emerald-green waters, and visits to local temples and markets, offering a glimpse into the region's rich cultural heritage.
A commitment to eco-friendly practices permeates every aspect of the Aleenta Phuket experience. The resort's design incorporates sustainable materials and energy-efficient technologies, minimising environmental impact. Water conservation measures, waste management programs, and using organic, locally-sourced ingredients in its restaurants further underscore the resort's commitment to sustainability.
Aleenta Phuket Resort and Spa, with its stunning beachfront location, holistic wellness offerings, and dedication to eco-friendly practices, offers an unrivalled sun, sea, and wellness holiday experience in Phang Nga. It's a place where German tourists can immerse themselves in the tranquillity of nature, engage in enriching experiences, and partake in a journey of wellness and sustainability.
Aleenta Hua Hin Resort & Spa

Coastal Tranquillity in Pranburi
Located in the serene seaside town of Pranburi, the Aleenta Hua Hin Resort and Spa offers a unique blend of coastal tranquillity and sustainable luxury. Nestled amid lush tropical gardens and framed by the azure waters of the Gulf of Thailand, the resort provides a peaceful retreat that harmoniously aligns with its natural surroundings.
The beachfront location of Aleenta Hua Hin offers guests direct access to the unspoiled Pranburi coastline. Visitors can indulge in beach activities, from morning yoga sessions to horseback riding along the sandy shores, or relax and soak up the sun in this serene coastal environment. The resort provides options such as windsurfing and kiteboarding for those who crave adventure.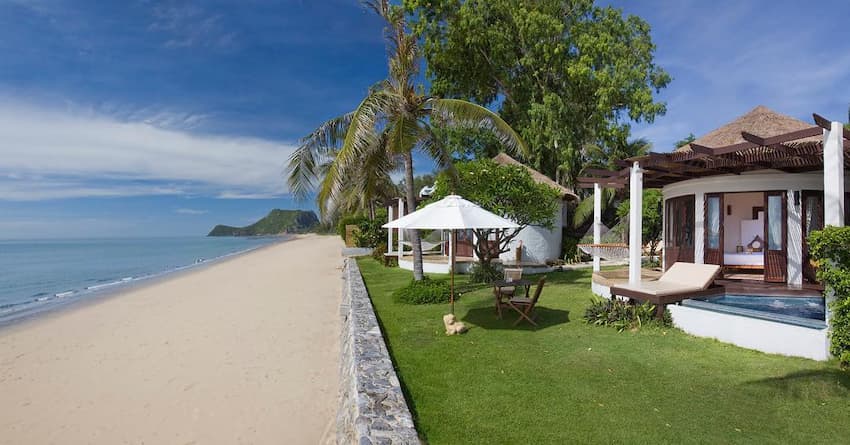 The Ayurah Wellness Centre at Aleenta Hua Hin provides a variety of wellness retreats and therapies designed to rejuvenate the body and spirit. In keeping with Aleenta's ethos of holistic well-being, the resort's wellness offerings are diverse and deeply rooted in traditional practices. From stress-relief massages and detox programs to mindfulness meditation and reiki sessions, every aspect of wellness is catered for.
What sets Aleenta Hua Hin apart is its commitment to sustainability, which is most evident in its pioneering organic farming initiative. The resort's organic farm, Pranburi's first-ever 100% organic farm, supplies fresh, chemical-free produce for its restaurants, ensuring guests enjoy delicious, nutritious, and environmentally-friendly meals. This farm-to-table concept extends to the resort's cooking classes, where guests can learn about traditional Thai cuisine and the importance of organic farming.
Moreover, Aleenta Hua Hin's dedication to sustainability extends beyond its organic farm. The resort's eco-friendly practices include water conservation, energy efficiency, and waste reduction measures, all contributing to minimising its environmental footprint.
Aleenta Hua Hin Resort and Spa, with its tranquil beachfront setting, robust wellness offerings, and pioneering sustainability initiatives, presents German tourists with an unparalleled sun, sea, and wellness holiday experience. It's where the sun meets the sea, wellness meets luxury, and travellers meet the true essence of sustainable living.
Aleenta Retreat Chiang Mai

Wellness Retreat in the Mountain Foothills
Set against the backdrop of the verdant mountains in Northern Thailand, Aleenta Retreat Chiang Mai offers a unique wellness experience that transcends traditional sun and sea holidays. With its enchanting blend of Lanna architecture, modern amenities, and unparalleled wellness offerings, the resort embodies the perfect escape for those seeking rejuvenation and cultural immersion.
Nestled in the heart of the mountains, the wellness offerings at Aleenta Retreat Chiang Mai are tailored to provide guests with a transformative experience. The resort's holistic well-being approach combines physical, mental, and spiritual elements, incorporating yoga, meditation, and traditional Thai therapies. Guests can embark on personalised wellness retreats encompassing a range of rejuvenating treatments, from detoxification and stress relief to mindfulness and fitness programs.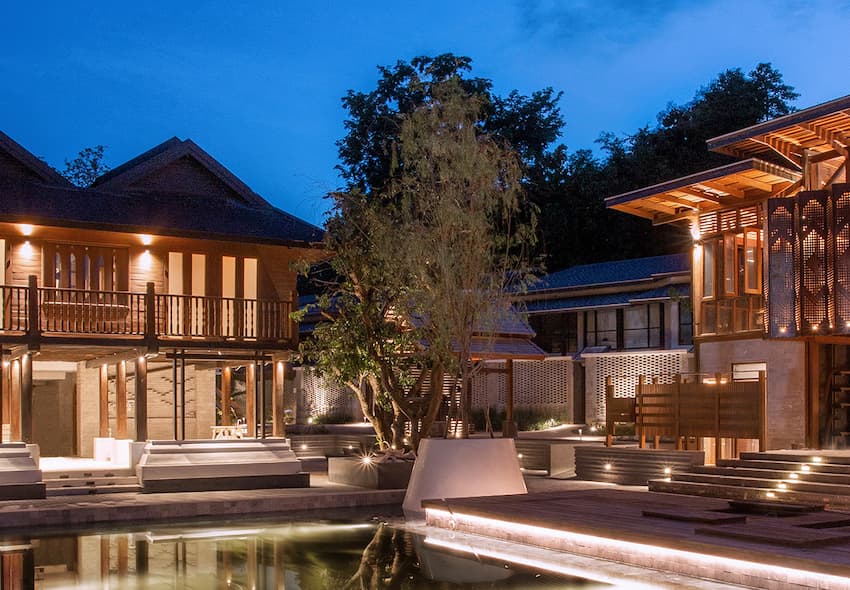 The unique location of Aleenta Retreat Chiang Mai allows guests to engage with the region's rich cultural and natural heritage. From guided hikes to stunning waterfalls and lush forests to exploring local temples and artisan villages, the resort provides ample opportunities for guests to immerse themselves in the beauty of Chiang Mai. Culinary enthusiasts can also partake in traditional Thai cooking classes, which showcase the region's unique flavours and ingredients.
Aleenta Retreat Chiang Mai's commitment to wellness is matched by its dedication to preserving the cultural integrity of the region. By incorporating traditional Lanna architectural elements in its design and offering guests a range of culturally immersive experiences, the resort fosters a deep connection between visitors and the local heritage. Furthermore, the resort's eco-friendly practices, including energy conservation and waste reduction initiatives, contribute to its sustainable approach to hospitality.
Aleenta Retreat Chiang Mai offers a singular wellness retreat experience for German tourists seeking to rejuvenate their minds, body, and spirit amidst the stunning mountain landscapes of Northern Thailand. With its emphasis on holistic well-being, cultural preservation, and responsible tourism, the resort provides a refreshing alternative to traditional sun, sea, and wellness holidays.
Embracing Thai Culture
As a melting pot of diverse influences, Thai culture is a vibrant tapestry of tradition, spirituality, and culinary mastery. Visitors from Germany and worldwide are drawn to its unique blend of flavours, colours, and sounds, each weaving an intricate story of Thai history and lifestyle.
Thai cuisine, a cornerstone of the country's cultural identity, is celebrated worldwide for its bold flavours, fresh ingredients, and delicate balance of sweet, sour, salty, and spicy notes. At each Aleenta resort, guests are invited to embark on a culinary journey that encapsulates the essence of Thai gastronomy. From the ocean-fresh seafood of Phuket and Pranburi to the earthy, aromatic dishes of Northern Thailand, the resorts' chefs' craft menus highlight regional specialities and locally sourced ingredients. Interactive cooking classes further enable guests to delve into the secrets of Thai cooking, providing a unique souvenir that lasts long after the holiday ends.
Beyond cuisine, Aleenta Resorts offer guests an array of opportunities to engage with Thai culture. Each resort is located in a region rich in historical and cultural landmarks, from the ethereal temples of Chiang Mai to the traditional fishing villages of Pranburi and the iconic karst landscapes of Phang Nga. Excursions to these landmarks and encounters with local artisans and communities allow guests to gain authentic insights into Thai lifestyle and traditions.
Festivals, a vibrant expression of Thai culture, offer another layer of cultural immersion. Whether it's releasing lanterns during the enchanting Yi Peng Festival in Chiang Mai, participating in the Songkran water festival celebrations, or observing the solemn rituals of the Buddhist Lent Day, Aleenta Resorts provide guests with the opportunity to witness and partake in these unique cultural experiences.
In essence, a holiday at Aleenta is more than a sun, sea, and wellness retreat – it's a passport to the rich cultural tapestry of Thailand. Through a blend of immersive experiences, each Aleenta resort invites guests to embark on a journey beyond the typical tourist path, leading to a deeper understanding and appreciation of Thai culture.
Related Articles