If you're going to travel halfway around the world to luxuriate in a culture that's so exotic, even the photos you take of your visit will thrill friends and family back home, you couldn't choose a destination more exciting than Thailand. This seductive corner of Asia has been visited by traders, travelers and curiosity-seekers for more than 2,000 years, during which time empires and rulers came and went, each adding to the nation's mysterious personality.
But, it's the lush beauty of the land, the magnificence of landmarks and graciousness of the people that leads visitors to fall in love with Thailand–not to mention the new head of state, King Vajiralongkorn, the handsome heir to the throne who took it over when his father, the longest reigning monarch on the planet, died after 70 years on the throne.
Today's Thailand continues to remain a romantic destination that doesn't disappoint, so if you're sitting on a fence about whether to visit, remember that life is short!
When to Travel to Thailand
If you've the luxury of traveling throughout the year, it will be easy for you to pick a month that suits your sensibilities and proclivities. There's no bad time to visit!
January: Festivals and temperate weather beckon; beaches are bathed in sunshine.
February: Periodic coastal showers won't stop you from having a great time.
March: Soothing winds, sunny beaches and mild temperatures await your visit.
April: Vacationers begin arriving for idyllic weather so early bookings are required!
May: Tourism drops a bit, so you'll have more beach to yourself when you visit.
June: Beat Europeans who flock to Thai resorts in summer; enjoy dry weather and sun.
July: Wind and rain may pick up, but luxurious villas and attractions will keep you cozy.
August: Savvy tourists choose Hua Hin where refreshing showers are few and far between.
September: It's the wettest month, but in your luxury villa, you may not care.
October: The weather's not perfect but it is usually in the evenings.
November: Sun's out so grab your share of private beach time, especially in Phuket.
December: Early bookings? Essential. Thailand is wildly popular at Christmas.
What to see in Thailand
What's your travel style? Do you like to roam markets, temples and museums? Take in adventures that require a bit of physical effort? Or do you prefer to take it easy, luxuriate in a world of wonder by becoming entrenched in Thailand's arts, folklore, food and ruins? You'll need a strategy and a "home base" to maximize your stay in country, thus we recommend focusing on two regions: Phang Nga, Phuket and Pranburi, Hua Hin. There's so much to do in either area, choosing between them has been known to make travelers a bit dizzy.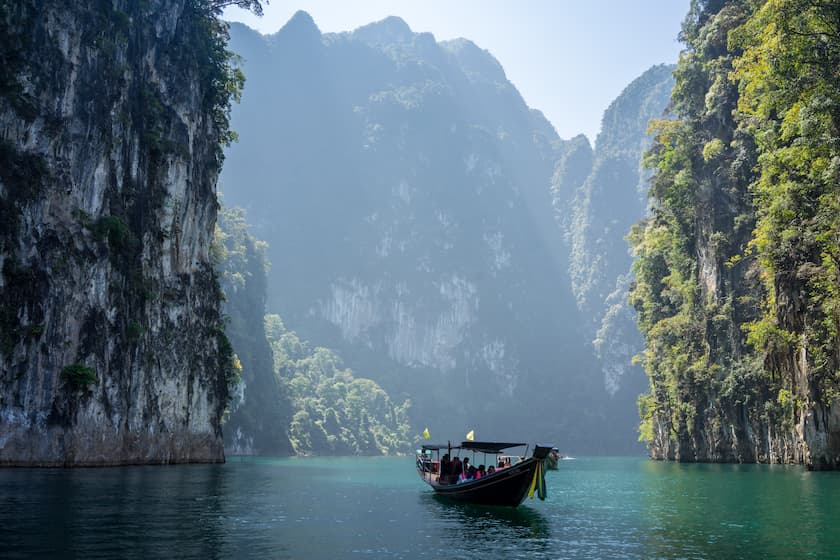 Phuket province is a study in contrast: There's city life on the big island and 32 smaller isles off the coast, so the number of recreational, cultural and entertainment choices available to tourists is vast. Once a vibrant tourism center for English, Dutch, French and Portuguese traders, it's now a mecca for travelers, so you couldn't get bored here if you tried. From festivals and sporting events to temples, landmarks and lush beaches and jungle, it's wise to plan a long stay so you don't miss a thing.
Pranburi is your designated paradise if you seek a relaxing rest because while enticing and lush, visitors can sink into a world that offers enough distractions to leave a traveler satiated and content. Nestled into the Gulf of Siam, this quiet, restful area doesn't attract as many visitors as other Thailand destinations, but you may not care when you discover how peaceful time spent in Pranburi can be. Beaches are spectacular as are limestone mountains, caves and marshes. This is nirvana for weary, stressed-out folks.
Where to find Luxury Villas
There's only one name to remember for those who frequent Thailand and want to do it in style: Aleenta Hotels and Resorts. Part of the elite network of Small Luxury Hotels of the World and run by the Akaryn Hotel Group, Aleenta cares as much about the environment as it does about pampering guests so when an opportunity to become a driving force behind the Pure Blue Foundation arose, this company didn't hesitate.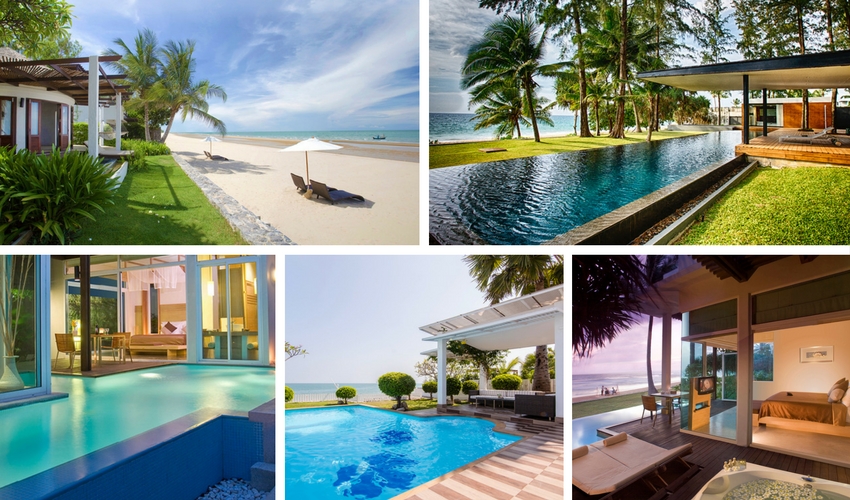 Aleenta adopted this non-profit's charitable mission: "When Mother Nature alone can no longer take care of our most valuable treasures, it is up to us to ensure that these precious gifts are conserved for future generations." Toward that end, Aleenta properties in Pranburi and Phuket contribute to coral reef conservation efforts to save Thailand's endangered leatherback turtles so they don't become extinct.
After deciding to stay at either Hua Hin Villas or Phuket Villas, you can look forward to learning all about Herculean ecological measures being undertaken to raise and release these turtles into the sea while you give your mind and body over to a resort experience that has no equal.
Why Aleenta Villas?
Too many resorts promise one-of-a-kind vacation experiences, but not every one of them delivers. But with Aleenta, an award-winning property known for garnering 5 stars on a regular basis, pampering guests is an obsession. Their Villas in Thailand are architecturally distinct, lavishly furnished, outfitted with everything a guest could need and want and staff is delighted to show up when you need them and disappear when you don't.
Because each villa is located in a secluded enclave where native plants, trees and bushes serve as architectural features, you can spend your entire time in Thailand without seeing another tourist if that's your desire. On the other hand, Aleenta villas are favorites of families who love nothing more than holding reunions in exotic places and find that only this brand offers enough room to bring everyone along.
Bottom line is that because management is devoted to giving every guest exactly what he or she craves, no effort is spared from the moment a villa is booked to the moment you arrive and close the door on the world. Words, as they say, are cheap. Pictures tell the real story. These villas offer you so much luxury, privacy and decadence, you might have to put off your sightseeing plans for your next visit.
Aleenta Hua Hin Resort & Spa
Hua Hin is Aleenta's first award-winning luxury resort. This a small enclave of villas offers guests private swimming pools, gorgeous interiors and beachfront access. Imagine living in a tiny village that's designed to treat each villa as though it were the only one in the compound.
Footsteps from the beach and with breathtaking views of the Gulf of Thailand, it takes only a few hours get to this 5-Star Resort in Hua Hin, from Bangkok, so you won't be stressed out when you arrive. If you are, the on-site spa stands ready to remedy that by offering holistic treatments that benefit the mind and the body.
Having booked the villa of your choice, you can spread out and relax because while these villas are available with up to 5 bedrooms, even the 2 bedroom enclaves are spacious. Housed in the "no kids allowed" Aleenta Wing of the resort, enjoy unprecedented privacy.
The 4-bedroom villa wraps around a gorgeous private garden and there's not a European spa service on the planet you can't book. Bathrooms are luxe. Service is unprecedented. If you long to know how royalty vacations, this is your opportunity!
Aleenta Phuket Resort & Spa
Lifting a finger to apply sunscreen may be the only thing you're required to do during your stay at a 5-star Aleenta Phuket Resort. These gorgeous villas are roomy and elegantly appointed, and they beg for guests who love to entertain, but if your intention is a romantic interlude far away from the real world, you'll enjoy unprecedented intimacy and privacy.
Your chef, butler and chauffeur are on call 24/7 to satisfy your needs. Swim in your private pool and gain access to beachfront that's so close to your villa, you can jump out of bed and dive in. Of course, if you book spa time, your ocean swim can wait.
If you insist on cooking yourself, state-of-the-art kitchens are fully equipped so you to indulge your inner gourmand. Luxuriate in villa bathrooms so elegantly appointed, a bath turns into a vacation. Elegant furnishings at this location pale in comparison to villas you've rented in the past and you if you insist, you can even keep tabs on the rest of the world courtesy of large screen plasma TV and other amenities.
Dreams come true at Aleenta Villas
What's your biggest desire and how can time at an Aleenta property impact your life? Forget crowded hotels, beaches sprawling with humanity and the "usual" treatment found at resort properties. Phuket and Hua Hin are anything but ordinary. Staff is meticulously trained to ensure guests privacy and deliver the sort of experience usually reserved for the rich and famous.
But, you don't have to be either to take advantage of villas so magnificent, you get a taste of the good life without asking your stock portfolio to underwrite your visit! On-site spa services include both ordinary and extraordinary because they're based on the Ayurah Epicurean Spa model, so your mind and body are pampered.
Food served at both resorts couldn't be healthier or more delicious thanks to culinary staff trained at the finest schools. Indulge in traditional, Western fusion and nouveau Thai cuisine prepared with herbs and vegetables grown on the resort grounds. The wine list alone has been known to thrill aficianados.
You can look for nirvana elsewhere, but why bother when visitors attest to the luxury found at both Aleenta properties–luxury that brings them back over-and-over again? Chances are, you won't leave without planning your next villa stay, either!
Related Articles:
Aleenta Hua Hin Resort & SPA
183 Moo 4, Pak Nam Pran,
Pranburi, Hua Hin,
77220 Thailand
T: +66 32-618-333