Immerse yourself in the exquisite 'on the beach luxury' of the Aleenta Resort, a sanctuary nestled in Pranburi. Epitomising the perfect blend of elegance, comfort, and nature, Aleenta Resort is the quintessential destination for those seeking an unparalleled beachfront experience. Offering an impressive selection of world-class villains and suites, this resort redefines the standards of beachfront luxury living.
Pranburi, a hidden gem of Thailand, creates the perfect backdrop to this grandeur. Its serene beach environment is an idyllic blend of sun-kissed shores, shimmering turquoise waters, and lush tropical landscapes that enrich the Aleenta experience effortlessly. Tranquil yet invigorating, Pranburi's pristine coastline, vibrant marine life, and beautiful sunsets invite visitors to experience a profound connection with nature while indulging in premium comforts.
Unveiling Aleenta Hua Hin
Nestled in the untouched natural splendour of Pranburi, Aleenta Hua Hin serves as an oasis, encapsulating the essence of a secluded beach paradise. The resort is three hours south of Bangkok, yet it seems a world away. Standing alongside the glistening Pranburi coastline, Aleenta affords its visitors uninterrupted panoramic views of Pak Nam Pran Bay. This setting provides the ultimate backdrop for the retreat's blend of modern architecture, Thai cultural aesthetics, and natural splendour, making it a distinctive destination.
Aleenta's resort layout maximises its beachfront setting, with many suites and villas providing direct beach access, adding an unmatched level of intimacy with the azure sea. Apart from its awe-inspiring locale, the resort prides itself on offering an array of distinctive amenities. These include a state-of-the-art wellness spa, gourmet restaurants serving an eclectic mix of local and international cuisine, and many leisure activities that embrace the natural surroundings. Whether trying kitesurfing, enjoying a sunset yoga session, or exploring the local marine life, Aleenta ensures an immersive, luxurious experience catering to diverse interests.
Aleenta's commitment to luxury is only paralleled by its dedication to sustainability. The resort integrates eco-friendly practices to minimise its environmental footprint, maintaining a harmonious balance with the natural landscape. Aleenta's endeavours highlight its commitment to a more sustainable tourism industry, from utilising renewable energy sources to implementing waste management systems. This commitment extends to providing an environment-friendly luxury experience featuring organic and locally sourced food, natural spa treatments, and sustainable architecture. With its unwavering commitment to luxury and eco-friendly practices, Aleenta Resort has set the benchmark for green hospitality without compromising its promise of an exquisite getaway.
Luxury Beachfront Suites & Villas
Beachfront Pool Residence
Aleenta's Beachfront Pool Residence seamlessly blends luxury, privacy, and nature. This retreat offers a spacious, contemporary design with natural textures and elegant finishes. Fitted with a plush king-sized bed, an en-suite bathroom boasting a rain shower, and a lounge area, the residence ensures the highest comfort level.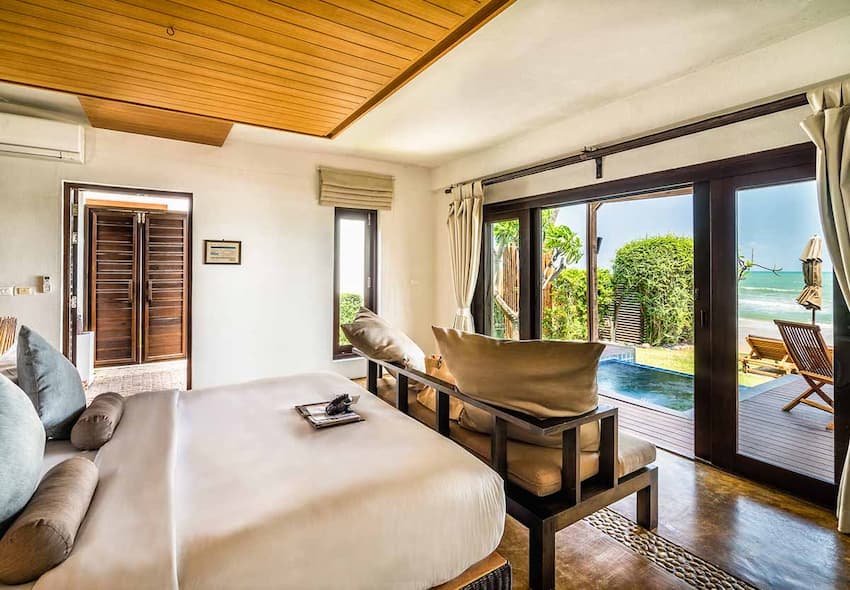 The crown jewel of this residence is its direct beachfront access and a private infinity pool, offering uninterrupted sea views. This unique feature lets guests step from their luxurious residence onto the sandy beach or plunge into their collection, creating an intimate connection with the beautiful surroundings.
Tailored services for the Beachfront Pool Residence include personalised in-room dining, a complimentary minibar, and round-the-clock service, ensuring a memorable and bespoke experience.
Frangipani Residences
The Frangipani Residences exude a sense of exclusivity and sophistication. Each residence provides an ample, open-plan space with stylish décor that reflects the coastal environment. The plush bedroom, chic living area, and well-equipped kitchen offer the comforts of home while delivering a five-star experience.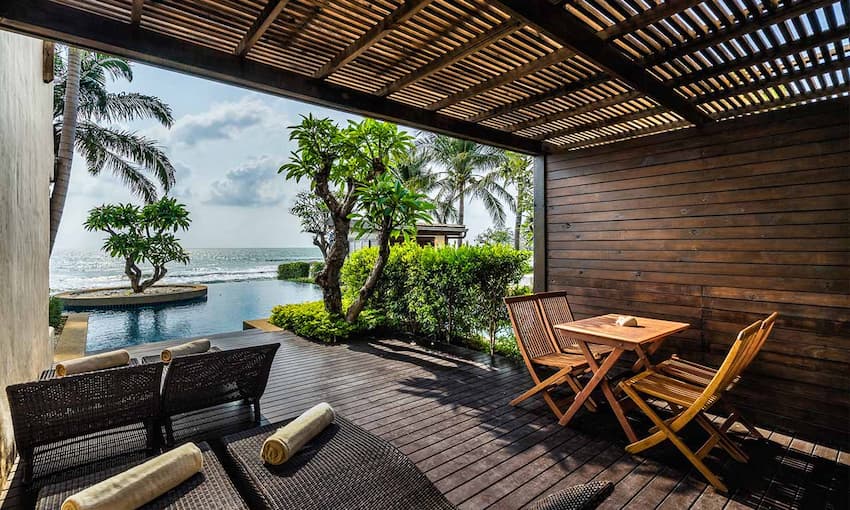 Each residence has a spacious sun deck and a private jacuzzi offering the ultimate seascape. The unique beachfront setting of these residences makes for an ideal spot to savour the stunning Pranburi sunsets.
The Frangipani Residences cater to those seeking a sophisticated beachfront experience with unparalleled privacy. Amenities such as complimentary high-speed Wi-Fi, private jacuzzis, and an optional chef service affirm the residences' commitment to exceeding guests' expectations.
2-Bedroom Chaba Villas
Travelling in groups or with family, the 2-Bedroom Chaba Villa serves as the perfect refuge. This villa exhibits a contemporary design infused with Thai elegance, offering a unique charm.
The Chaba Villa's standout features include two spacious bedrooms, a cosy living room, and a fully-equipped kitchen. A private deck and garden surround the villa, offering a sense of on the beach privacy. The captivating sea views provide a picturesque backdrop, adding to the villa's allure.
The villa has luxury amenities such as a personalised in-room dining service, a complimentary minibar, and Wi-Fi access, ensuring guests can comfortably relax while staying connected.
4-Bedroom Beachfront Pool Villa
Aleenta's grandest offering, the 4-Bedroom Beachfront Pool Villa, delivers unprecedented luxury and comfort. The villa's exquisite architecture and tasteful décor resonate with the charm of the seaside location.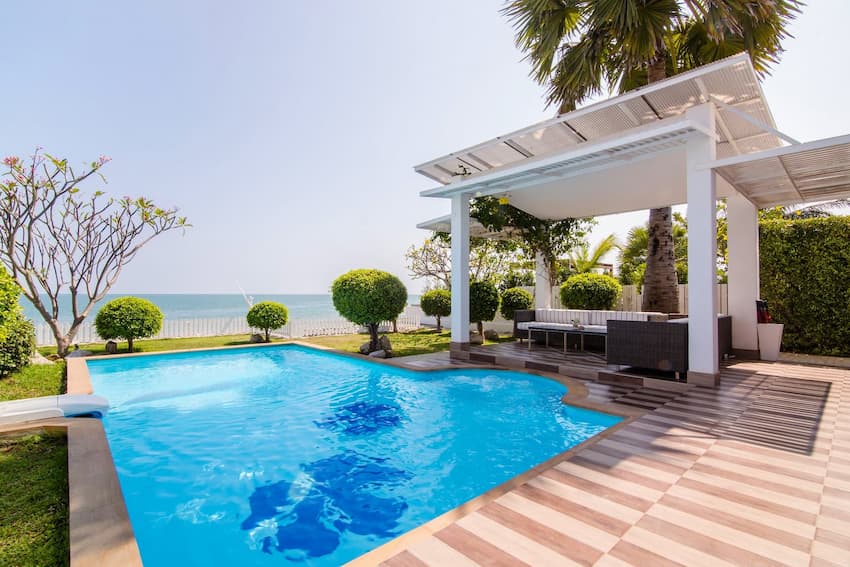 The villa boasts a private beachfront pool, a sun deck, and a lush garden. The four spacious bedrooms with en-suite bathrooms, a modern kitchen, and a large living area ensure the utmost comfort. These features, coupled with panoramic beach views, set this villa apart.
The amenities include a personalised in-room dining service, a complimentary minibar, and access to the villa's private pool. These offerings, paired with the unmatched location and beautiful design, make the 4-Bedroom Beachfront Pool Villa an embodiment of beachfront luxury.
What Sets This Beach Resort Apart
What truly sets Aleenta Hua Hin apart from other luxury beachfront resorts is its unwavering commitment to creating an immersive, holistic experience that transcends the typical confines of hotel-based tourism. Each aspect of the resort is meticulously crafted, from the awe-inspiring architecture of the suites and villas to the tailor-made services, ensuring a unique and memorable stay.
Guests are treated to a bespoke selection of wellness activities, such as private yoga sessions, culinary classes, and boat excursions. This provides an immersive exploration of Pranburi's local culture and natural beauty. The resort's gourmet dining options showcase a gastronomic journey featuring fresh, locally sourced ingredients and authentic Thai cuisine.
Each suite and villa at Aleenta Resort is designed with privacy and comfort in mind, offering exclusive amenities such as private pools, jacuzzis, and direct beach access. This level of luxury, coupled with unparalleled service, ensures that each guest's experience at Aleenta is as exceptional as the setting itself.
Another distinguishing feature of Aleenta Resort is its robust commitment to sustainability and responsible tourism. The resort operates under a "Luxury with a Conscience" philosophy, seeking to provide a luxury experience while prioritising environmental responsibility.
This dedication to sustainability is visible in various aspects of the resort, from the architectural design of the suites and villas to the operational processes. Renewable energy sources are utilised throughout the resort, and an effective waste management system is in place to minimise environmental impact.
From an experiential perspective, this commitment translates into a more enriched and mindful travel experience for guests. The food served at the resort is primarily organic and locally sourced, reducing carbon footprint while supporting local farmers. The wellness offerings promote holistic well-being and a sense of harmony with nature.
The Aleenta Resort doesn't just offer a getaway—it fosters a deeper understanding and appreciation of sustainable living, making for an experience that is both luxuriously enjoyable and ecologically aware.
Related Articles
Aleenta Hua Hin Resort & SPA
183 Moo 4, Pak Nam Pran,
Pranburi, Hua Hin,
77220 Thailand
T: +66 32-618-333