Wispy white clouds smile sweetly from an azure sky. Turquoise surf murmurs softly, kissing silken sand. The ocean views from your windows seem endless. A tranquil beach lies only steps from your peaceful haven. This is an idyllic holiday resort at Aleenta Hua Hin, nestled on Pak Nam Pran Bay.
Unique to this Pranburi Resort is a focused intent to protect our planet's resources. Here you can enjoy a luxurious stay that doesn't impact Earth in a harmful way. Our administrative policy is based on principles of "sustainable living." Below are the green practices we employ, reducing our carbon footprint on Pranburi's pristine sand.
Eco-Friendly Resort Technology
Solar-Heated Water
When you feel the caress of our bathroom rain showers, you're bathing in water that's warmed by the sun. Solar panels maintain your water at a comfortable temperature. You won't see this ingenious technology since the panels are camouflaged beneath your grass rooftop. The turf has a dual purpose. It keeps your residence cool while letting the sun's golden rays charge the panels. The water you use is then recycled to sustain our lawns and farm.
Energy-Efficient Equipment
We invite you to take advantage of the bay's fresh breezes by opening your windows and doors. This minimises the need for air conditioning. However, if you do need the help of machine-cooled air, your unit is designed to be energy-efficient. To further conserve power, air conditioning automatically turns off 10 seconds after your departure. We also use rechargeable batteries throughout the resort.
Emission-Free Transportation
Hop on one of our complimentary bikes and tour Pranburi the eco-friendly way. Local roads border farmland and offer serene mountain views. If you lose your bearings or run out of pedal power, just call us from your free mobile phone. We'll be happy to transport you back to the resort by golf cart.
Recycling Practices
In addition to recycling water, we use paper that's recycled and locally produced. Paper undergoes a third round of life when we donate it to schools for their use. Our suppliers use recycled and reusable packaging.
Ecological Resort Architecture
Rock comprising the walls of your rooms is locally sourced. Ceilings are made from regional cane. The furniture on which you relax is built from recycled wood. Guests of Pool Suites tread on pebbled floors derived from the beach. The hammock gently cradling your back is handwoven by local fishermen.
Resort Beach Clean-Up
Aleenta is committed to beach preservation. Our staff regularly participates in waterfront clean-ups with neighbouring properties and local schools. Debris deposited by rough seas is removed every two months to keep the beach clean.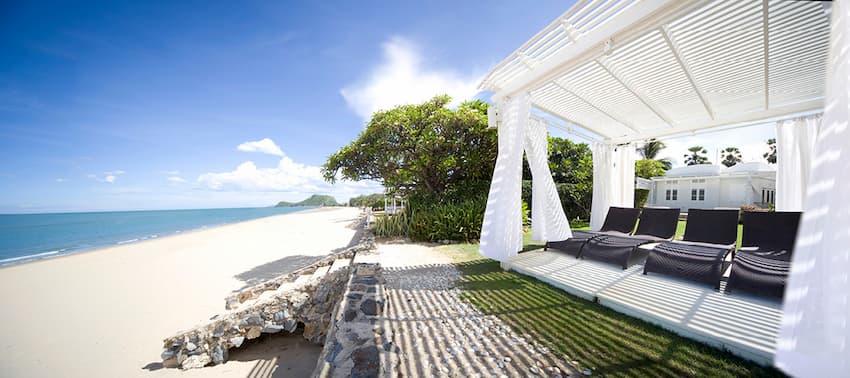 Carbon Free Cooking
Carbon-free cooking begins on Aleenta's organic farm, where 90 percent of our meals originate. Our farm functions as a community co-operative, serving villagers in addition to guests. We supply the seeds and equipment. Villagers cultivate the land, harvest its crops, and sell the surplus at a farmer's market.
The remainder of our food comes from local farms. It's transported to our kitchens by bike or tuk-tuk, powered by recycled cooking oil. Our chefs are masters of molecular cooking, techniques that don't eat up our Earth's resources.
Our sustainable dining concept means food is cooked in solar ovens and smokehouses. What do you think of solar-baked cakes? Do you favour sun-dried tomatoes? Flavourful spices and healing herbs infuse our gourmet cuisine. We maintain the strictest hygiene standards, ensuring safe handling of food. You're most welcome to visit our organic farm to see the source of your food and to participate in Thai cooking classes.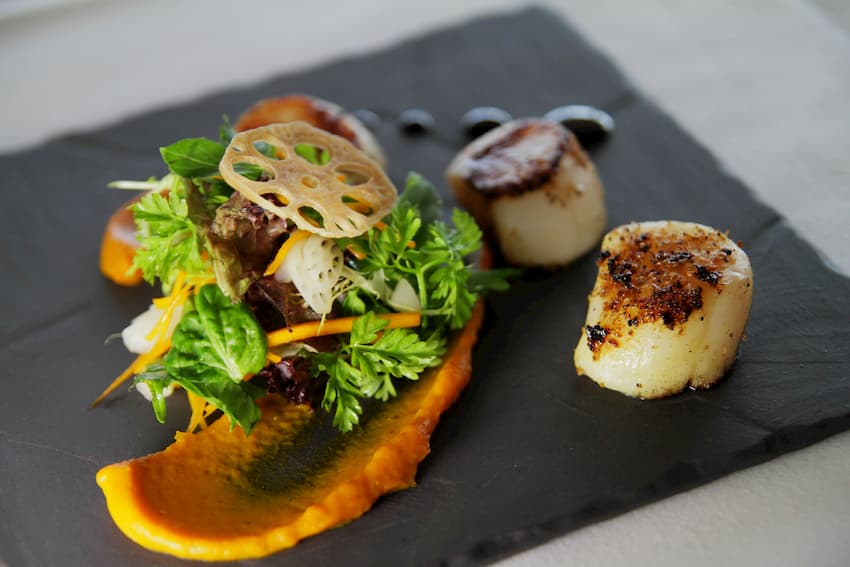 Resort Luxury
What does luxury look like at Aleenta? Here's an overview of our upscale accommodations and pampering spa.
Residences, Suites & Villas
All 23 residences are equipped with iPods and iDocks and an extensive music library. A mini-bar is serviced with on-demand delivery. In-room conveniences include a hair dryer and safe. Cozy up in our fluffy towels, cotton bathrobes, comfy slippers, and silky sheets. All-natural toiletries nourish your skin with high-quality ingredients. Aside from these commonalities, each residence is unique.
Ocean View – These one-bedroom residences occupy the main resort's ground level and first floor. Bordering the flower-filled courtyard, they offer breath taking waterfront views.
Pool – Romantic and exotically appointed, these thatch-roofed cottages are situated directly on the beach. Guests have private access to a plunge pool, Jacuzzi, and veranda.
Palm Pool – Lush lawns lead to the shore from these quarters which are set back from the beach. Each contains a private garden, veranda, Jacuzzi, and pool.
Frangipani – Designed for families with children under 12, this dwelling is spacious. Huge windows offer views of the bay and pool and open onto a private sundeck. A five-bedroom Frangipani Residence is split between two levels and includes personal butler service.
Penthouse Suite – The ultimate in luxury and romance, this roomy, circular residence overlooks Aleenta's grounds. Guests have bird's-eye views of the bay and neighbouring mountains. A stone tub and sun terrace are unique Penthouse features.
Beach House – This two-bedroom residence spans two floors. Located in the resort's main wing, it's suited to groups and children age 12 and older. The ground-floor bedroom faces a pool while the second-floor bedroom leads to a private terrace.
Chaba Villa – A quaint two-bedroom cottage, Chaba offers all the comforts of home, with a pantry, dining room, and living room. A patio and lush lawn lead to the beach. Shuttered windows frame waterfront views. Sun loungers invite guests from beneath a frame shelter. The private terrace is perfect for entertaining.
3-Bedroom Beachfront Villa – This Italianate mansion set directly on the beach is ideal for families. The spacious home includes a pantry, full kitchen, dining room, living room, and en-suite bathrooms. Two of the bedrooms open onto balconies. The third floor has a separate sunbathing deck. Sliding doors lead to a ground-level patio and infinity pool overlooking the shore. An outdoor terrace serves as a dining area. On-site customized dining and spa services can be arranged. Guests enjoy private beach access. Maximum occupancy is six persons.
4-Bedroom Private Villa – Similar to the Beachfront Villa, this king-sized home has a full kitchen, dining room, living room, and en-suite bathrooms. All four bedrooms afford glorious waterfront views. A Jacuzzi and infinity pool overlook the ocean. On ground level are a shaded patio and outdoor dining area. Guests can relax in both indoor and outdoor lounges. Customized dining and spa services are available on-site. Guests have private beach access, with the use of eight bikes and sunbeds. In-house complimentary WiFi is offered. A personal butler tends to every need.
Resort Spa
Luxuriate in our full-service spa, offering:
facial treatments
nail, waxing, and makeup services
hydrotherapy baths
chromotherapy baths
rain mist showers
oxygen therapy
music therapy
foot reflexology
Award Winning Resort
In 2014, Aleenta received the "Best Sustainable Hotel" award for the Asia Pacific region. To merit this distinction, we competed with the finest hotels from over 50 countries worldwide. Aleenta is tailored to green-minded guests. A stay at our resort is luxury at its best.
Related Articles:
Aleenta Hua Hin Resort & SPA
183 Moo 4, Pak Nam Pran,
Pranburi, Hua Hin,
77220 Thailand
T: +66 32-618-333