Hua Hin is both the name of a district and that district's capital. It is one of the eight districts of the province Prachuap Khiri Khan in western Thailand. It is also located in the northern Malay Peninsula. Hua Hin is 199 km south-southwest of Bangkok by road.
The town Hua Hin was originally a fishing village, until Rama VI (King Vajiravudh) and Rama VII (King Prajadhipok) built summer palaces in the 1920s. The construction of the southern railway along with the royal family's fondness for Hua Hin convinced various nobles to build their own summer palaces there. The tourist industry took off in the 1980s.
Hua Hin has a tropical climate with the hottest months being between March and May, while the cool season is between November and February. The rainy season takes place between June and October, with September being the wettest month.
Getting Around Hua Hin
Travellers need to go to Bangkok first. From there, they can take a train, bus, minivan or taxi to Hua Hin. The train station is in the middle of town, making the train a convenient and easy option. Buses leave from both the airport and the Sai Tai Mai bus terminal. Minivans also have a station in Bangkok. Travellers who take a taxi should negotiate the price beforehand.
Once in Hua Hin, travellers may explore the town on foot. They can also rent a motorcycle or bicycle. Many taxis in Hua Hin are themselves motorcycles. The tuk tuk is a motorised three-wheeled vehicle that also serves as a taxi. Again, travellers should negotiate the price before getting in.
The songthaew is a bus that had been converted from a lorry. The name means "two rows" and refers to the two rows of seats along the interior walls of the lorry. Songthaews have a set price and are typically one of the less expensive ways to travel.
The local currency in Thailand is the "baht." Currently, about 43 baht are equivalent to PS1 British Pound. Check Current Exchange Rate
Places to Visit in Hua Hin
Phra Ratchawang Klai Kangwon (Far From Worries Palace) was constructed in 1929 at the command of Rama VII. It faces the sea and its architecture shows a Spanish influence. It also boasts a large ornamental garden. Members of the royal family do stay in the palace, particularly during the hot season, but travellers may visit if they aren't there. Admission costs 20 baht.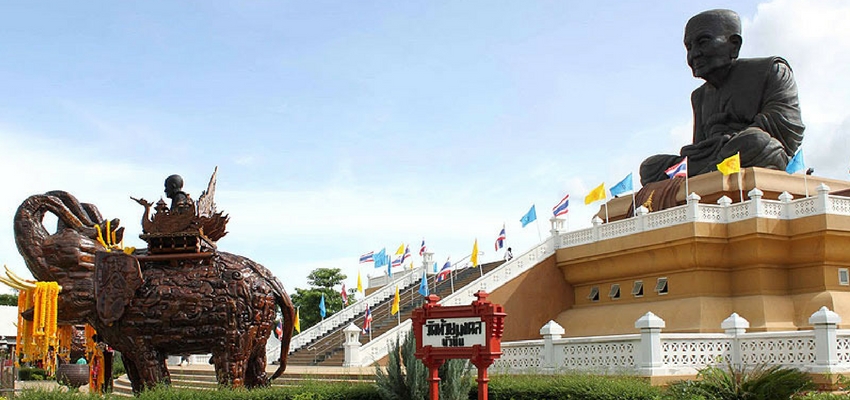 Hua Hin Beach is three km long and extends from one side of town to the other. It boasts resort hotels, fine white sand, and various activities. For example, visitors can rent jetskis or ride banana boats. The latter are inflatable and get towed along by a speed boat or a jetski. Travelers who prefer to stay on the land can fly kites or ride a horse. Horses and ponies will be near the entrance of the beach, and a traveler can hire one for 15 to 60 minutes.
Wat Hua Hin, also known as Wat Ampharam, is the main local temple, and it can be found in the center of town. The complex also includes a monastery and crematorium, for the Thais cremate their dead rather than bury them.
Plearn Wan is an open-air mall patterned after 1950s Hua Hin, and it is located near Phra Ratchawang Klai Kangwon. Its name fittingly means "joy of yesteryear." Plearn Wan boasts shops, restaurants, an outdoor cinema screen, a beauty salon, a photo studio, and an inn with 20 rooms. There is also a fairground with a Ferri wheel. Everything has a vintage feel.
Hua Hin also has two floating markets, and both have a 1920s theme evoking the reign of King Rama VI. The Hua Hin Floating Market and the Sam Pan Nam Floating Market are located on the same street six kilometers south of the town's center. Both markets are located on an artificial lake, which serves as a venue for shows and boat tours. The markets have boardwalks and bridges. Sam Pan Nam Floating Market is the larger of the two markets with over 200 shops. It also has at least 40 boat vendors selling a variety of snacks and souvenirs.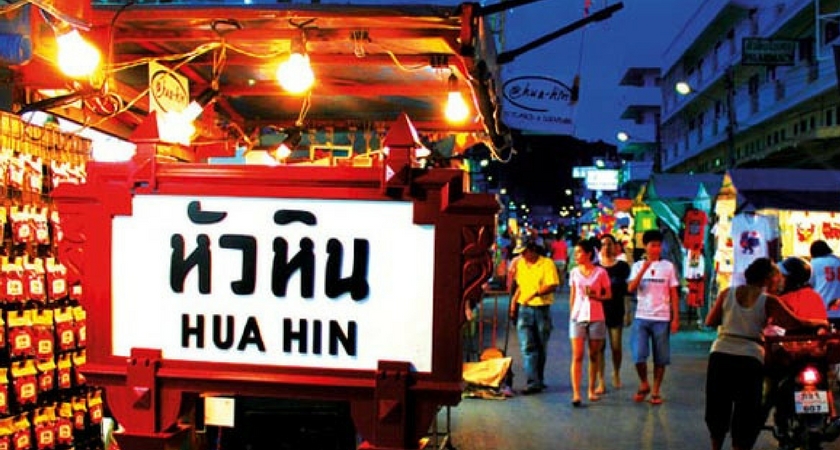 Vana Nava Water Park is located between Hua Hin town and Khao Takiab, and it will take about 15 minutes to get there by tuk-tuk. It has 19 rides and a variety of restaurants and shops. The Abyss is arguably the best-known ride; it's shaped like a megaphone and is said to be the world's largest waterslide. The Vana Nava, at 31 metres tall, is the tallest artificial waterfall in Asia.
Hua Hin's railway station was built in the 1920s during the reign of Rama VI. It is thus one of the oldest railway stations in Thailand, and it is also considered one of the most beautiful. Its architecture blends features of Thai and European buildings. The rail along it connects Hua Hin to Bangkok and extends as far south as Singapore. It has therefore made Hua Hin far more accessible and this more attractive to visitors. By 1926, Hua Hin was on its way to becoming a popular seaside resort town; its first golf course and luxury hotel had both been established by then.
The Vic Hua Hin is an outdoor arts complex that boasts an open-air amphitheatre, art gallery, art camp, restaurant and school. Various dance, musical and theatric performances take place on the weekends. The Vic Hua Hin was founded by the playwright, director and actress Patravadi Mejudon, who had also founded Bangkok's Patravadi Theatre.
Where to Eat around Hua Hin
The Bird Chilli is a surf and turf restaurant in the Night Market located on Dechanuchit Road, and it is on the other side of the street of the Peaimjun guesthouse. It is known for its steak and seafood, including beef steak with pepper sauce and rock lobster with garlic. The seating is outside, and its prices are mid-range.
The Jek Pia Coffeeshop has been in business for over 50 years and is considered the place to go for a traditional Thai breakfast that includes a thick rice congee porridge. It also serves a variety of stir-fried seafood dishes.
The Sang Thai Seafood Restaurant is a large establishment overlooking the beach. Patrons may sit outside or under a roof. Since the restaurant has railing and supports rather than true walls, everybody can enjoy sea breezes. Meals range from cheap to expensive; specialties include lobster and garlic squid. Coconut and fried rice are also served.
Heidi's Garden restaurant offers a mix of Thai and European food. Thai dishes, which can be very spicy, include meat-filled omelets, sweet and sour dishes, chicken with cashew nuts and lots of seafood. European dishes include fish and chips, pork chops and beef tenderloin.
Orchids is another fusion restaurant; it serves a mixture of Thai and French dishes. The restaurant is owned by a pair of sisters, Bee and Toom, who have been in business for over ten years. They pride themselves on using organic produce and the freshest ingredients possible.
Aleenta restaurant offers delicious traditional and modern Thai and international cuisine created using the freshest ingredients, organic herbs and vegetables from their own organic farm.
Beaches in Hua Hin
Located 7 kilometres south of Hua Hin, visitors will find Khao Takiab beach. Khao Takiab is much less developed than Hua Hin beach, which contributes to an overall feeling of seclusion. This is the perfect beach for travellers looking to experience genuine Thai culture. At one end of the beach there is a popular attraction called Monkey Mountain.
Suan Son Pradiphat Beach is perhaps one of the most charming beaches in Hua Hin. It is a private and tree-lined beach that is perfect for anyone who is looking for a quiet beach experience with the chance to see some exotic birds. It's about 9 kilometres outside the city centre.
Khao Tao Beach is very small compared to the other beaches in Hua Hin. However, it is still a great spot to take a day trip away from the city centre. The beach is located in a small cove about 20 kilometres from Hua Hin.
Cha Am Beach is an attractive and well-known destination that often draws large crowds on the weekends. The beach is adjacent to a picturesque tree-lined road that extends for miles in each direction. Though the atmosphere here is different from Hua Hin Beach, these two beaches both provide a diverse array of activities.
Luxury Resort in Hua Hin
This award-winning resort in Hua Hin offers outstanding views of Thailand's famous gulf coast sunsets, private pool units, top-notch amenities and unparalleled service. The Resort caters for travellers of all ages and from all walks of life and offers something for everyone. Located on the shoreline of the Gulf of Thailand, the resort is only two hours from the city of Bangkok. It is ideally situated for a honeymoon, beach wedding event or family holiday. In a private, beautiful setting, you can enjoy any type of getaway you desire and a friendly, experienced staff is available to help you achieve all your holiday goals.
This special boutique luxury resort and spa features 25 unique residence, most with a private pool. Each suite is located within steps of the beach and offers commanding views of the stunning sunrise sea view of the Gulf of Thailand. Situated on the pristine and golden sand stretch of Pak Nampran Bay, Aleenta Hua Hin Resort is a mere 2.5 hour drive south of Bangkok.
The main resort, located along the beachfront, features white-washed buildings with thatched roofs, amid swaying palms. The picturesque Resort Wing offers a variety of beachfront suites and villas, steps away from the seashore and complete with private plunge pools. The Frangipani Wing accepts children of all ages, while the Aleenta Wing is adults only. Nearby, the whitewashed two bedroom beachfront Villa, 2 to 4 Bedroom Villas are intimate hideaway with ocean views, another 4 Bedroom Villa shares a large living room and beautiful private garden.
Related Articles
Aleenta Hua Hin Resort & SPA
183 Moo 4, Pak Nam Pran,
Pranburi, Hua Hin,
77220 Thailand
T: +66 32-618-333