There are few places in the world more idyllic and serene than Hua Hin, Thailand in December. If you are looking for a special place to spend the Christmas holiday, this tropical paradise is certainly worthy of your consideration. From a variety of water and land based activities on offer, to an abundance of indoor shopping and dining opportunities, Hua Hin has something for every member of your family or travelling party. With some great promotional offers in place for Christmas, there is perhaps no better year than this one to pack your bags and head to Hua Hin.
Christmas in Hua Hin
1. Fantastic Weather
Many people visiting Thailand in December come from the United Kingdom and other locations from across Europe. This is for a good reason, as one can go from the snow and sleet in Newcastle and land in 25 degree weather without a cloud in the sky. Not only is Christmas in Hua Hin right in the middle of Thailand's dry season, the sun provides ample opportunity to enjoy the great outdoors by day and then relax with a drink in hand by night. This virtually ensures that you will be able to sunbathe in comfort without even breaking a sweat. The nights are so brisk that you can enjoy a nice meal outdoors with only a light sweater in tow. Add that to the spectacular discounts and promotions that are in place around the area every December and this is truly the stuff that dreams are made of.
2. Surf and Sand
While the beaches in Hua Hin is great year round, it is especially serene during the Christmas season. The surf is calm and peaceful, making it ideal for a boating or jet skiing adventures. The kids can play in the ocean and build sand castles to their hearts content. The entire family can go out snorkelling for a few hours and then return to the shore to relax and soak up some rays. The opportunities in Hua Hin are limited only by interest level and time. Sport lovers can play beach volleyball or football, and those who are a bit more adventurous can take a paragliding journey over the ocean itself. There are also several world-class golf courses strategically located near the sea, so make sure you pack your clubs and enjoy a few rounds over the Christmas Holiday. While many of these opportunities are boarded up in the UK during the winter months, they are at their peak in Hua Hin.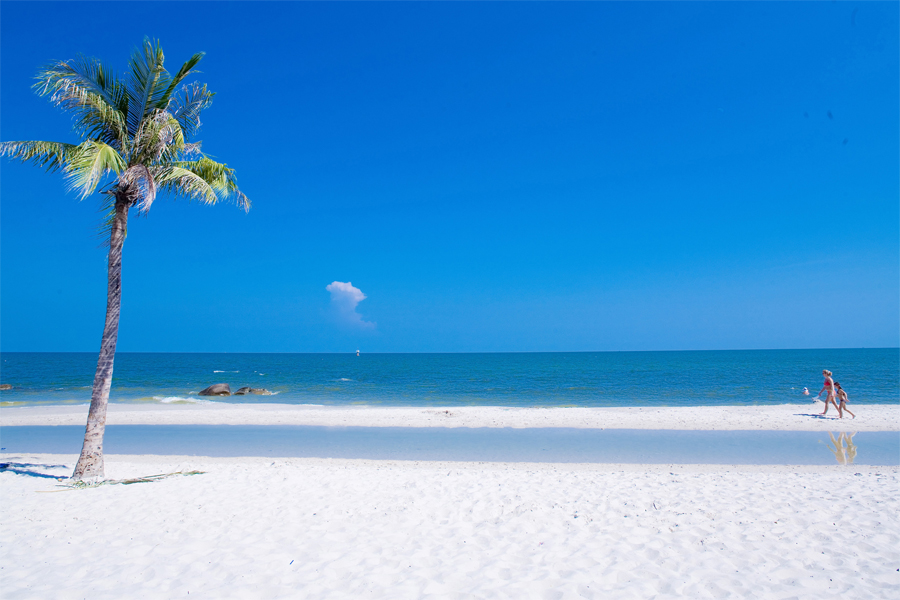 3. Great Food, Drink, and Nightlife
Seafood lovers will feel that they have been transported to their own little piece of heaven when visiting Hua Hin at Christmas time. From shrimp to fish and almost everything in between, the items you will enjoy for lunch or dinner are fresh and caught daily. You can order your favorite dish to be grilled and seasoned just the way you like and then eat it seaside, on the balcony at your Hua Hin Resort room, or at any of a number of restaurants dotting the cities landscape. For the early risers our there, a quick jog down to the ocean will result in pictures of Thai fishermen out early to catch their daily allotment to then deliver it fresh to restaurants around the resort town. After all, Hua Hin was once a sleepy little fishing village back in the day. That tradition remains to this day, along with all of the other benefits that add to the lure. A Christmas dinner here will likely revolve around lobster, so leave the desire for crackling pork back in London. If you must have your meat and mashed potatoes, however, there are plenty of pubs in the area that will appeal to you. A pint of Guinness can be had at a number of locations throughout Hua Hin, and there are several discos to keep you dancing far into the evening.
4. Mountain and Jungle Trekking
Perhaps the most marvellous part about Hua Hin is that you can be sitting beside the ocean one moment and then be in the midst of the mountains and spectacular jungle scenery within 30 minutes. There are few places on earth that have such a diverse geographical structure. This effectively enhances any trip during the Christmas season, as every day can truly bring a new adventure. One can go elephant trekking, which has become a most popular tourist attraction, or the entire family can go on a hike through the mountains. There are seemingly endless opportunities to stay engaged and active during a Christmas holiday to Hua Hin.
5. Awesome Resort Activities
This Christmas season, the Aleenta Resort in Hua Hin is offering some spectacular activities and promotions. There are times when you might just want to stay on property and enjoy everything that is offered to you there, and that is perfectly acceptable. The resort offers all of the same benefits to being in Hua Hin for Christmas that have already been mentioned, with the added benefit of never being more than a few minutes walk from your room. One night that you will want to stay on sight is Christmas Eve. The resort will be offer a 'Best of Thailand' buffet dinner that will simply be out of this world. Beyond the plethora of food that will be on offer, there will be traditional Thai music and dance performances taking place throughout the evening. Children will enjoy the abundance of desserts, while adults will love the mulled wine that is included with the meal.
Christmas Day itself will bring its own share of surprises, so the Aleenta Resort is certainly a place to consider staying when you travel to Hua Hin this Christmas.
Hua Hin Resort for Christmas
Aleenta Hua Hin Resort in Pranburi is the original award winning boutique luxury resort upon which Aleenta started. This special boutique beach resort features 25 unique residences, most with private pool. Each suite is located within mere footsteps of the beach and offers commanding views over the Gulf of Thailand. Situated on the pristine and golden sand stretch of Pak Nampran Bay, Aleenta Hua Hin Resort is a comfortable 2.5 hour drive south of Bangkok.
Aleenta Hua Hin Resort & Spa offers the perfect location for a romantic beach wedding and honeymoon with its beautiful and private setting with an onsite wedding planner ready to help create the most magical celebration whether honeymoon, wedding or renewal of vows.
The main resort, located along the beachfront, features white-washed buildings with thatched roofs, amid swaying palms. The picturesque Resort Wing offers a variety of residence, suites and villas, steps away from the seashore and complete with private plunge pools.
The Frangipani Wing accepts children of all ages, while the Aleenta Wing is exclusive to adults only. Nearby, the white-washed 2 bedroom beach Villa is an intimate hideaway with ocean views and our 4 bedroom villa shares a large living room and beautiful private garden.
Aleenta Hua Hin Festive Programs
Christmas' Eve Dinner | 24 December
Location: Aleenta Restaurant
Time: From 7pm onwards
Price: THB 3,500++ per adult, THB 1,400++ per child
Sip and savour the flavours of the holiday season as Aleenta Hua Hin Resort & Spa serves a decadent five-course dinner menu on Christmas Eve.
New Years Eve Beach Dinner | 31 January
Location: Resort's beachfront
Time: 7pm onwards
Price: THB 2,700++ per adult, THB 1,350++ per child
Greet the New Year with an extravagant gala seafood buffet at Aleenta Hua Hin. Gather with friends and family and enjoy a mouth-watering array of seafood in the BBQ buffet.
Related Articles
Aleenta Hua Hin Resort & SPA
183 Moo 4, Pak Nam Pran,
Pranburi, Hua Hin,
77220 Thailand
T: +66 32-618-333