Located on the western side of the Gulf of Thailand, Hua Hin has been blessed with some of the most beautiful beaches in the world. The year-round warmth of the seas off the coast of Hua Hin has helped make this city a popular destination for both foreigners and Thais. As one of Thailand's oldest and most traditional holiday resorts, Hua Hin has become the perfect getaway for families. This attractive and accessible destination city has numerous wide and long beaches characterised by their shallow depths and mild currents, making any beaches a safe and enjoyable choice for families with young children.
Also, cheap and efficient public transport makes spending an entire day beach-hopping easy. Many visitors consider Hua Hin, Khao Takiab, Suan Son Pradiphat, Khao Tao and Cha Am the best beaches this seaside resort area offers.
Hua Hin Beaches
Hua Hin Beach
Khao Takiab Beach
Suan Son Pradiphat Beach
Khao Tao Beach
Cha Am Beach
Hua Hin Beach
Hua Hin Beach provides a wide variety of attractions for travellers. In addition to being a clean and pleasant beach, Hua Hin is also lined with great restaurants offering visitors authentic Thai food at affordable prices. On some weekends and national holidays, Hua Hin Beach can be quite busy. However, on weekdays, finding a secluded spot to enjoy the sand and the sun is easy. There as numerous attractions to enjoy on this beach. Jet skiing, water skiing, kiteboarding and horseback rides are family-friendly activities available to beachgoers. Once guests are finished participating in the leisure activities, there are plenty of sunbeds to enjoy during the afternoon hours.
Khao Takiab Beach
Located only 7 kilometres south of Hua Hin, Khao Takiab beach is much less developed than Hua Hin beach, contributing to an overall feeling of seclusion. This is the perfect beach for travellers looking to experience genuine Thai culture. At one end of the beach is a popular attraction called Monkey Mountain. Visitors will find a hill overlooking Hua Hin Bay teeming with hundreds of macaque monkeys. Additionally, a short climb up the hill, visitors will find a beautiful Buddha temple, home to numerous statues and relics. The temple overlooks the bay and provides a great vantage point for taking photos of the surrounding area.

Suan Son Pradiphat Beach
Suan Son Pradiphat Beach is perhaps one of the most charming beaches in Hua Hin. It is a private and tree-lined beach perfect for anyone looking for a quiet beach experience with the chance to see some exotic birds. It's about 9 kilometres outside the city centre and is a unique destination for those who enjoy a relaxing afternoon away from the crowds. Foreign tourists may stand out on this beach because it is a well-kept secret by the locals.
Khao Tao Beach
Khao Tao Beach is very small compared to the other beaches in Hua Hin. However, it is still a great spot to take a day trip away from the city centre. The beach is in a small cove about 20 kilometres from Hua Hin. It is outlined with rocks on either side, making it challenging to see further up or down the beach. Khao Tao is named for the hill that overlooks the beach. At the top of this hill and through a dense forest, visitors will find an impressive Buddha statue. The geography of this beach makes it seem uniquely secluded and tranquil. Like Suan Son Pradiphat Beach, Khao Tao would also be a great place to experience a quiet and uninterrupted day at the beach. Additionally, a small hut offers visitors the opportunity to have a relaxing massage. Unlike some of the other beaches around Hua Hin, Khao Tao drops off quickly, which makes it one of the best beaches for swimming.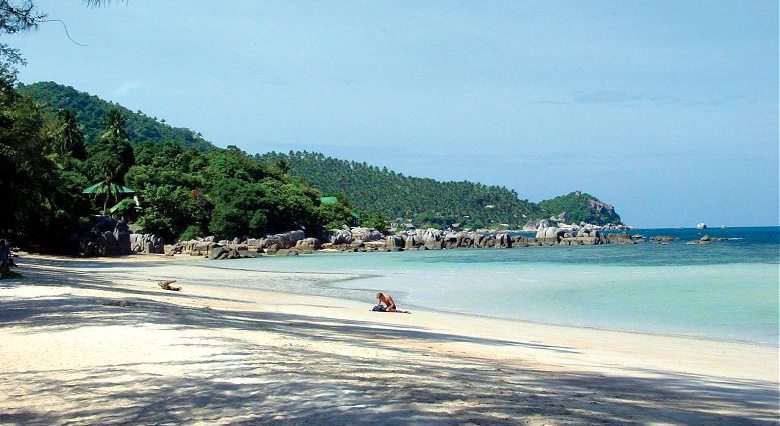 Cha Am Beach
Cha Am Beach is an attractive and well-known destination that often draws large crowds on the weekends. The beach is adjacent to a picturesque tree-lined road that extends for miles in each direction. Though the atmosphere here is different from Hua Hin Beach, these two beaches both provide a diverse array of activities. Banana boats cruise back and forth and provide endless entertainment for beachgoers. Moreover, many visitors enjoy spending the day playing football and volleyball. Hundreds of massage shops, cafes, vendors and restaurants line the beach. Cha Am is also known for its excellent Thai food and seafood that can be found just steps away from the beach. All of the attractions and activities are huddled near the beachfront, making it a bit easier to find various food options compared to the other beaches. On a clear day, visitors can even see Hua Hin's tallest buildings directly from the beach.
Hua Hin Beach Resort
This boutique Hua Hin beach resort features 25 unique residences, most with a private pool. Each suite is located within steps of the beach and offers commanding views of the stunning sunrise sea view of the Gulf of Thailand. Situated on the pristine and golden sand stretch of Pak Nam Pran Bay, Aleenta Hua Hin Resort is only 2.5 hour drive south of Bangkok.
The main resort, located along the beachfront, features white-washed buildings with thatched roofs, amid swaying palms. The picturesque Resort Wing offers a variety of residence, suites and villas, steps away from the seashore and complete with private plunge pools. The Frangipani Wing accepts children of all ages, while the Aleenta Wing is adults only. Nearby, the whitewashed Chaba Villa, 2 to 4 Bedroom Villas are intimate hideaway with ocean views; another 4 Bedroom Villa shares a large living room and beautiful private garden.
Related Articles:
Aleenta Hua Hin Resort & SPA
183 Moo 4, Pak Nam Pran,
Pranburi, Hua Hin,
77220 Thailand
T: +66 32-618-333