There are very few countries in the world that are as beautiful as Thailand and in a country with so many different delights and vast, impressive scenery, one spot stands out above all of the rest; Phang Nga's Natai Beach.
Cradling the Andaman Sea, Phang Nga is one of the most exclusive and untouched areas in all of Thailand. While the beaches of neighbouring Phuket have experienced a lot of development and are clogged with tourists, Natai Beach in Phang Nga remains a beautiful oasis by the sea, perfect for a quiet romantic getaway or a laid-back family holiday. Teeming with pristine beaches, interesting wildlife, gorgeous coral reefs and the clear, warm crystal blue waters of the Andaman Sea, Natai Beach is a must-see destination in Thailand for anyone who loves the environment and unspoiled nature. It is protected by the Thai government and you can go all day without seeing another soul. It is the last word in luxury and peacefulness!
Natai Beach is very accessible from Phuket. Simply fly into the city and travel north via taxi. In a little over half an hour, you will be on the warm sand of Natai Beach. When visiting this pristine seaside paradise, there is only one place to stay, Aleenta Phuket Resort & Spa.
Your Natai Beach Resort Getaway
Aleenta is a well-known name in Thailand. Their sister facility in Hua Hin is renowned for being one of the most luxurious in the country. This resort has a distinctive, special additional quality; it is eco-friendly. Aleenta Phuket understands the importance of keeping Natai Beach as clean and untouched as possible so their commitment to the environment shines through in everything that they do! By embracing eco-friendliness, Aleenta Phuket ensures that the beautiful beaches of Natai and Phang Nga will be enjoyed by people for decades to come.
Despite their commitment to the environment, the facilities at this boutique beach resort are state-of-the-art and you will not want for anything while you are visiting. With beautiful, sophisticated rooms and luxury villas that can accommodate up to five people, there are options for every taste and budget. Every single room at Aleenta Phuket has a gorgeous view of the ocean, ensuring that each stay will be memorable and beautiful.
Things to Do In and Around Natai Beach
At Aleenta Phuket Resort & Spa, you and your family will be able to explore the unique offerings of Natai Beach, including snorkelling and spotting fish in these crystal clear waters is one of the best things to do in the tropics. The untouched beaches surrounding Aleenta Phuket make snorkelling even more of a joy! If you'd prefer to soak up the tropical sun, Aleenta Phuket makes it easy for you to relax and rejuvenate yourself at their five-star facility. If you'd like to venture out and explore the surrounding areas, Aleenta Phuket makes it easy for you to get the full Thailand experience!
Take A Tour
The landscape in southern Thailand is like no other on the planet. Jewel green islands jut up out of crystal blue waters. It is astounding to kayak or boat through these majestic formations. One of the most famous islands is known by local people as Koh Tapu, but you might know it as James Bond Island. This island was popularised by the James Bond movies and is an iconic sight to see. Aleenta Phuket can help you get a full day tour of exploring the island and other sights like Lagoon Cave and Diamond Cave. Have an unforgettable day before retreating to the comforts of Aleenta.
Enjoy The Great View
Samet Nangshe Viewpoint is one of the best places in the region to get those coveted Instagram ready pictures! The viewpoint boasts an astounding 180-degree view and is easily accessible with a short hike. The climb is totally worth it, as capturing the sun setting over the unique landscape is something that you will never forget!
Get Your Adrenaline Pumping
For those who love to get their blood pumping and see a whole new side of Thailand, Aleenta Phuket Resort & Spa offers a comprehensive white water rafting tour complete with an authentic Thai lunch! Ride the waves in style with your knowledgeable guide and have an adrenaline filled day that you will not forget!
Escape To Your Own Private Island
One of the most authentic experiences you can have in Thailand is travelling by long-tail boat. These boats have been used for centuries to get people around the islands. Travel in your own long-tail to an unspoiled beach where you can enjoy relaxation and solitude.
An Adventurous Picnic
Thailand is known for its beautiful jungle waterfalls and there is no better place in the country to enjoy a romantic picnic. This tour comes with a complimentary bottle of wine and the best scenery that anyone could ask for.
Learn How To Cook Thai Cuisine
Thai cuisine is as complex as it is delicious and many recipes have been passed down from generation to generation. You can unlock the secrets of Thai cooking with an exclusive cooking class that begins at the market and ends with dish of fresh Thai cooking that you've created yourself. Learn about native ingredients and experience a busy market first-hand before transforming those items into a dish that you will savour.
Have A Unique And Totally Local Experience
Speaking of markets, the Aleenta Phuket shuttles guests to and from Phuket's famous night market. Located in Old Town Phuket, the market is a local favourite and a way for you to really experience Thai culture. Night markets are famous all throughout Thailand and offer a dazzling array of goods, distinct foods and even local music. Pick up something special for your friends and family at home and get a taste of real Thailand.
Interact With Some Friendly Monkeys
Tham Suwan Kuha Temple is famous for a special kind of furry creature- the resident monkeys that live in this temple! The temple is situated inside of a cave and contains a massive reclining Buddha, as well as its famous residents. These monkeys are human-friendly and you can interact with them, but use caution. Monkeys are notoriously mischievous and might try to make off with your cell phone.
Go Cycling And Explore
One of the best ways to see the region is to get out into the great outdoors! When you've had enough of the beach it is time to hop on the bike and see the best of Phang Nga and Phuket. Forests, rice fields and friendly locals await! You'll also see plenty of foliage and plants, like rubber trees and pineapples. This is a great way to get some exercise and see a whole new side of Phuket.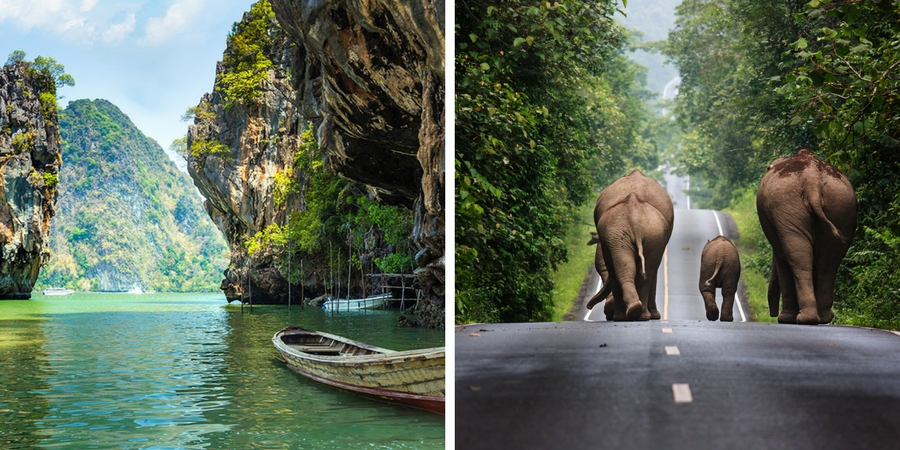 Get The Full Pampering & Spa Experience
What is a holiday getaway without some well-deserved relaxation and rest? At Aleenta Phuket you can recharge your batteries with a number of different retreats and spa services that will have you feeling gorgeous and refreshed. The services are a delightful mix of traditional Thai and western treatments.
Make Sure Your Health And Wellness Is On Point
When was the last time that you really gave a lot of thought to your health and wellness? Aleenta offers a full checkup and a candid discussion of your desires and goals so you can get back on track. Your vitals will be checked, as will your BMI (Body Mass Index), bone mass and water percentage. You will also be screened for any problems, such as high blood pressure, and they will take a look at your chakras so you can get the best of western and Thai worlds.
Reflect And Regenerate With A Retreat
Thailand is very famous for its wellness retreats, and Aleenta Phuket has one of the best. Mind Treasured is a restorative mix of medication, spa treatments, yoga and a balanced and healthy diet. If you need to kick-start your wellness or just want to recharge, Mind Treasured is the full package. Drawing heavily on natural elements, holistic practices and modern medicine, this retreat will change your perspective and help instil some very healthy habits moving forward.
Cleanse Your Body Of Toxins
Cleanses have become more and more popular for a very good reason. They work to reset your body and get you on the path of health. Using ancient techniques, tried and true methods, and modern systems the Ayurah Wellness Total Purifying Retreat is a one-of-a-kind all inclusive package that will rid the body of any toxins and restore balance.
Enjoy A Wide Menu Of Spa Treatments
For those who do not want to go on a retreat, but would like a spa treatment anyway, Aleenta Phuket offers a wide variety of different spa services, all designed to make the recipient feel amazing and restored. Here are just a few services and treatments that anyone can enjoy at Aleenta:
Ayurah Holistic Chomotherapy Bath
Four Element Massage Therapy
Well Being Massage Therapy Including Chakra Massage
Body Sentimentality Including Polish, Contouring And Himalayan Salt Glow
Thai Healing Treatment With Traditional Massage And Facial
Vichy "Rain Mist" Shower Detox
Hydrotherapy Healing Bath
"Chakra Ka-Vikasa" Energy Alignment
Four-Elemental "Ayurah Santulana" Massage
Integrative Deep Tissue Massage
There are also services available for children. The spa is well renowned in the region and you are guaranteed to leave feeling refreshed and fulfilled.
On your next trip to Thailand make sure you visit Natai Beach. You will have a unique, pleasant and restorative experience full of culture, great food and relaxing treatments. Do not miss a visit to this eco-friendly resort in gorgeous southern Thailand.
Related Articles
ALEENTA PHUKET RESORT & SPA
33 Moo 5, Khok Kloi,
Takua Thung, Phang Nga
82140 Thailand