Phang Nga is a once-in-a-lifetime destination. Nestled between the Andaman Sea and Phang Nga Bay in southern Thailand, a trip to Phang Nga offers impressive views, exciting outings, and great traditions.
Phang Nga is a masterpiece of nature – an intoxicating mix of vibrant colours and spectacular sights that, once tasted, linger long. From a lush landscape to the azure waters of bays and islands' sheer, resonating beauty, this southern destination's embrace is warm indeed.
The province is located on the Andaman Sea just north of Phuket. Travellers are greeted by the white sand of long stretches of glorious beaches – no finer than Natai Beach – that shimmer under a tropical sun and a culture rooted in friendliness and hospitality. The province's main tourist area is Khao Lak, where numerous hotels and an array of bars, shops and restaurants augment the surroundings. The area omits a chilled-out buzz that hums in the ears of travellers and creates a mellow cadence to their adventures.
Through the palate, Thailand and Phang Nga's impact is, for many people, its most profound. The ambience of fun permeating Thai culture has nurtured a love of cooking and led to the creation of some of the best dishes in the world. Malay, Indonesian and Indian spices heavily influence Southern Thai cuisine. It enlivens taste buds and enslaves minds. There are also excellent international food options.
No trip to Phang Nga is complete without getting close up and personal with the destination's outdoor experiences, whether trekking, canoeing or fishing. There's also island snorkelling and diving at the world-renowned Similan Islands, a refulgent reef structure that proves the area is just as enthralling on the water as it is on land.
Phang Nga Bay History
Phang Nga National Park was established in the early 1980s to preserve the bay and its islands. The National Park houses impressive limestone karsts, lagoons, caves, and mangrove rivers. Nearby Panyi Village offers travellers an authentic look at local culture, and the beauty of Phang Nga–sandwiched between the Andaman Sea and Phang Nga Bay–provides scenic luxury. Phang Nga National Park provides an oasis for travellers looking to be immersed in Thai history.
The Area of Phang Nga
Phang Nga Bay and Phang Nga National Park offer many destinations and activities worth pursuing. Speedboats and longboats are great ways to navigate Phang Nga, so lining up reservations for trips around the bay may be helpful. Boats can be hired at reasonable prices. Adventurous types may prefer to secure private vessels. Use the first day in Phang Nga to become familiar with the surroundings.
The clear waters of Phang Nga Bay make snorkelling a great activity when visiting islands throughout the bay. Khai Island, Khai Nok Island, and Koh Yao Island are worth visiting for a day or an afternoon. An impressive array of marine life is on display, and islands throughout the bay house diverse populations of birds.
Phang Nga Bay held a claim to fame long before movies showcased this unique area. James Bond Island is named after the lead character in the film it was featured in. This limestone, needle-shaped rock jutting out of the water appeared in The Man with the Golden Gun feature film. The bay also appeared in Star Wars: Episode III – Revenge of the Sith. Its distinctive look was used as the backdrop for the planet Kashyyyk.
Phang Nga Bay
Phang Nga Bay is filled with small islands and caves that can be reached by boat. Speedboats promise short trips to islands throughout the bay. Speedboats are also an affordable way to get around Phang Nga Bay. Khai Island, Khai Nok Island, and Koh Yao Island are worth visiting for a day or an afternoon. The clear waters of Phang Nga Bay make snorkelling a great activity when visiting islands throughout the bay. An impressive array of marine life is on display, and islands throughout the bay house diverse populations of birds.
Ten thousand years ago, the sea levels were so low that one could walk from Phuket to Kabi. Today the area is a spectacular bay that offers visitors a multitude of natural wonders to explore, beaches to relax on, and several activities to fulfil one's adventurous side.
In addition to Hollywood's touch and the natural beauty of Phang Nga Bay, the area is well-known for numerous diverse cultures that co-exist in the local communities. These people harvest Nypa palm fronds for thatching, practice fishing, and play host to the many international tourists drawn to the bay each year.
Phang Nga Bay Tour
An early departure from Aleenta Phuket Resort will allow you to enjoy the peaceful marine surroundings of your Phang Nga Bay Tour and take photos before other visitors arrive.
After enjoying the island sights, you are whisked away to Hong Island, where you can kayak on a stunning emerald-green lagoon at your leisure. As you gently paddle around, you'll witness beautiful birds and sleek silver fish in their natural habitat. The Phang Nga Bay tour then continues with a visit to the spectacular Lagoon Cave and Diamond Cave on Panak Island before returning you to the resort to enjoy the rest of your day and evening.
Not To Be Missed
For film buffs, Khao Tapu is a must-see destination. Referred to as James Bond Island, 007 fans will recognise Khao Tapu from The Man with the Golden Gun.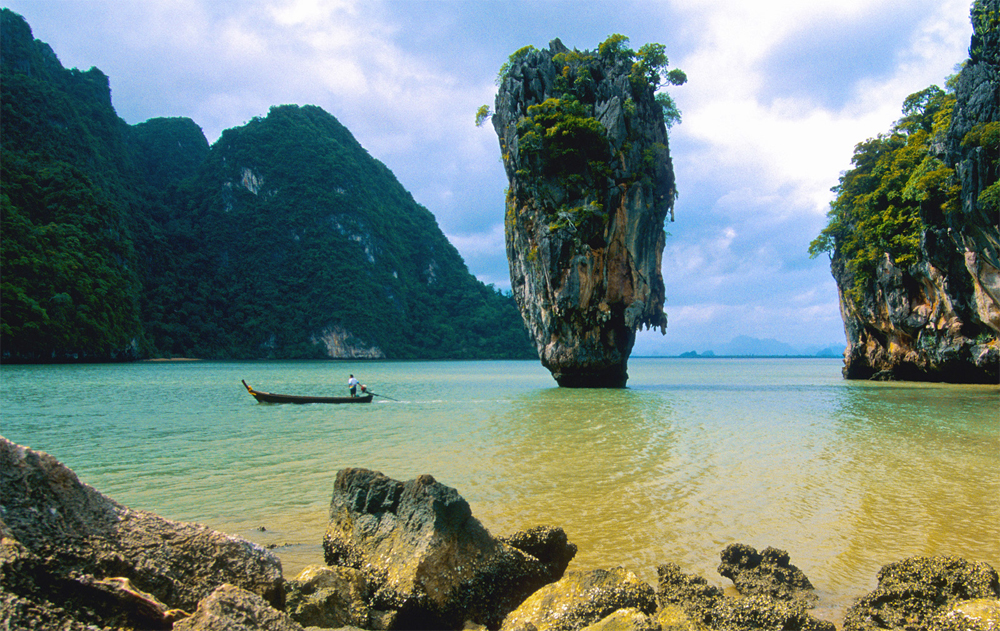 Boat tours are a great way to experience Khao Tapu, but the area is heavily visited. Travellers who prefer to avoid large crowds and vendors may choose to hire a longboat after regular hours and tour the island when the crowds dissipate. Hiring a private boat is the way to go if money is no object. As dusk approaches Phang Nga, floating around Khao Tapu in the dwindling sunlight is an experience like no other.
The Unusual Sights around Phang Nga
Visit Wat Suwan Kuha Temple to see the impressive golden statue of Buddha. Situated in a cave, the horizontal Buddha statue greets visitors with the beneficent visage one associates with statutes of Buddha. Immediately, travellers will understand why this destination is called the reclining Buddha temple.
Wat Suwan Kuha Temple also cools and entertains visitors. Fresh water drips from the cave's ceiling. The water is collected and held in a concrete vessel. This water offers incredible relief from tropical weather. Around the temple, monkeys frolic. Monkeys climb on visitors in a good-natured way, and the monkeys enjoy being fed by hand. Visitors can look forward to being greeting by the friendly primates who are inclined to cavort around the temple grounds.
The Surrounding Area
Speedboats and longboats are the best way to navigate Phang Nga and its surroundings. To experience authentic village life, take a day trip to Panyi Village. A short trip from Phang Nga, Panyi is a moderate-sized village built on wooden stilts. Panyi offers a great way to be immersed in Thai life. A fishing village, visitors will find that trade on full display. The sights, sounds, and smells on Panyi are typical of Thai villages, and visitors will enjoy navigating labyrinthine alleys and tasting local fare.
The mosque on Panyi is the only structure built on solid ground. Recently remodeled, the mosque's golden domes are bright reminders of the impact of Muslim culture in the area. In direct contrast to the mosque's firm location, Panyi has a floating football (soccer) pitch. The pitch is situated entirely in the water, making idea of keeping the ball in bounds more a matter of moisture than possession. Players will get wet, as they are forced to dive into the water to retrieve errant balls.
Phang Nga offers a little bit of everything for travellers looking to combine luxury and scenic trips. Private bungalows and luxurious spas are available to pamper and indulge weary travelers. Boating, snorkelling, and sea kayaking await in Phang Nga Bay. Wildlife–from the marine life seen snorkelling to monkeys frolicking at Wat Suwan Kuha Temple–abounds and entertains. Panyi Village takes travellers away from spa luxury and nature experiences to immerse them in Thai village life. Panyi is authentic and engaging.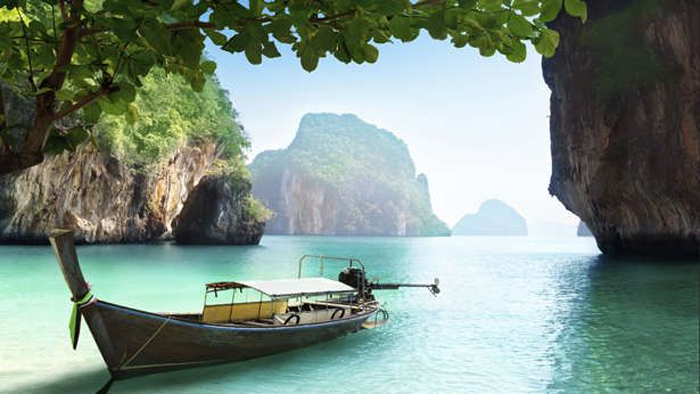 Phang Nga engages the explorer, in every way. From the sense of adventure felt in caves and on small islands, to the sense of wonder gazing at reclining Buddha to the sense of relaxation felt at beachfront spas, a trip to Phang Nga gets under a visitors skin in the best possible way. A trip to Phang Nga is the trip of a lifetime.
Resort near Phang Nga Bay
Natai beach lies along the shore of Andaman Sea on the west coast of Thailand. Its coral reefs are considered some of the best preserved in the world. Just ten minutes north of Phuket, Natai is more than quiet and peaceful, you can literally walks for hours without seeing anyone. It is a ten kilometer strip of pristine beach, whose government protection ensures that it will retain its isolation from the hustle and bustle of Phuket's beaches.
This Phang Nga Resort is located on a private, flawless beach splayed out before the wonder of the Andaman Sea. Privacy amidst the throng is a rare pleasure. A rare pleasure indeed. It's the best decision to turn left instead of right (out of Phuket International Airport) you'll ever make.
Aleenta's beach villas features striking and original room designs that range from spacious lofts to grand villas with five bedroom, each very different from the last. Many of their accommodations come with a private pool or a beach front view, all will give you the ultimate feeling of privacy. While the diamond studded beaches and crystal blue waters are the perfect remedy for the tension of modern life, you will also find the spa facilities are world class.
FAQs:
What is the best way to explore Phang Nga Bay?
There are several ways to explore Phang Nga Bay, including by boat, kayak, or on foot. Taking a boat tour or renting a private longtail boat is a popular way to see the limestone cliffs and islands. Kayaking is a great option for those who want to get closer to the cliffs and explore the smaller coves and caves. Hiking trails are also available on some of the islands.
What are some popular activities to do in Phang Nga Bay?
Some popular activities in Phang Nga Bay include island hopping, kayaking, swimming, snorkelling, hiking, and exploring the local fishing villages. Visitors can also enjoy Thai massages, sample fresh seafood, and visit the James Bond Island.
How much does it cost to explore Phang Nga Bay?
The cost of exploring Phang Nga Bay varies depending on the activities and tours chosen. Private longtail boats or kayaks can be rented for around 1,000 to 2,000 baht per day. Joining a group boat tour can cost around 1,500 to 2,500 baht per person. Some tours may include lunch or snorkeling gear, so it's best to check with the tour operator before booking.
Is it safe to swim in Phang Nga Bay?
It's generally safe to swim in Phang Nga Bay, but it's important to be aware of the currents and tides. Some areas may have strong currents or rocky underwater terrain, so it's best to stick to designated swimming areas or ask for advice from locals.
What should I bring with me when exploring Phang Nga Bay?
It's recommended to bring sunscreen, a hat, sunglasses, insect repellent, and plenty of water. If you plan to go kayaking or snorkeling, bring appropriate gear such as a life jacket or snorkel mask. It's also a good idea to bring a waterproof bag or case to protect your belongings.
Can I explore Phang Nga Bay on my own?
It's possible to explore Phang Nga Bay on your own by renting a kayak or private longtail boat. However, it's recommended to have some experience with kayaking or boating, and to be aware of the tides and currents. Joining a guided tour can be a safer and more informative way to explore the bay.
Related Articles