Thailand has many beautiful and exotic places to visit. One of the most interesting, however, is the seaside village of Rawai, located on the southernmost part of Phuket. Phuket is one of Thailand's most popular destinations. If you're already planning to visit this region, Rawai makes for a fascinating side trip, one that contrasts nicely with more touristy and developed areas. While quite close to popular areas such as Patong, Rawai has a completely different culture and ambiance.
Rawai, Home of the Sea Gypsies
Rawai is home to the people known as Sea Gypsies, who were nomadic until they settled in this village and several other nearby locations. Most Sea Gypsies make their living by fishing or pearl diving. These are people who live a very a very traditional lifestyle and only recently acquired electricity. They have their own animistic religion. If you visit in June or November, you can see their Floating Festival, where boats are launched to ward off evil spirits.
Visiting the Rawai Sea Gypsies
Compared to many other areas in Phuket, Rawai is not quite as popular as a tourist destination. This makes it one of the best places in Thailand to experience authentic local culture. The most common way to reach this village is to take a songthaew, a type of truck used in Thailand as a bus or taxi. Because attractions in the village are fairly spread out, it's easier to get around if you have your own transportation. The simplest way to do this is to hire a scooter. There are also quite a few restaurants and attractions to see while you're here.
Rawai Beaches, Attractions and Landmarks
Like many places in Thailand, Rawai has some amazing beaches as well as other attractions worth visiting.
Rawai Beach still has more of the atmosphere of a traditional fishing village than a typical modern beach. It's a scenic spot but not usually suitable for swimming. You can buy fresh fish at local markets and dine in restaurants close by.
Nai Harn Beach is a small beach that's not usually crowded. It has areas that are great for swimming. Surfing is also popular on days when the waves are cooperative. There are places to eat nearby.
Yanui Beach, not far from Nai Harn Beach, is another small beach that provides a great spot for swimming and snorkeling. Depending on the time of year, however, this beach sometimes gets crowded.
Laem Ka Beach is yet another low-key beach in Rawai. The only drawback to this beach is that speedboats transporting tourists occasionally stop here and create some noise.
Phromthep Cape. This is one of the best places in Rawai to get spectacular views of the Andaman Sea. It's especially popular for taking photos at sunset. For the most dramatic vantage point, you can climb to the top of the lighthouse. There's also a shrine with hundreds of elephant statues.
Rawai Boxing Stadium. Muay Thai boxing has gotten popular around the world in recent years. This stadium, which was only built a few years ago, is a place where you can see fights up close.
Maithon Island. Also known as Honeymoon Island, this is a good place to spend a few hours or even a whole day if you're so inclined. You can find tours or rent a boat to take you to Maiton, where there's a snorkeling center to rent gear. It's also possible to rent scuba equipment, kayaks and jet skis if you're a water sports enthusiast.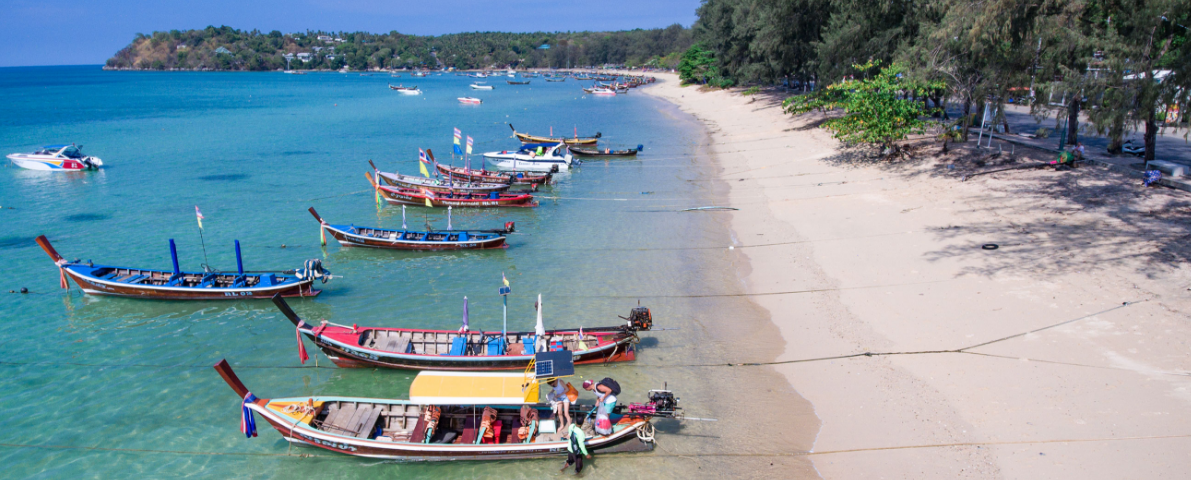 If you prefer, you can simply relax and enjoy a quiet few hours on the island.
Boat Tours
If you visit Rawai, you'll find many tours and excursions that will help you explore the area. The waters around Rawai and Phuket provide ample opportunities for snorkeling, scuba diving, fishing and island hopping. You can do these activities on your own or they may be offered by the resort at which you're staying. However, there are some good tours that can take you to some of the best snorkeling and diving spots in Rawai.
Blue World Safaris offers luxury boat rides equipped with diving and snorkeling gear, kayaks and more. The have regular tours as well as charters.
If you're an experienced diver or want to learn how to scuba dive, Aloha Ocean Adventures has many scuba diving tours and courses.
Maipreu offers day trips to several islands around Phuket.
Fishing in Phuket specialises in budget fishing trips to destinations such as Koh Rok, Racha Islands and the Anamans.
Our Yacht Charter has fishing, snorkeling, scuba diving and island hopping excursions on luxury yachts.
Rawai is a Unique Destination
If you're looking to experience the real Thailand, you should consider putting Rawai on your itinerary. There are many great reasons to choose a hotel or resort in this area as well. Between the natural beauty of the beaches and landscape and the distinctive culture of the Sea Gypsies, there's no place else exactly like it.
Phuket Resorts
Staying at our Phuket Resort is one of the best decisions that you can make when visiting Phang Nga. With service like no other and beautiful architecture and design right next to the ocean's edge, you will feel both treated like a royalty and a part of something more than just a luxury hotel. This eco-resort provides visitors with top luxury without taking away from the planet.
Aleenta Phuket Resort and Spa, Phang Nga is, in essence, a reflection of its surrounds – an extension of cerulean ocean it overlooks, emblazoned by a congruous design dotted by a myriad pools that reflect the Andaman Sea's magnificence.
Resort Rooms flow seamlessly into private pools. A spectacular 20m x 9m beachfront infinity pool serves as the resort's focal point, luring guests to witness a setting sun that burns the ocean and minds, leaving an indelible image of the perfect tropical island sojourn.
The ultimate in barefoot boutique luxury's other highlights include Ocean View Lofts that boast an infinity pool extending from a private sundeck, Pool Suites resplendent with a 7 metre pool and a Jacuzzi, and Villas that feature a living room and sleeping rooms connected by a pool. The 3 bedroom Beachfront Villa's pool is for your eyes only and set against a vast wooden sundeck.
Related Articles
ALEENTA PHUKET RESORT & SPA
33 Moo 5, Khok Kloi,
Takua Thung, Phang Nga
82140 Thailand