The smile of a golden sun, the soft whisper of waves, the kiss of a gentle breeze. All these can be part of your perfect beach wedding in Phuket.
Getting Married in Phuket
For your marriage to be legally valid in your country, several steps are required. Be sure to keep copies of all documents submitted and received.
1. Apply for your Visa at your homeland Embassy. For the address of your local Embassy, go to: www.embassy-worldwide.com, and scroll down to your country.
2. Acquire a certificate verifying your eligibility to marry. Ideally, you should do this through your homeland Embassy in advance of your trip to Thailand.
Otherwise, you can obtain the certificate from your representative Embassy or Consulate in Thailand. You'll need to make an appointment to do this, which should be done online. At least one week before your intended wedding date, go to the website of your representative Embassy in Bangkok and make the appointment.
3. After you've made your appointment online, assemble the documents you'll need to bring:
Printed copy of your appointment confirmation page
Passport and government-issued ID plus two copies
Two copies of your entry Visa
Evidence that any previous marriages have been terminated, such as a divorce certificate, death certificate, or court decree.
Documents must be originals, not photocopies.
4. Go to your representative Embassy in Thailand at the designated appointment time. Complete an "Affirmation of Eligibility to Marry" form. For an example from the US Embassy, go to: marriage_affidavit.pdf. Write your name exactly as it appears on the photo page of your passport. The form will need to be accompanied by a fee in Thai currency.
5. Obtain a certified translation of the processed affidavit and any documents verifying termination of a previous marriage. The Embassy does not provide translation services, but you can find translators in Bangkok by going to: https://th.usembassy.gov/u-s-citizen-services/local-resources-of-u-s-citizens/getting-married-in-thailand/.
6. Get the affidavit and translation legalized by going to the Thai Ministry of Foreign Affairs Legalization Division. This normally takes two working days.
Go in person to: Legalization and Naturalization Division
Department of Consular Affairs
Ministry of Foreign Affairs, 3rd Floor
123 Chaeng Wattana Road, Laksi District, Bangkok 10210
Telephone: 02-575-1056-59
Open: 8:30am-2:30pm, Monday-Friday
7. Take your documentation to the Phuket District Office to obtain the marriage certificate.
Bring the following:
Legalized affidavit and translation
Passports
National IDs
Original document verifying the end of a previous marriage and its Thai translation
The information for the Phuket District Office is:
Phuket Wedding Registration Office (Amphur)
Mae-Larn Road, Tambon Talardyai, Amphur Muang, Phuket 83000
Telephone – 076-211-1716
8. Receive your Thai Marriage License. Once it is translated into English, your marriage will be legally recognized world-wide.
Guide to Wedding Ceremonies
Once the legal requirements have been met, you can choose from a Christian or Thai Buddhist ceremony. If you wish to have the wedding performed at Aleenta Phuket Resort, notifying us one month in advance paves the way for a smooth process.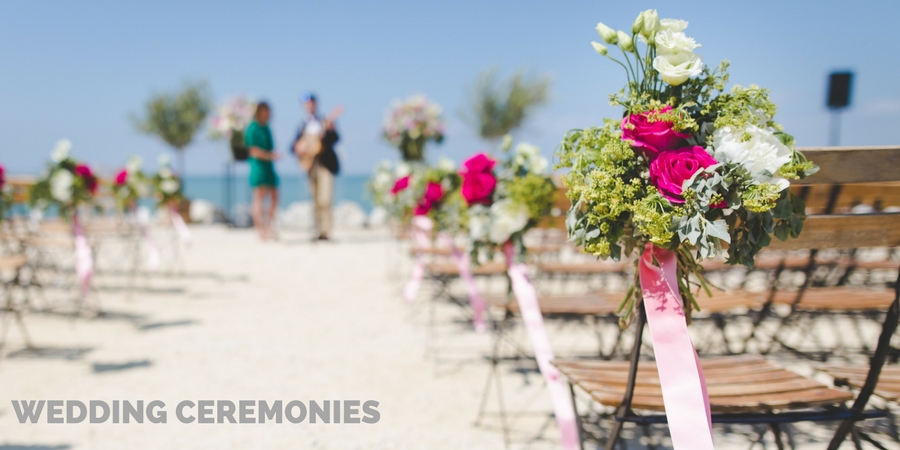 Christian Wedding Ceremony
If you wish to have your ceremony performed at a church, you have three options in Phuket, as follows:
Seed Church International
Address – 48/67 Moo 4, Soi Pasak 8, Cherngtalay, Thalang, Phuket 83110
Telephone – +66(0)76-274975-6, +66(0)81-8912503, +66(0)84-0567027
Website – http://www.seedchurchthailand.com/en/
Ceremonies at The Seed Church International can be performed in English, Thai, or Chinese.
Phuket Christian Centre
Address – 74/123, Phoonpon Road, Tambon Talat Nuea, Amphoe Mueang, Phuket, Thailand 83000
Telephone – +66 76 246 380
Phuket Christian Centre offers a Christian ceremony in Thai or English, either in the church or at your wedding location.
Hope of Phuket International Church
Address – 58/69 Mae Luan Road, Tambon Talad Nuea, Phuket, Thailand 83000
Telephone – +66 810795761, +66 76234377
Thai Wedding Ceremony
Many couples opt for a romantic Thai ceremony. There are many variations. It's up to you how simple or elaborate you want it to be. A Thai ceremony is steeped in symbolism to ensure good fortune.
Wedding Invitations
A Thai wedding involves several rituals. Some of them will only be attended by relatives and close friends. The invitations to these people should specify the times of these important customs. The functions you'll want to mention are:
Temple Blessing
Groom's Procession
White Thread Ceremony
Evening Ceremony
Paying Homage to the Bride's Ancestors
The night before the wedding, the monks visit the wedding couple. The bride and groom will be dressed in respectable, everyday clothing. A sacred thread joins the heads of the bride and groom and is placed into the hands of the first monk. With a special fan in one hand, he will say prayers honouring the bride's ancestors.
Early Morning Prayers
Early in the morning on the wedding day, the monks arrive. They will say prayers while a lit candle is placed in a bowl of water. This "lustral water" will be used later to bless the bride and groom. A bowl of white paste is also blessed to anoint the foreheads of the couple later in the ceremony.
Temple Blessing
The wedding couple and their relatives go to the temple and offer gifts to the monks. The offerings consist of food, flowers, three incense sticks, and money. After the monks have eaten, they resume their prayers for health, happiness, and prosperity for the couple. The couple kneels before the senior monk with their hands in a prayer position. This is the traditional "wai" gesture, a sign of respect. Incense is lit while the monks chant prayers, creating a calm, spiritual atmosphere. The senior monk will bless the couple and guests with holy water. He will then tie a string bracelet around the wrists of the bride and groom, symbolizing their union. He will also paint three dots on their foreheads with a white powder stick. The dots represent life, love, and good fortune.
Merit Making Ceremony
To create merit or good fortune for the marriage, the couple will release animals back to nature. These can be birds, fish, or turtles.
Groom's Procession
This is a parade where the groom, his family, and close friends dance their way to the bride, bringing offerings. The couple will be dressed in the traditional garb of brightly coloured Thai silk. The groom will offer gifts to the bride's parents, as a way of asking for her hand in marriage. The gifts may be money, gold, a ring, or other jewellery.
White Thread Ceremony
A senior elder from the bride's family pronounces a blessing. He then ties white thread bracelets blessed with holy water on the couple's wrists. The bracelets are meant to be worn for at least three days to receive the good luck bestowed. At this time, if the couple wishes, they can make their vows and exchange wedding rings.
Water Blessing Ceremony
A white thread is looped around the heads of the bride and groom. This is called the "Circle of Luck." The couple is also garlanded. Using a conch shell, the elder pours holy water over the couple's hands. Bowls of flowers beneath their hands catch the water. The flowers symbolize the fragrance of marriage and the beauty of life. The pouring of water is an act of blessing.
Each guest will place an envelope of money in a basket for the couple. In return, the guests receive a small memento of the wedding day. At this point, the photographs are usually taken.
Evening Ceremony
The couple and their parents stand in front of the reception area to welcome and greet their guests. The guests will go to the reception table and sign the Blessing Book. Before the meal is served, a senior guest gives a speech and toast to the couple. The couple then proceeds to the cake-cutting. They offer a piece each to their parents, senior family members, and senior guests. Then everyone enjoys the wedding feast!
Wedding Specialists
Aleenta's professional Wedding Consultant is waiting to assist you. She can guide you with decision-making and answer any questions.
Look into activities your guests can enjoy before and after your wedding, discuss the activities with our Wedding Consultant. She can obtain group prices for you. Then advise your guests that these events have been provided for them, and they can be booked through our Front Desk at a special price.
Enjoy a Stress Free Wedding
One of the keys to a stress-free wedding is allowing adequate time to prepare. You'll need a full week to get your documentation to legalize the marriage before the actual ceremony.
Invite your guests well in advance, so they have time to make plans. Provide them with as much information as possible.
You need to allow time to meet our Executive Chef and sample the menu. You'll also want to meet with your Wedding Consultant.
Lastly, block out some time to relax before the Big Day. It will help you adjust to the time zone and climate. Take advantage of our spa services, and enjoy the beach. Visualize your dream wedding, and let Aleenta make your dreams come true!
Related Articles
ALEENTA PHUKET RESORT & SPA
33 Moo 5, Khok Kloi,
Takua Thung, Phang Nga
82140 Thailand