A day trip to the Phi Phi Islands takes about 50 minutes when departing from your Phuket Resort by speedboat and these islands are a beautiful sight worth taking in.
Two main parts of Phi Phi, the first is Phi Phi Leh, and second, you have Phi Phi Don. You will find the ferry ports and hotels on Phi Phi Don while Phi Phi Leh remains uninhabited, with some of the most amazing secluded and romantic beaches, which of course was used as the location for the Hollywood movie "The Beach".
Phi Phi: Thailand's Island Jewel
While Phuket has a lot to offer as a tropical island, a day trip to Phi Phi offers something equally unique, and if you do have time then it would be well worth visiting.
If you choose to eat on the beach, keep in mind that the restaurants on the beach have a slightly higher price with the same food quality. Visiting Phi Phi between May and October you miss peak season and the prices are lower. However, this is also the time when you might catch some rain.
What to See in Phi Phi
Diving the King Cruiser Wreck is one of the best dive sites in Phi Phi. This passenger ship struck the Anemone reef in 1997 and sunk. Ever since, it has become a popular habitat for the local underwater wildlife like clown fish, barracuda and tuna, leopard sharks and of course a wide array of anemones.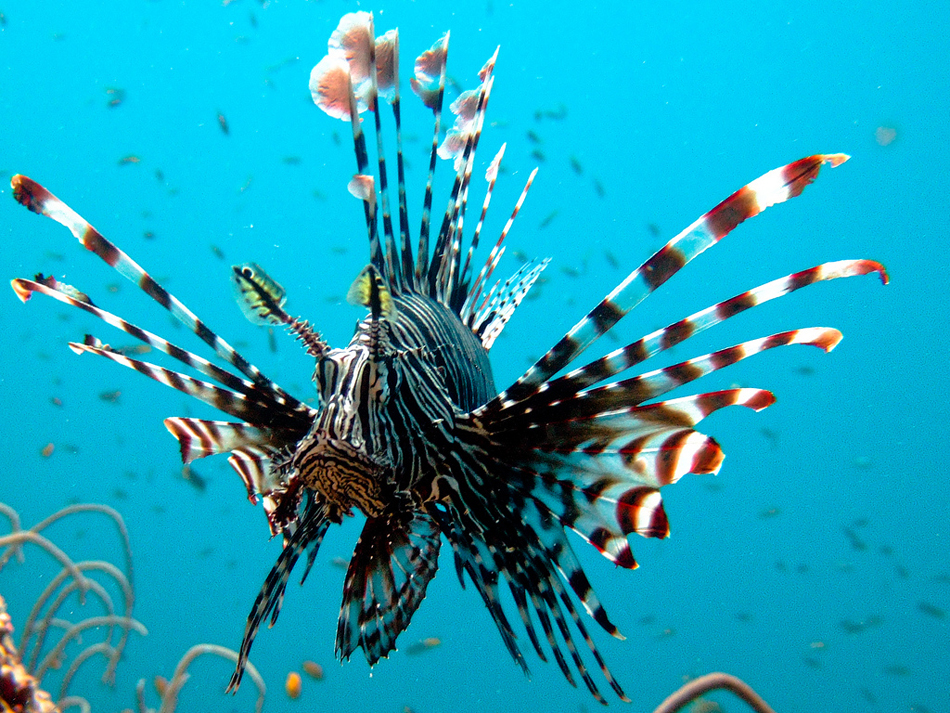 Feeding the sharks has become another popular activity for day trips to Phi Phi. Most often, you will feed the sharks in the early morning, and you can feed both leopard and black tip sharks. With most day trips, it will include a visit to the local coral garden for some snorkeling where you could see black-tipped reef sharks and leopard sharks.
Snorkeling in Maya Bay has become another popular location for snorkeling. Maya Bay is actually where Leonardo DiCaprio was filmed in "The Beach" on Phi Phi Leh and is normally included in most snorkeling day trips.
Activities of Phi Phi
Hiking to Phi Phi Viewpoint will rewarded you with one of the most awe-inspiring views in Phi Phi Don and Phi Phi Leh. Phi Phi Viewpoint stretches to over 600 feet high, so this does take a little bit of physical fitness to reach. The hike can be strenuous, and you have a twisting path, but once you have reached the endpoint, your camera will be snapping pictures at 100 photos a minute. One of the best times to visit Phi Phi Viewpoint is during sunset or sunrise. From there, you can head over the hill where you will see the beautiful eastern beaches.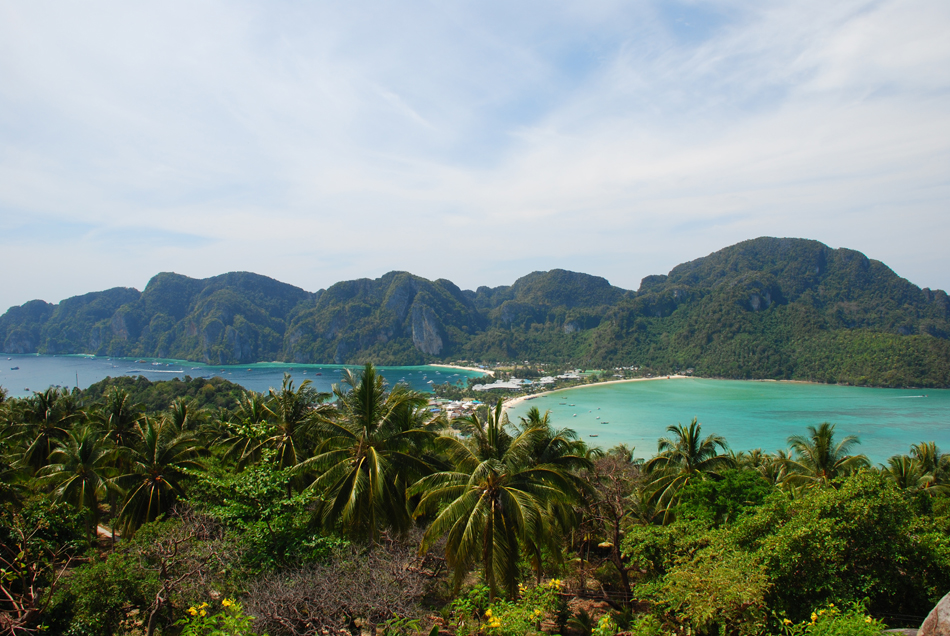 If you want another unique diving location, check out Hin Muang. The diving site is known for its vertical wall that is the highest in Thailand at 60 meters. You will find whale sharks, leopard sharks, reef sharks and manta rays. The crowning glory of diving Hin Muang is the huge purple rock. You have some dazzling colours to be found in the coral reef, and there are all types of reef fish in the area. However, please be aware that the currents at Hin Muang can be strong.
Hanging out on Monkey Beach
As previously mentioned Phi Phi has a Monkey Beach. Not only is Monkey Beach the most beautiful beach in Phi Phi, it is one of the most beautiful beaches that can be found in all of Thailand. The powder white sand beaches and marvellous diving opportunities has made for this destination becoming a favourite hangout spot, and you have monkeys that often come down from the beach to visit.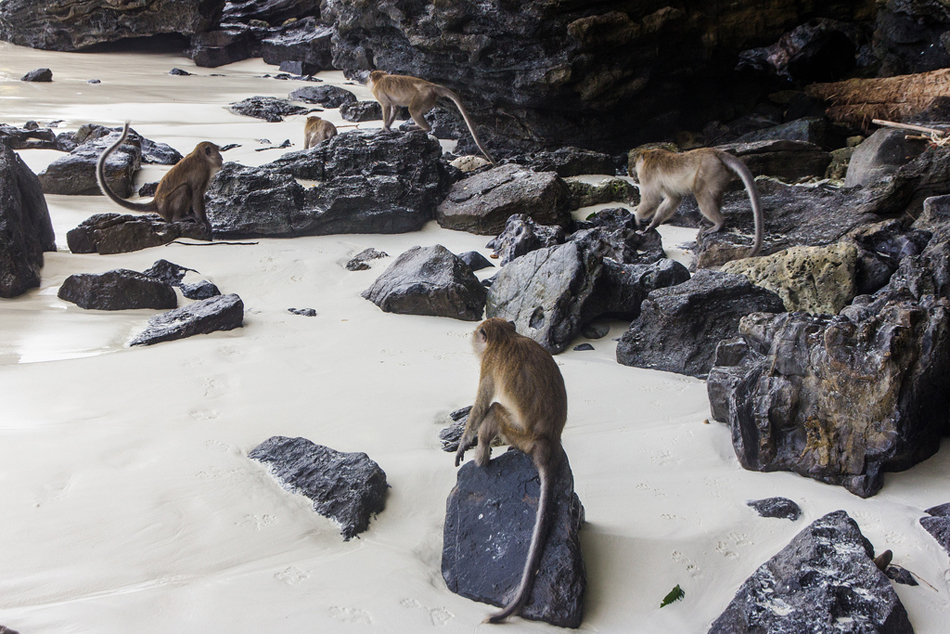 These monkeys are fairly tame, and you can even feed them.
Bamboo Island: The Less Crowded Alternative
As an alternative to Maya Bay, Bamboo Island is less inhabited, and the island only lies eight miles from Ko Phi Phi. At Bamboo Island, you will discover the Hin Klang coral garden. This is a national marine park with environmental protection rules, so there is an entrance fee.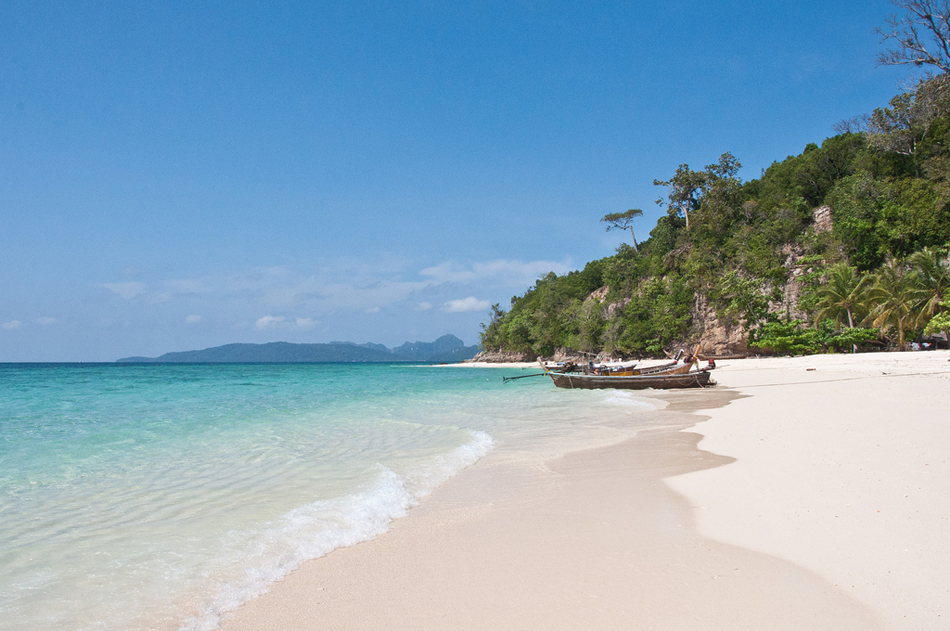 The price offers some of the best secluded sunbathing, snorkeling and exploring in Phi Phi.
Rock Climbing in Phi Phi
As you can about imagine, Phi Phi's rugged terrain and jagged cliffs have become a dream spot for rock climbers. Arranging a tour will take you to the limestone island cliffs that will be the most suitable location for climbing. A day-trip to Phi Phi for the rock climbing is, in itself, a great choice because you have a rock climber's paradise. In general, a rock climb in Phi Phi will take around a half a day.
Kayaking into the Sunset
You can rent a sea kayak in Phi Phi and take an ocean sunset tour. A lot of sea kayakers will go to Wang Long Bay, but you have plenty of other touring options if you have seen that while kayaking.
Learning to Cook Traditional Thai
Ever wanted to cook traditional Thai food? At Pum's Thai Cooking School, you can learn some of the classic Thai tricks to making great foods. You will find this cooking school on Tonsai Village, and it is great for that aspiring chef or person who loves to cook. You can take a 30 minute class, or you can stay for six hours or more. When you take a souvenir back with you, it will be the knowledge of how to cook some of your favorite dishes in Thailand. The classes are cost effective for what you will have after.
The Phi Phi Marketplace
If you want to learn about life in a certain part of the world, check out the marketplace. You can learn a lot about a destination based on what they sell there. Phi Phi market can be found in Tonsai Village, and you will find all the local fruits, vegetables and seafood at an affordable price.
Banks and ATMs
Changing money in Tonsai Village is no problem. You have several banks operating in the area, and they exchange traveler's checks and cash. You can find a lot of ATM's on the street corners, but you will not find much for banking facilities on the east coast of the island. You will either have to take your cash with you or stop in Tonsai Village.
Hospitals and Doctors
When it comes to the hospitals in the area, Tonsai West recently built a new hospital to treat minor injuries. However, you will need to go to Phuket for further treatment if you have a more serious injury. Through Tonsai Village, you can find Pharmacies, and they are open late. If you want to mail a postcard, you can visit the local post office . However, if you have more important mail, then you may want to use the main post office in Krabi or Phuket. About 500 meters from the pier in Tonsai Village, you have a tourist police area. Normally, you will find that at least one person there can speak English.
How to get to Phi Phi Islands
Phi Phi Island is 46 km from Phuket and the main way to get to Phi Phi island is by boat. Ferries from Phuket take around two hours and ninety minutes from Krabi.
Main departure from Phuket is the Rassada Pier and from Krabi at the Klong Jirad Pier. From Phuket airport travel straight down route 402 to the Rassada Pier, roughly 50 minutes car / taxi / bus journey.
Dress on the Islands
The Thai islands like Phuket and Phi Phi normally have an informal dress style. Nevertheless, most people here will appreciate a smart casual dress, especially if you plan to eat at a hotel restaurant. When it comes to the tipping here, you do not need to tip 10 to 15 percent, but the majority of restaurants will appreciate it if you do tip.
While the Thai police will not imprison you for sunbathing in the nude, a lot of Thai people will find it offensive. In Phi Phi, bathing topless has become more accepted, but you have to understand that this can catch unwanted attention. While they do tolerate bathing like this, they do not necessarily welcome it. At the hotels, you will sometimes find signs that say no topless bathing or G-strings.
The Royal Family
The Thai Royal Family is to be highly respected in this country. You do not want to make any brash remarks about the Thai king. Even stepping on a coin with his head on it can offend the Thais. Also, this might seem like common sense, but never deface the Thai King in portrait or poster because it can lead to a 10-year prison sentence.
Visiting the Phi Phi Islands for a day-trip is one of the best decisions that you will make. This is one of the world's most beautiful destinations, and while it is almost always busy with tourists, the Thai spirit on these islands remains alive and well.
Related Articles
ALEENTA PHUKET RESORT & SPA
33 Moo 5, Khok Kloi,
Takua Thung, Phang Nga
82140 Thailand