Old Phuket Town is a historical section of Phuket, Thailand, and should be placed on the must-see list of any Thailand tourist. Old Phuket Town is famous for its architecture, shops, museums, restaurants and hotels. Visitors can easily spend several days exploring this fun and interesting area of Phuket, where they can enjoy the illusion of being transported back in time to over a century ago. The Old Town region is primarily comprised of five roads and several small streets, and the quarter teems with culture and history following a major renovation.
The five roads listed below offer unique and exciting experiences for travelers of all ages and from all walks of life:
Phang Nga Road, Phuket
Just one turn off Yaowarat Road places visitors in the center of Phang Nga Road. A decorative alleyway depicting various Chinese characters leads to the celebrated Wind Bookstore, where both new and used books can be purchased for reasonable prices. Further along the road is the Shrine of the Serene Light, which dates back to the 19th century. Guests enjoy stopping at the shrine to rest and relax, take pictures, or enjoy its colorful and ornate interior. The Siam Indigo, a spacious eatery, is also located on Phang Nga Road. Here, visitors can indulge in modern cuisine or traditional, timeless Chinese favorites seven days a week.
Several Sino-Colonial style hotels pepper the road as well, featuring the classic fan-wafted lobbies and dramatic archways associated with the Far East.
The road is also lined with garden outlets, art galleries, tailors, candy stores and novelty shops where unusual souvenirs can be purchased.
Thaland Road, Phuket
Thalang Road is situated in the heart of Phuket's Old Town and is a street that no visitor should miss. Covered with an intricate system of archways, it is full of history and atmosphere. The sidewalk under the archways is referred to as the five-footways, which afford an easy walk for pedestrians who wish to stay out of the rain or sun. Offering an eclectic blend of commerce, Thalang Road is perhaps one of the most interesting and mysterious streets in Old Phuket. At the street's end, textile outlets, a bridal shop, music store and a bicycle shop can be found, as well as several upscale restaurants and cafes.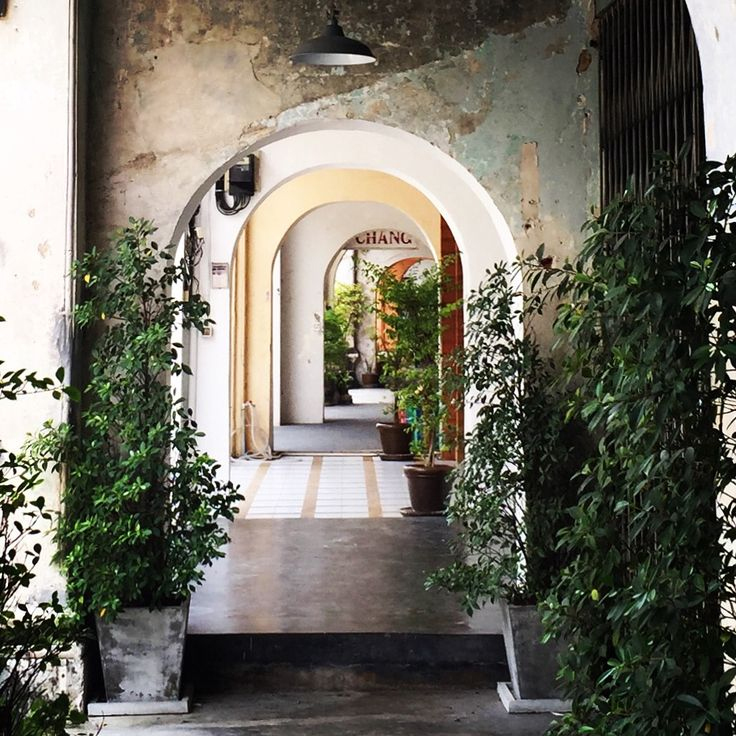 Through open windows, women can be seen in the darkened tailor shops working old-fashioned sewing machines to create handmade fashions. Opposite to the textiles, one can see noodles being made by cooks who supply many of Phuket's restaurants. The China Inn, which is also located on Thalang Road, offers foreign money exchange. This part of town is perhaps the most diverse and surprising of all Old Phuket Roads.
Dibuk Road, Phuket
A simple right turn from Thalang Road will place visitors at the south end of Dibuk Road. This street is a must-see for those interested in Chinese style houses and other architectural wonders. The road is relatively wide, which is advantageous to those searching for photo opportunities and the latter abound from one end of this fashionable street to the next.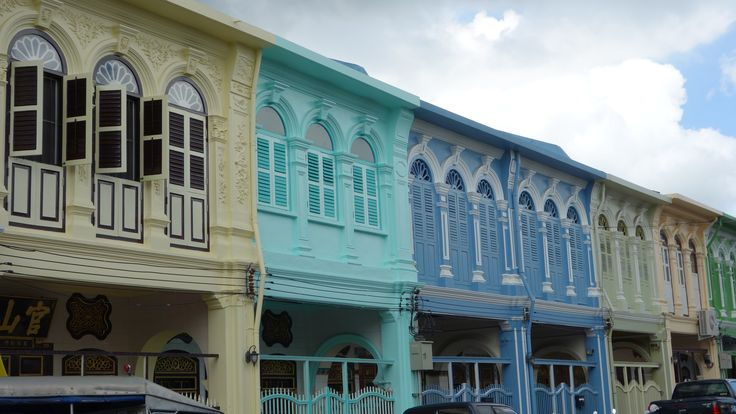 At the North end of Dibuk Road, where it intersects with Satun Street, travelers will find an exceptionally popular new shop called the Pheteow noodle shop. However, because locals have long since discovered just how tasty Pheteow dishes are, numerous office workers flood the small establishment at peak times. Therefore, tourists may wish to patronize the restaurant during less busy hours.
Krabi Road, Phuket
At the junction of Thalang and Yaowarat Road lies the renowned Krabi Road, where virtually any type of food one could imagine is available. From traditional Chinese and Thai cuisine to Indonesian fare and Thai-Western choices, anyone who is hungry will leave well satisfied after a visit to Krabi Road.
A few blocks past this section is the beautiful Thai Hua Museum, housed in a building that once served as a Chinese language school. It is surrounded by its own garden and several shop houses, and several tons of green coconuts grow on the property each year. A bit further down the road is the Old Town Guest House and Fruit Shop, which makes a terrific home base from which to explore.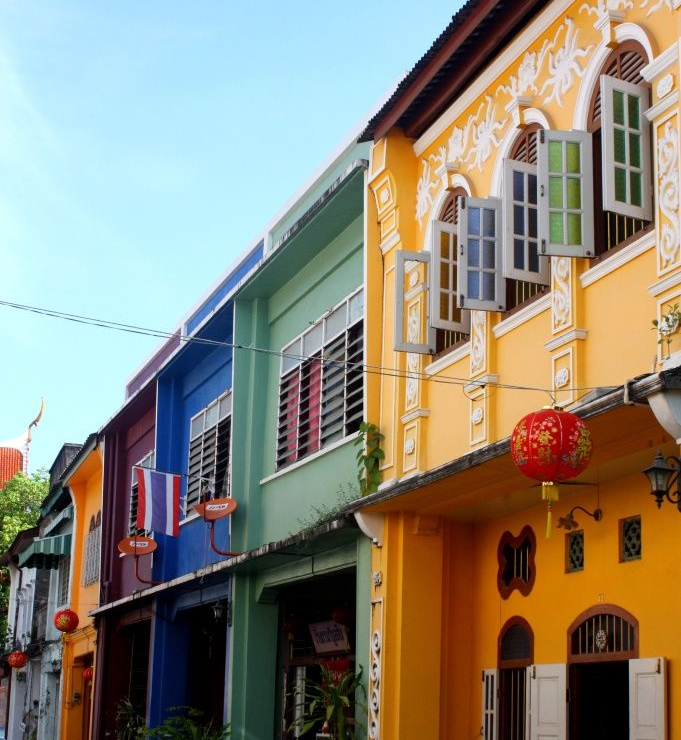 The Phra Phitak Chyn Pracha Mansion and the Chyn Pracha House are other terrific landmarks located on Krabi Road and visitors are pleased to find that guided tours of both establishments are available throughout the year. At the end of the street, is the Sam San Shrine, which was created in 1853 as a place to hold ceremonies to pray for and bless newly launched marine craft. A bust of the goddess Matsu was transported from Fujian in China to Phuket following the 2004 tsunami and the Sam San Shrine is now the figure's permanent home.
Ranong Road, Phuket
Ranong Road is a great choice for those who enjoy learning about ancient Chinese gods, customs and traditions. When approaching the street from the center of town, visitors will not be able to miss the colorful Chinese shrine known as Jui Tui. This monument was dedicated to Kui Wong In, the Chinese vegetarian Taoist god, and is the center of attention each year for the duration of the Phuket Vegetarian Festival.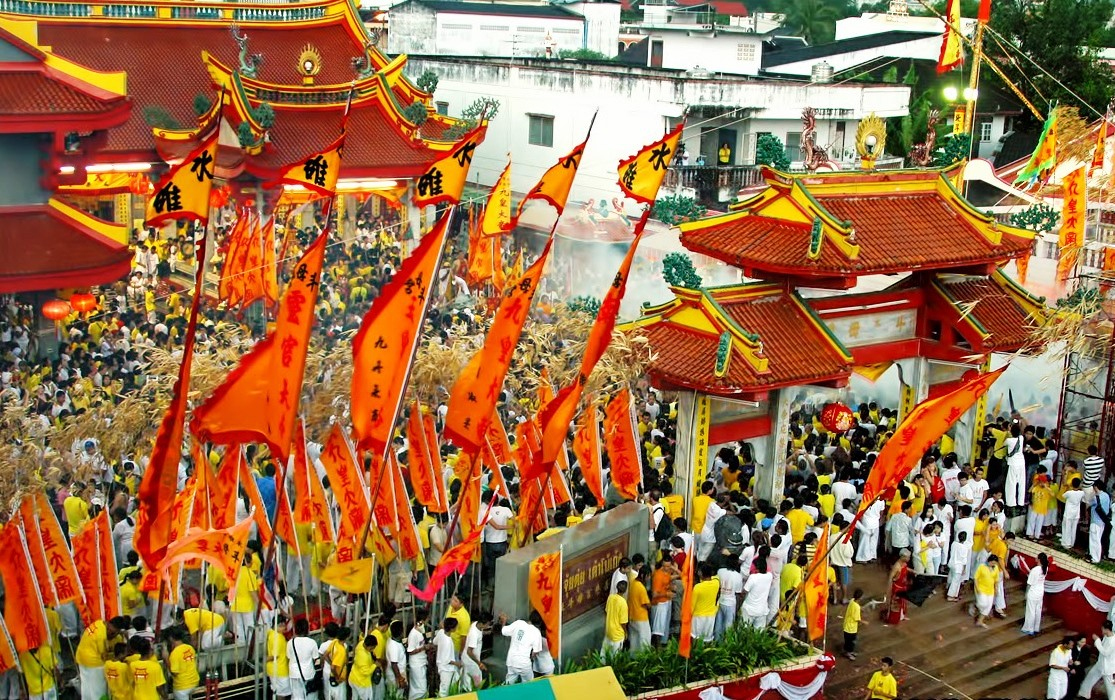 Here, local residents can be seen using bamboo blocks to receive advice from the shrine's oracle. They typically ask a question that must be answered with yes or no and then proceed to gently throw the blocks in the air. If each block lands on the same side, this indicates that their answer is "no," but if only one block lands down and the other lands facing up, this is taken as a "yes."
Alongside the Jui Tui shrine is the 200-year-old Chinese Taoist Temple, which was renovated in 1908. This landmark is definitely worth seeing, and visitors will likely never forget its splendid architecture.
All travelers should plan an itinerary in advance to ensure they fully experience all Old Town Phuket has to offer. A once-in-a-lifetime experience, a visit to this intriguing and mysterious part of Thailand will never be forgotten.
Things to Do and Attractions in Old Town Phuket
Old Town Phuket offers an experience to all ages. These activities cover a wide scope of interests, so everyone is sure to find one that interests them to enjoy. Here are some recommendations of things to do in Old Town Phuket.
Have a Picnic at Khao Rang
While not the highest point in Phuket City, Khao Rang offers great views with benches to sit and enjoy a beautiful sunset or just time away from people. There are restaurants along with a grassy spot for a picnic. You can see the hill where Big Buddha is located in the distance. If you enjoy visiting temples, then stop at Khao Rang Temple that was founded by Luang Pu Suph who claimed to be the oldest man in the world. Pay attention to the decorative staircases guarded by decorative Naga snakes all the way up. The sitting Buddha located here is the oldest in Phuket City. Khao Rang is also home to a statue of Ratsada Korsimbi Na Ranong who is credited with bringing the tin industry to the city along with building the Bang Yai canal and increasing the size of the rubber industry in Phuket City.
Location: https://goo.gl/maps/jY9HdbbxfC72
Selfie Fun at Phuket Trickeye Museum
You literally will not believe your eyes when you visit the Phuket Trickeye Museum. This is a fun place to take selfies as you put yourself in the right position in the artwork, and you look like you are part of it. Bring along a friend as some graphics are too large to capture by yourself. Staff will also help take photos. Everyone can learn where to stand and the position needed from signage posted near each work of art along with receiving guidance from the helpful staff. While you will find other trickeye museums around Thailand, this is one of the first, and it is considered one of the best in the country.
This museum covers two floors, and there is art on every wall including an image of Old Phuket as you enter. A romantic night sky image also makes a beautiful place to take a couple's shot. With regular and temporary exhibits there is plenty that families and singles will want to explore in this location.
Location: https://goo.gl/maps/qNuDhZJwpgP2
Visit Baan Chinpracha
This home that served as a backdrop for the Heaven and Earth movie and the Young Indiana Jones was originally in 1903 for Pratipak Chinpracha who came to Phuket City from mainland China to seek his fortune in tin mining. There were originally at least 18 homes built in the Angmor Lounge style, but it is one of the few remaining in great shape. The family still resides on the second floor while the first floor is a museum containing many family mementos. On the first floor of this home, one finds an indoor pool decorated daily with flowers along with a beautiful Italian-tile floor in the main room. Guests can also see two bedrooms set up in traditional styles.
Location: https://goo.gl/maps/MD8dVRiNufK2
Watch the Show at Siam Niramit Phuket
Start your visit with a stop in the Thai village where you can play carnival-style games, feed the elephants and the bison along with seeing traditional handicrafts made. You will not want to miss the lively Muay Thai demonstration. Then, head off to the buffet featuring many traditional Thai dishes. Finally, move into the 1,760-seat theater where you can watch the theatrical performance showcasing the history of the area before it was part of Phuket and called Siam. This is a good place to be introduced to the Buddhist versions of heaven and hell if you are not familiar with the concept along with watching an introduction to the mythical land of Himapan.
This is one of the largest shows in all of Thailand, and should not be missed when visiting Old Town Phuket. After the show, shop in the souvenir stands where some bargains can be found or in the antique shop for furniture.
Location: https://goo.gl/maps/i2YjMhBY33K2
Baan Teelanka
Since opening in April 2014, guests to Baan Teelanka, better known in English as the upside-down house, have been amazed. Enter through the roof of this home despite it being located on the ground floor of this three-story building. You will walk through all the normal rooms found in a family home, except that you will be walking on the ceiling. Stand and watch the fish swimming upside down in the two aquariums. Behind the home is a 1,000 square-meter garden with seven gates. You will enter into a maze where only the smartest people survive to find their way out. Then, enter the two escape rooms where you must find clues allowing you to answer questions correctly or you cannot make your way out.
Location: https://goo.gl/maps/P5Ws5Xid3Xq
Thai Hua Museum
Once home to Thai Hua school, the oldest Chinese-language school in Phuket, the Thai Hua Museum features the history of the Chinese people in Phuket and their many important contributions. The best way to tour this classical Sino-Portuguese-style building that was constructed in 1930 is to start on the second story. Their visitors find rooms arranged in chronological order outlining the time from when the first Chinese immigrants arrived at Phuket. Do not leave, however, without visiting the galleries on the first floor that shows how Chinese influences are found in many elements of Phuket daily life. Stop for a quick snack in the restaurant and shop in the souvenir store.
Location: https://goo.gl/maps/PafkWq4Ec2p
Jui Tui Temple
The colorful Jui Tui Shrine is named after the canal that used to run in front of it where people harvested rice to make rice flour. It is easy to see the spartan architectural elements at this temple along with Japanese influences. There are eight jade statues at this temple including two jade dragons guarding the roof. One very unusual feature of this temple is the firecracker box that is located just inside the temple gate. This box is used to light firecrackers during the temple's festivities including its iconic vegetable festivity. The Joss-burner at the entrance to the main prayer hall is designed to scare off evil spirits. There are three altars within the main prayer hall with one being dedicated to Tean Hu Huan Soy who is considered the patron god of the Chinese Opera.
Location: https://goo.gl/maps/Hj3fdKQg2dK2
Phuket Philatelic Museum
This 80-year-old building that was the location of the first post office in Phuket is now a museum. In one room, visitors can learn about the post office's development starting under King Rama V. See interesting telegraph machines, old postal equipment and other antiques in the second room. Then, buy souvenir stamps and other memorabilia in the third room along with seeing more than 1,000 stamp sets.
Location: https://goo.gl/maps/v7bsCY2xsB22
Shrine of the Serene Light
This Chinese shrine that got a new gate in 2010 that is more noticeable is a prime example of the use of porcelain to create the statues on its roof. This colorful display is located near a 50-meter wide alley where good Chinese food is served. It is free to visit, but they will accept donations for the shrine's upkeep.
Location: https://goo.gl/maps/GZJTE6bV5aN2
Resort near Old Town Phuket
Located on the sunset side of the Andaman Sea and the pristine Natai Beach, this five star Phuket Resort & Spa is just 25 minutes north of the Phuket International Airport, short distance away from the Blue Canyon Golf Course and the picturesque Phang Nga Bay.
The concept of "all suites, all private" is delivered in luxury suites and villas, come with plenty of private space. Aleenta's luxury resort accommodation range in sizes from 80m for smallest suites to up to 5-bedroom beachfront Grand Villas.
Aleenta Phuket Resort & Spa offers a beautiful and private setting and is a perfect location for a romantic beach wedding and honeymoon. Aleenta's wedding planner is available to help create your dream celebration.
Aleenta Phuket Resort & Spa was recently awarded as Thailand's Best Small Green Resort.
Related Articles