A custom wedding on a beach in Thailand is what fairy tales are made of. And shouldn't your dream wedding be something out of a fairy tale? Soft sand under your feet and a gentle sea breeze rustling your hair. Your closest friends and family surrounding you after days spent together bonding over gourmet food and relaxing spa treatments.
Making your fairy tale a reality isn't as difficult as you might think. A destination wedding in Thailand can be done beautifully with the help of the right people and the right location. These two beach wedding destinations in Thailand are pristine, intimate, and perfect for pulling together the beach wedding you've been dreaming of.
Why Have a Destination Wedding
There are as many reasons to have a destination wedding as there are weddings. The choices you make that lead up to your big day are all personal ones. The location is the first thing to decide and sets the tone for every choice after.
Destination beach weddings in Thailand are a great choice if you want to make your wedding a multi-day event, if you want to make it a fun beach party for everyone invited, if you want to spend quality time with the guests you've invited, and if you want to have days worth of photo opportunities.
A beach wedding in Thailand means you can get married in December and still pack your bathing suit. It also means you get more bang for your buck, as your money goes further in Thailand. You also have the opportunity to incorporate special touches that are uniquely Thailand, again much more affordably.
If you've dreamed of an intimate wedding, but dreaded the reality of having to invite your mom's neighbour's acquaintance who swears they used to know you, traveling somewhere exotic may be just the ticket. A destination wedding can be a lot more intimate than the alternative. There are less obligatory invites when you're traveling to a beach in Thailand for your wedding, which means your guest list will be composed of the people who matter to you most. This is less stressful and full of more love on your wedding day.
What To Look For In A Beach Wedding Destination
Powder soft beaches and clear blue waters are a romantic vision perfect for a beach wedding. There are a few more items to consider in your choice of location.
Everyone wants something different from their wedding, which is actually the first thing to look for in a beach wedding destination: something that fits your personality. You want a wedding that feels like the two of you as a couple. Should it be fun? Should it be simple or ornate? Having wedding professionals help you figure out how to personify your style can help a lot. But it's not just about the details to the wedding, it's about finding a place that feels right to you.
The next thing you want in a destination is a place that can provide a variety of accommodations. Ideally, there would be a resort where people can stay right on site, and accommodations nearby in a range of budgets so that the most people can afford to come to your wedding.
Speaking of your guests, a location with a variety of activities in the area is something your guests will thank you for. While they've come for your wedding, many guests will want to see the place they've traveled to as well.
The budget is another consideration when you're looking at destinations. You'll want a venue that will feel right for your wedding and be right for your budget. Resorts that cater to weddings can be great for this because they will know the local suppliers and what you need for the wedding.
Why Thailand Is Perfect For Beach Destination Weddings
Thailand is a beautiful country with over 3,000 kilometers of coastline. After you've seen a few photos on Instagram or a Google Image Search, the question quickly changes from why Thailand would be a good choice to why you would consider anywhere else. But Thailand has more to offer than beautiful secluded beaches. This rich country has a culture that lends beauty and grace to the weddings it accommodates.
The country is cost effective, so your money goes further and affords the luxury your wedding day deserves. The people are known for being kind and thoughtful, the type of people you want there for you while you're planning an important event. There is gourmet Thai food, and of course Western alternatives for the guests who aren't adventurous eaters.
Being in Thailand means you can easily incorporate Thai customs, like Thai Lanterns, drum processions, the Thai water pouring ritual, or a blessing from a monk. The right resort will have a wedding planner who will arrange any of these options for you to make the event special.
Thailand also has the advantage that it is excellent for vacations. If your guests want to expand their travels past your wedding day, Thailand is full of affordable and exciting places for them to explore.
Where To Get Married in Thailand
Aleenta Resorts are 5 star eco friendly resorts that have experienced wedding planners and a team that can take care of you and relieve you of the stress of wedding planning, while also working with you to make sure your wedding fits your personal style.
Aleenta Resorts in Thailand have two distinct destinations. Both boutique resorts have beautiful beaches and both have full, experienced teams ready to handle your wedding needs.
The best thing about using an experienced boutique resort like Aleenta is that they are dedicated to the personal touches that make your wedding special. If you're going to travel to a beautiful, exotic location for your wedding, you want it to feel special, and like everyone on site is part of making this day perfect. The guests who travel to Thailand with you, the wedding party, and even the staff at the wedding venue will all be a part of this day. You want the right people to be there.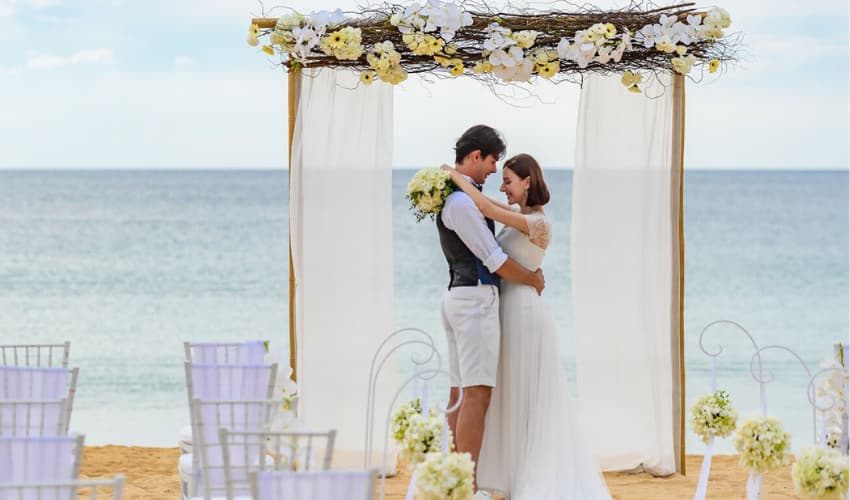 Aleenta Phuket Resort & Spa On Natai Beach
The soft sands of Natai beach beneath your feet as you gaze down the aisle at the love of your life. This magical moment is something you can make reality.
The wedding planner at Aleenta Phuket will help you select the flowers, decorations, makeup artists and photographers, so it all comes together to create your unique wedding. Whether you're interested in a more Western wedding, or you want more Thai traditions, like the traditional Thai water pouring ritual, the wedding planner here can design that for you.
Natai Beach
This private, exclusive paradise isn't somewhere any of your guests will have been before. Natai Beach is a ten kilometer stretch of sand hidden away from the world, and yet only 27 km from the Phuket Airport. That makes Natai Beach both private and yet accessible.
Aleenta Phuket beach weddings from two people, up to two hundred, while still feeling intimate in one of their beach villas.
While you're there, you'll be lucky enough to take advantage of their unique suites. They have beachfront and pool front options, ranging from 70 square meters to over 1,000. This means that without leaving the resort, you have a variety of suites available to your guests at a range of budgets.
Aleenta Hua Hin Resort & Spa on Pranburi Beach
Weddings at Aleenta Hua Hin Resort are intimate affairs. People lucky enough to hold their weddings here have the pleasure of experiencing Pranburi Beach on the clear waters of the Gulf of Siam. If you've imagined golden sand and an oceanfront sunset, Aleenta Hua Hin is the resort for you.
The wedding planner at Aleenta Hua Hin is prepared to design you a more Western wedding, or one with a bit more of Thailand. If you're interested in a private monk's blessing, or a traditional long drum procession, just say the word and that will be arranged for you.
Pranburi Beach
This intimate wedding venue is all about privacy. Pranburi beach is on Pak Nampran Bay. The area is accessed through Hua Hin, which is a mere 30 kilometers north of Pranburi Beach, or through Bangkok by way of a three-hour drive. There are several local eco-attractions in the area, but ultimately people come here for the privacy it affords. Be secluded with your guests on a private, beautiful beach, and know that you're hidden away somewhere truly special.
This eco-friendly resort offers the opportunity to be married inside a private villa, on the beach, or standing under a soft white gazebo.
The resort's spa has treatments for before and after the wedding, so you'll be ready for the big day. This is another opportunity to spend some quality time with your guests, if you would enjoy spa treatments together.
Before the Hua Hin Resort & Spa was everything it is today, it was a traditional Thai family beach villa. The personal care and charm has carried over to its current life. For a wedding that is beautiful, secluded, and intimate, consider an Aleenta Hua Hin beach wedding.
It's Difficult To Go Wrong With a Beach Wedding In Thailand
You might regret buying that sofa from Ikea, but you'll always treasure the memory of your beach wedding in Thailand.

Related Articles:
Aleenta Hua Hin Resort & SPA
183 Moo 4, Pak Nam Pran,
Pranburi, Hua Hin,
77220 Thailand
T: +66 32-618-333