If you are looking for a memorable wedding without the hassle of planning for a year or more, one solution to having a spectacular wedding without all the fuss is to get married on the beach in an exotic location, like Thailand. Thai weddings are easy to plan (in the grand scheme of weddings), and the natural beauty of the beach makes it the perfect backdrop for a couple starting s new life together. The process of planning a wedding in Thailand from another country abroad is relatively straight forward, and choosing to hold your wedding at a luxury beach resort only makes the process easier. Choosing Thailand as the destination for your beach wedding is an affordable option (depending on your chosen packaged), can achieve a beautiful beach wedding in Thailand for less than you would pay for a local wedding, particularly if you live in an expensive city like London, Dublin or Manchester.
A Beach Wedding in Thailand
The beautiful beaches of Thailand are known worldwide for their delicate sand and remarkable views of the blue water. Holding a wedding ceremony here is a perfect choice for any couple who loves the outdoors and wants to celebrate their love in the sunshine. Bring your loved ones with you for a one of a kind holiday and wedding that you will never forget.
Beach weddings in Thailand can be customized to meet the preferences of the bride and groom. Ceremonies can include Thai arches, flowers, chairs and decorations customize to your idea, you can incorporate some or all of the traditional Thai elements into your special day. A Thai wedding includes many traditions that are designed to bring the couple good fortune in their life together. The evening before a traditional wedding in Thailand, monks will visit the bride and groom and join their hands as they pray to the bride's ancestors for happiness and a long marriage for the couple. Early on the morning of the wedding, the monks will return to light a candle and pray over a bowl of water. During the wedding ceremony later in the day, the same water is used to bless the couple as they join lives. Next, the couple and their families visit the temple before getting married to offer gifts in return to the monks. These are typically simple items like food, incense, money and flowers to bring the monks sustenance and prosperity as they continue to pray. As the bride and groom, you are free to incorporate any or all of these traditions, or honor your own religious arrangements and ceremony to be held on the beach.
Deciding on the location for your wedding, there are two main areas within Thailand you should add to your short list if you're looking for a spectacular beach view like no other. Phuket is an idyllic location, set just off the pristine white coastline of Thailand. Known worldwide for the beauty of the white sand beach and clear blue waters, this island is one of the top tourist destinations in Thailand. Each year, visitors flock to the island to explore the soft sand beaches and the natural beauty and diversity of the rain forest. Having a Phuket wedding allows you to have a vacation in a beautiful location with your closest family and friends, and also start your new life as a married couple in a memorable way. The island offers a perfect combination of nature's beauty and modern Thai life. There is something to do for everyone, whether they prefer to enjoy nature or spend time in the city. Phuket City offers plenty for your guests to do by day or night, including shopping, dining and entertainment.
If you prefer a more idyllic, classically Thai experience, a Hua Hin wedding may be the right venue for you. Once a sleepy fishing town, Hua Hin gained popularity centuries ago as a resort town for royalty and rich people. The resort village has a laid back feeling, but is not far from Bangkok, making it easy for you to visit before or after the wedding.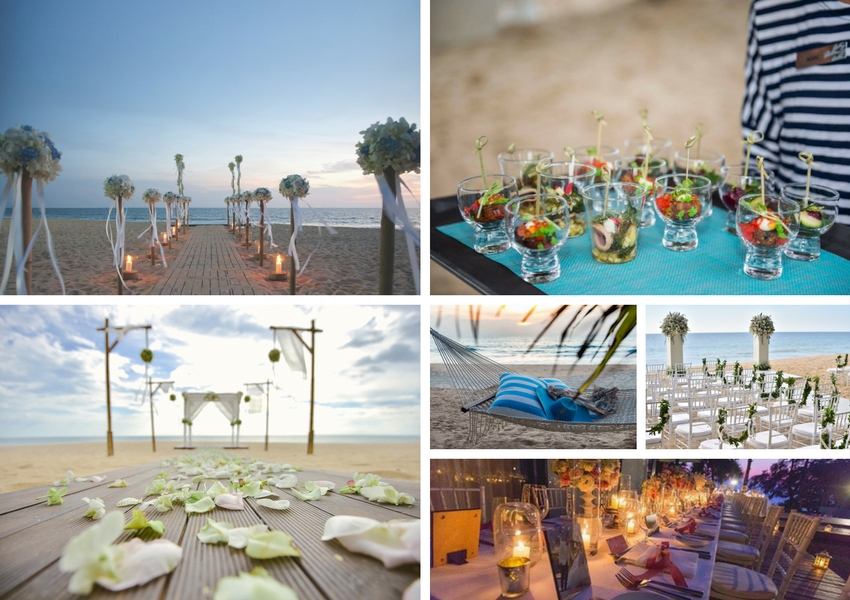 Choosing a Beach Resort for Your Wedding
Choosing a location for a beach wedding in Thailand that offers the resort amenities that you are looking for can take a bit of leg work or keyboard work. You want to choose a location which is semi-private and secluded from beach traffic, but still allows for a spectacular view. A luxury beach resort like the Aleenta Phuket Resort & Spa or the Aleenta Hua Hin Resort & Spa is the perfect place to hold your wedding, as you'll have the help of the resort staff and the ideal location.
Related Articles