Aleenta Phuket Beach Villas are the ideal villa wedding location in Phang Nga, Phuket. Intimate, personal and steps away from pristine Natai Beach. Villas have a capacity ranging from 2 to 200 guests.
The backdrop of this luxury Phang Nga Resort is the stunning Natai beach. Crowning the northwest coast of Phang Nga, Phuket, which is a magical haven. Gazing upon her aqua sea bathes you in tranquillity. The curve of her beach creates an enchanting smile. Waves whisper, sparkle, and wink. Aleenta Phuket Resort is blessed to be caressed by this stretch of exquisite beach.
Aleenta's suites and villas features striking and original room designs that range from spacious lofts to grand villas with five bedroom, each very different from the last. Many of their accommodations come with a private pool or a beach front view, all will give you the ultimate feeling of privacy.
While the diamond studded beaches and crystal blue waters are the perfect remedy for the tension of modern life, you will also find that Aleenta spa facilities are second to none. The Ayurah Spa & Wellness centre's professionals work to not only rejuvenate the body but also restore spiritual balance and well-being.
Villa Weddings in Phang Nga, Phuket
Aleenta Phuket resort has four luxury Villas perfectly suited for an intimate villa wedding where the ceremony and reception are held privately from 2 – 150 guests. There are also four ceremony and reception areas within the resort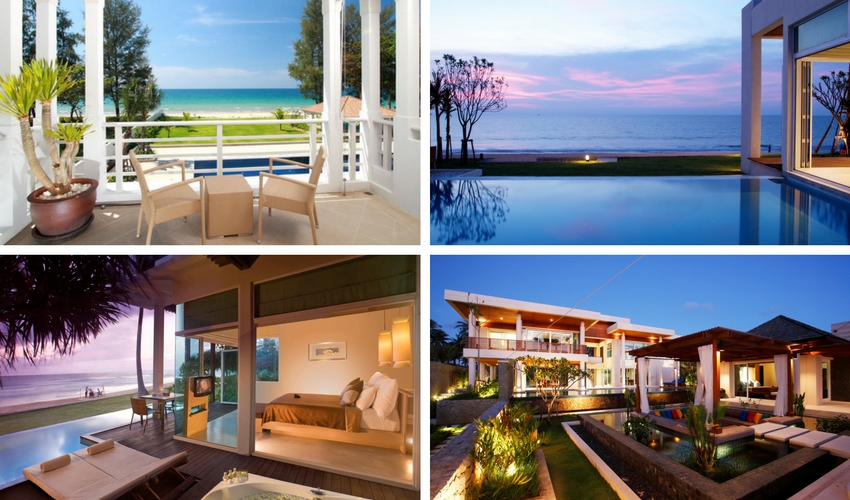 Villa Wedding Venues
Pool Suites: Pool Suites are bungalow styled villas directly on the beach. Each is complete with a private jacuzzi and terrace with the wedding capacity up to 2-10 guests
Three bedroom Beachfront Villas: These three bedroom beach villas western-style modern kitchen, large dining and living area with a high ceiling that opens onto a vast wooden sundeck with the wedding capacity up to 2-10 guests.
Grand Villa Satis: This venue is a private villa with a large pool and expansive outdoor area for up to 200 guests. Grand Villa Satis can be used for Chinese Tea Ceremonies, Western Engagements, Western Weddings, Muslim Weddings, and Thai Weddings.
Your Wedding, Your Way
Aleenta's professional Wedding Consultant is waiting to assist you. She can guide you with decision-making and answer any questions.
Look into activities your guests can enjoy before and after your wedding, discuss the activities with our Wedding Consultant. She can obtain group prices for you. Then advise your guests that these events have been provided for them, and they can be booked through our Front Desk at a special price.
One of the keys to a stress-free wedding is allowing adequate time to prepare. You'll need a full week to get your documentation to legalize the marriage before the actual ceremony.
Invite your guests well in advance, so they have time to make plans. Provide them with as much information as possible.
You need to allow time to meet our Executive Chef and sample the menu. You'll also want to meet with your Wedding Consultant.
Lastly, block out some time to relax before the Big Day. It will help you adjust to the time zone and climate. Take advantage of our spa services, and enjoy the beach. Visualize your dream wedding, and let Aleenta make your dreams come true!
Phang Nga, Phuket
From island hopping to jungle exploration Phang Nga, Phuket is one of the most attractive places to visit in Asia and even the world. People come from all over to spend days relaxing on the gorgeous beaches or even to enjoy white water rafting. If you want to see and feel the culture while visiting all that there is to see in the area, there are plenty of charming and unique fishing villages where you will not only be able to find unique crafts and souvenirs, but also meet friendly and welcoming people.
More than just a place to go for a beach vacation, Thailand offers visitors a look into another way of life, as well as incredible natural beauty that isn't found just anywhere. There are plenty of water activities in Phuket, such as kayaking, snorkelling, and swimming. What truly makes it an experience of a lifetime is the incredible marine life that is abundant in the area.
Related Articles
ALEENTA PHUKET RESORT & SPA
33 Moo 5, Khok Kloi,
Takua Thung, Phang Nga
82140 Thailand