In an era where discerning travellers are increasingly seeking sustainable yet luxurious holiday experiences, the importance of eco-friendly resorts is more apparent than ever. Tucked away on the pristine shores of Natai Beach in Phang Nga, one such haven of green luxury awaits at Aleenta Phuket Resort and Spa.
The commitment to sustainability is not an afterthought at this resort but an inherent part of its ethos. This ethos is reflected in every detail, from the meticulous design of its suites and villas to the locally sourced ingredients featured in its gastronomic offerings.
A resort where white sands meet clear waters, and luxury meets sustainability. Let's discover how Aleenta Phuket offers an unrivalled beach holiday experience while remaining deeply rooted in its commitment to protecting and preserving the environment.
Exquisite Phang Nga
Nestled on the sun-drenched coastline of the Andaman Sea, Phang Nga is a province of unparalleled beauty in southern Thailand. Home to many natural wonders, this tropical paradise boasts a stunning landscape where azure waters lap against powdery white sand beaches, and lush jungle-clad mountains provide a dramatic backdrop.
Phang Nga's history is as captivating as its scenery. Historically a hub for tin mining during the 19th century, the region has evolved over the decades into a sought-after tourist destination while maintaining its authentic charm. Its rich cultural tapestry is woven with threads from various ethnic communities, including Thai, Malay, and Chinese, each contributing to the vibrant local traditions and festivities.
The region's pristine beaches are arguably its most enticing feature, but they are just the beginning of what Phang Nga offers. The province has several national parks, including Ao Phang Nga National Park, renowned for its distinctive limestone karsts jutting out of emerald-green waters. This park famously featured in a James Bond film, also encompasses hundreds of islands, including the popular Koh Panyi, a floating village with a unique charm.
Phang Nga Bay, another key attraction, is a UNESCO World Heritage Site teeming with diverse marine life, offering excellent opportunities for snorkelling and diving. Adventurous souls might also enjoy exploring the numerous sea caves in the area by kayak.
For those interested in cultural experiences, the local temples such as Wat Suwan Kuha, also known as the Monkey Cave Temple, offer fascinating insights into the region's religious and spiritual practices.
In this stunning setting, where natural beauty converges with rich cultural heritage, lies Aleenta Phuket Resort and Spa.
Eco-Friendly Luxury at Aleenta Phuket
A deep commitment to sustainability lies at the heart of Aleenta Phuket Resort's philosophy. This commitment is about reducing its environmental footprint and creating positive impacts that benefit the local community and its guests.
One of the pillars of Aleenta's eco-friendly practices is its focus on energy efficiency. The resort has invested significantly in energy-saving measures, including solar panels and energy-efficient appliances. Furthermore, the resort's architectural design has been thoughtfully planned to maximise natural light and ventilation, reducing reliance on artificial lighting and air conditioning.
The resort's waste management strategy is another crucial aspect of its sustainability initiatives. Aleenta has implemented robust waste segregation and recycling programs, and it also composts organic waste to enrich the resort's green spaces. Single-use plastics are conspicuously absent, replaced with reusable or biodegradable alternatives wherever possible.
Aleenta's commitment to sustainability extends to its culinary offerings. The resort sources most of its ingredients locally, supporting nearby farmers and reducing the carbon footprint associated with food transportation. Guests can savour delicious, fresh meals knowing that their dining experiences contribute to local economic growth and environmental sustainability.
Beyond its internal practices, Aleenta actively participates in local conservation efforts. The resort partners with a turtle sanctuary and local Marine Biology Centre, where guests can learn about and contribute to preserving these majestic creatures.
Aleenta's eco-friendly practices greatly enhance the guest experience. Guests can enjoy their stay knowing they are minimising their environmental impact and contributing to local community development. They can also participate in various sustainability-related activities, such as beach clean-ups and educational tours, making their stay at Aleenta not just a holiday but a meaningful journey of learning and contribution.
Meanwhile, the local environment and community also benefit from Aleenta's commitment to sustainability. The resort's practices help conserve natural resources, protect local biodiversity, and support the local economy, demonstrating that luxury tourism can coexist harmoniously with environmental stewardship and community development.
Unparalleled Beach Experience
Basking in the tranquillity of Phang Nga's coastline, Aleenta Phuket Resort offers a beach experience that is nothing short of extraordinary. The resort's Natai Beach is a stretch of immaculate white sand that meets the crystal-clear waters of the Andaman Sea, creating a picture-perfect setting for relaxation and recreation.
The beach is meticulously maintained, reflecting Aleenta's commitment to cleanliness and environmental preservation. Its clear, gentle waters are suitable for swimming, while the expansive beach provides plenty of space for sunbathing and beach games.
The resort offers a wide array of beach activities to suit all preferences. For those seeking tranquillity, there's nothing quite like a stroll along the beach at sunrise or sunset or a quiet afternoon reading under the shade of a palm tree.
Adrenaline seekers can indulge in various water sports, including windsurfing, kayaking, and paddleboarding. Snorkelling equipment is also available for guests wishing to explore the colourful marine life surrounding the resort.
One unique feature of Aleenta's beach is its location on the edge of a protected sea turtle nesting area. This provides a rare opportunity for guests to witness the life cycle of these fascinating creatures, from the hatching of baby turtles to their journey back into the sea. The resort's turtle sanctuary allows guests to learn about the conservation efforts to protect these endangered species.
Another distinct aspect of the beach experience at Aleenta is the exceptional service. Whether you need a refreshing drink, a beach towel, or assistance with beach activities, the resort's attentive staff are always on hand to cater to your needs, enhancing the enjoyment of your beach experience.
All these elements combine to create an unmatched beach experience at Aleenta Phuket Resort and Spa, making it a true paradise for beach holiday enthusiasts seeking a harmonious blend of relaxation, recreation, and eco-friendly practices.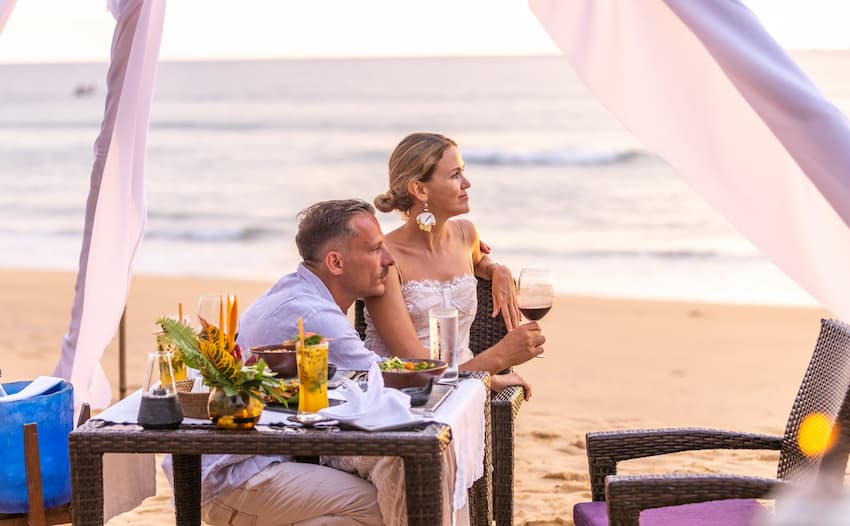 Relaxation and Wellness
At the heart of Aleenta Phuket Resort and Spa's offerings is a comprehensive approach to wellness designed to restore balance, rejuvenate the body, and nourish the soul. The resort's award-winning Ayurah Spa & Wellness Centre is a sanctuary of tranquillity, embodying a philosophy that goes beyond traditional spa treatments to encompass a full spectrum of wellness practices.
Ayurah Wellness Centre offers an extensive menu of treatments and therapies, each tailored to meet the unique needs of individual guests. These treatments blend traditional Thai healing practices with modern wellness techniques, resulting in a fantastic wellness journey for each guest. Services include a variety of massages, body treatments, facials, and wellness therapies, all delivered by a team of skilled therapists in serene, beautifully designed treatment rooms.
In addition to individual treatments, Ayurah Wellness Centre offers holistic wellness programs to promote long-term health and well-being. These programs integrate various wellness elements, including detoxification, stress management, fitness, and nutrition. Each program is personalised, considering the guest's lifestyle, health condition, and wellness goals.
The wellness facilities at Aleenta further enhance the wellness experience. These include a state-of-the-art fitness centre equipped with the latest exercise equipment, a yoga studio offering daily classes, and a wellness library with resources to inspire and educate guests on their wellness journey.
The spa and wellness amenities create a relaxing and serene atmosphere at Aleenta Phuket Resort and Spa. They provide spaces for guests to unwind, recharge, and focus on their well-being. Whether you're starting the day with a sunrise yoga session, enjoying a rejuvenating spa treatment in the afternoon, or winding down with a meditation session in the evening, these amenities offer countless opportunities for relaxation and self-care.
At Aleenta, wellness is not just a service but an integral part of the resort experience. It's a commitment to helping guests enhance their well-being, find balance, and truly relax during their stay.
A Taste of Thailand
Culinary exploration is an essential part of the travel experience, and at Aleenta Phuket Resort and Spa, guests are in for a gastronomic delight. The resort's food and beverage offerings promise to take guests on a journey through Thailand's rich and diverse flavours while adhering to a philosophy of sustainability.
Aleenta boasts several dining venues, each with its unique ambience and menu. The Edge, a beachfront restaurant, offers a menu filled with authentic Thai flavours and international favourites. Seasons, on the other hand, is an intimate gastronomic restaurant that delivers a fine dining experience featuring a plant-based surprise menu.
A core tenet of Aleenta's culinary philosophy is its commitment to sustainability. The resort sources locally grown, organic ingredients whenever possible, reducing its carbon footprint and supporting local farmers. This commitment to fresh, locally sourced produce benefits the environment and the community and ensures guests enjoy the highest quality and fresh meals.
Whether you're indulging in a beachfront breakfast, enjoying a leisurely lunch by the pool, or savouring a romantic dinner under the stars, the culinary experiences at Aleenta Phuket Resort and Spa are sure to tantalise your taste buds, satisfy your appetite, and deepen your appreciation for Thai cuisine and sustainable dining.
Activities and Amenities for All
Aleenta Phuket Resort and Spa is a haven for guests of all ages, offering various activities and amenities designed to entertain, engage, and cater to varying interests and energy levels.
Adult guests can find both relaxation and excitement within the resort. For those seeking a bit of adrenaline, a range of water sports is available, from paddleboarding to windsurfing. The resort's state-of-the-art fitness centre is open for those who wish to maintain their workout routine, with personal trainers who can assist or create customised workout plans. For a more laid-back activity, guests can join a Thai cooking class and learn to make their favourite local dishes.
Understanding that travel is a family affair, Aleenta offers a range of child-friendly amenities. The highlight is the Kids' Club, a dedicated space filled with engaging activities for children. Supervised by professional caregivers, children can partake in games, arts and crafts, storytelling, and even Thai language lessons, ensuring they have as much fun and learning experiences as their parents.
Aleenta also goes beyond typical resort activities, offering unique experiences such as turtle conservation programs and beach clean-up activities. These experiences entertain and educate guests about the environment and the importance of conservation.
Complementing these activities are other high-quality amenities, including a stunning infinity pool overlooking the Andaman Sea, a well-stocked library, and a boutique selling locally made crafts and products.
At Aleenta Phuket Resort and Spa, the breadth of activities and amenities ensures that every guest, regardless of age or interest, will find something to enhance their stay, making their beach holiday enjoyable and unforgettable.
Beach Bliss
The resort is ideally situated to offer guests the best of Phang Nga's pristine beaches, crystal-clear waters, and various activities and amenities. Whether you're a beach enthusiast, a food lover, a wellness seeker, or a family with kids, Aleenta has something to offer you.
And for families, the resort ensures that children have as much fun and learning experiences as adults.
But the most compelling reason to choose Aleenta Phuket Resort and Spa for your next vacation is the harmony it achieves between luxury and sustainability. Here, you can indulge in the comfort and luxury of a beach resort without compromising your commitment to the environment. It's a place where you can truly relax, knowing your holiday contributes positively to the local community and the planet.
So, as you plan your next beach holiday, consider Aleenta Phuket Resort and Spa. Experience the unique blend of luxury and sustainability that makes it stand out, and make your vacation enjoyable, meaningful, and impactful.
Related Articles