The beautiful and exotic islands off the coast of Phuket, Southern Thailand in the Andaman Sea are some of the most popular tourist destinations to visit in Southeast Asia. These islands are famous for their natural beauty, stunning beaches and crystal-clear waters. The huge vertical sea-mountains and pristine coastlines are some of the impressive geographic features that these islands have to offer. Phuket is the ideal base island for sailing around the Andaman Sea. Our Resort in Phang Nga, Thailand provides one of the most comprehensive, scenic sailing and cruising of these majestic islands. Guests can enjoy the island hoping experience while sailing in one of their beautifully crafted and comfortable vessels.
While Phuket is the biggest island in Thailand and has many attractive beaches, it is essential to also explore some of the other unique islands located off its coast.
Eight Islands near Phuket
James Bond Island
Tachai Island
Rok Islands
Koh Panyee
Phi-Phi Islands
Similan Islands
Racha Island
Coral Island
James Bond Island
Phang Nga Bay is the perfect place for nature lovers to explore. This region is known for its sheer limestone mountain formations that extend vertically out of the pristine emerald-green water. James Bond Island is one of the most popular sites to see in this bay.
The famous island also known as Koh Ta-pu, was featured in the 1974 James Bond film The Man With the Golden Gun. One of the most sought-after landmarks to see is one vertical rock in particular that was shown numerous times in the movie. It's unique because it is nearly 20 meters high but only has a diameter of between four and eight meters. It is truly a spectacular site. Overall, this area is very popular for guided boat tours filled with visitors that want to enjoy the incredible scenery and the dramatic limestone islands.
Tachai Island
Tachai Island, also called Virgin Island, is a pristine and uninhabited island that is located 135 km northwest of Phuket. It is known as a great place to see untouched marine life, which is why it is also considered one of the top diving and snorkelling locations in all of Thailand.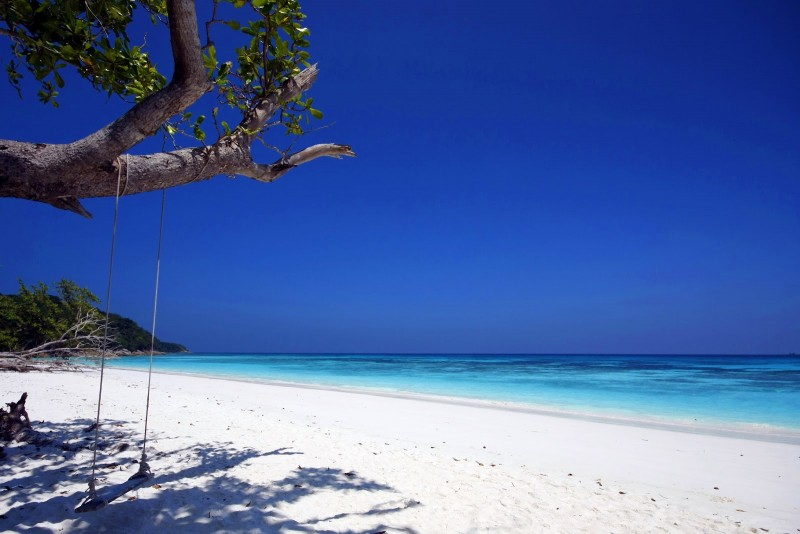 The beautiful coral reefs are teeming with beautifully-coloured fish. There are also nurse sharks, leopard sharks and eagle rays that pose almost no danger to humans and are incredible to see. The Hawksbill turtle and whale sharks are also regularly seen by visitors of this island. Additionally, Tachai Island is home to the interesting chicken crab, which gets its name from the chicken sounds that it makes. Overall, it is a picturesque island with immaculate white beaches, clear waters, unique stone outcrops and a small mountain overlook.
Rok Islands
These twin islands are known for their spectacular beaches. The beaches offer crystal-clear waters and endless sunlight. Furthermore, Thong Cape on Koh Rok Nok is famous for its irresistible sunsets.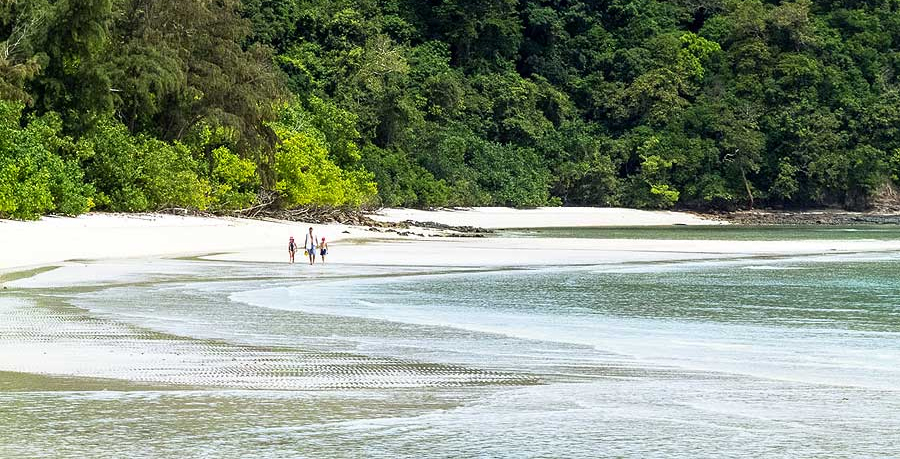 On Koh Rok Nai, visitors truly value the island's captivating waterfall and the exclusive dive area. Brilliant white-sand beaches line the coastline and expansive coral reefs can be easily seen beneath the clear water. Visitors enjoy the snorkelling sites of Bermuda Ridge and Seafan Garden, which are two rainbow-coloured coral reef systems that expand over a square kilometre. Since these islands are no more than 250 meters apart, it would be easy to explore them both in one trip.
Koh Panyee
Koh Panyee is a small island that is characterised by its huge vertical limestone cliffs. There is also a small village with about 1,485 people that has been artfully built over the top of the water.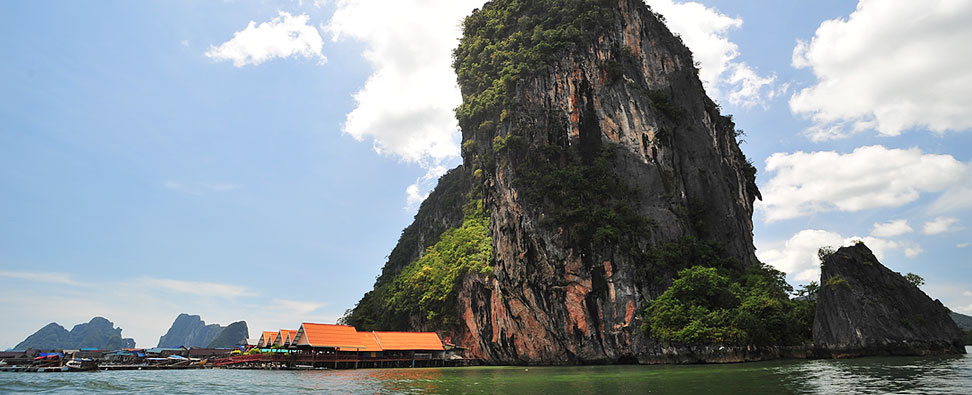 In an incredible feat of engineering, hundreds of houses and huts were built on concrete and wooden pillars that expand across the shallow sea. To the immediate rear of the village lies a gigantic limestone formation, which offers incredible views of the surrounding area for visitors that are skilled at climbing.
Phi-Phi Islands
Phi Phi Islands make up a beautiful archipelago that attracts many visitors from Phuket. The Phi Phi Islands are located about 40 kilometres southeast of Phuket and are comprised of multiple distinctive islands.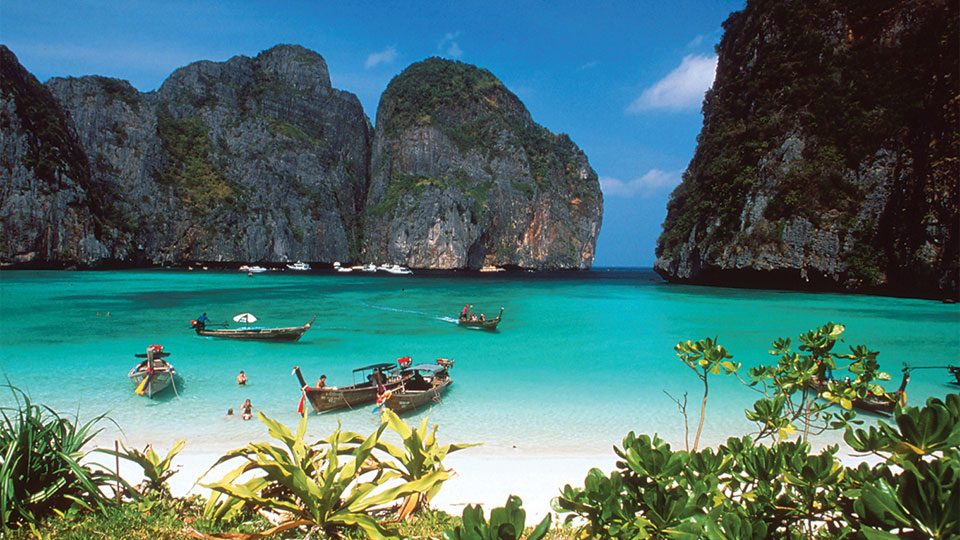 They are a major attraction because of the white powdery beaches, brilliant turquoise waters, and steep cliffs that open up to beach-front jungles. These islands provide vast sightseeing opportunities, deep swimming holes and snorkelling at Monkey Beach, Maya Bay, Pileh Cove, Viking Cave, and Loh Samah Bay. The more inhabited island, Phi-Phi Don, offers great food and lively nightlife, while Phi Phi Leh is more tranquil and private, making it a nice place to spend a relaxing afternoon.
Similan Islands
The Similan Islands can be found just 84 kilometres northwest of Phuket. These islands are known for their unique rock formations that are hidden by thick jungles and vivid vegetation.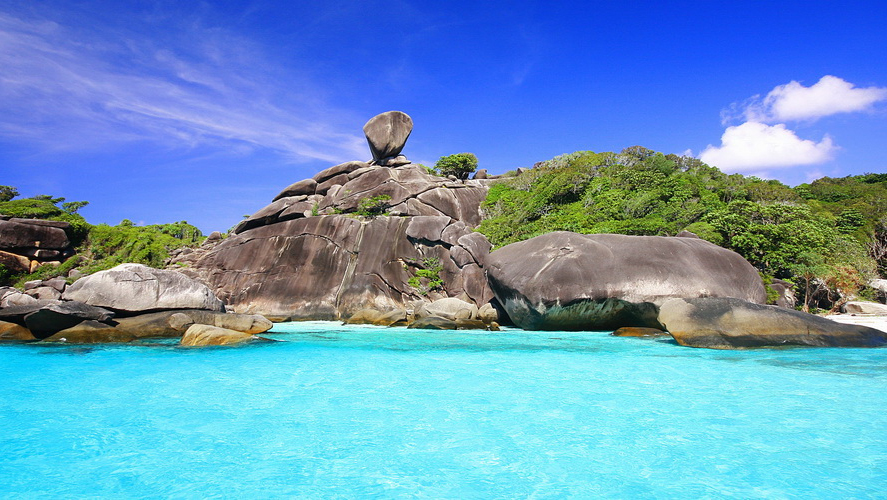 Furthermore, the Similan Islands are recognized as one of the world's more exhilarating dive spots. At total of nine separate islands are lined with white coral sand beaches and precious blue waters that provide some of the most picturesque scenery in Thailand. The islands are also home to a wide variety of rare and endangered marine life that hide beneath huge boulders that have fallen into the sea.
Racha Island
Racha Island lies just 12 kilometres south of Phuket. The perfect daytrip from Phuket could be spent snorkelling and diving into its crystal-clear blue waters.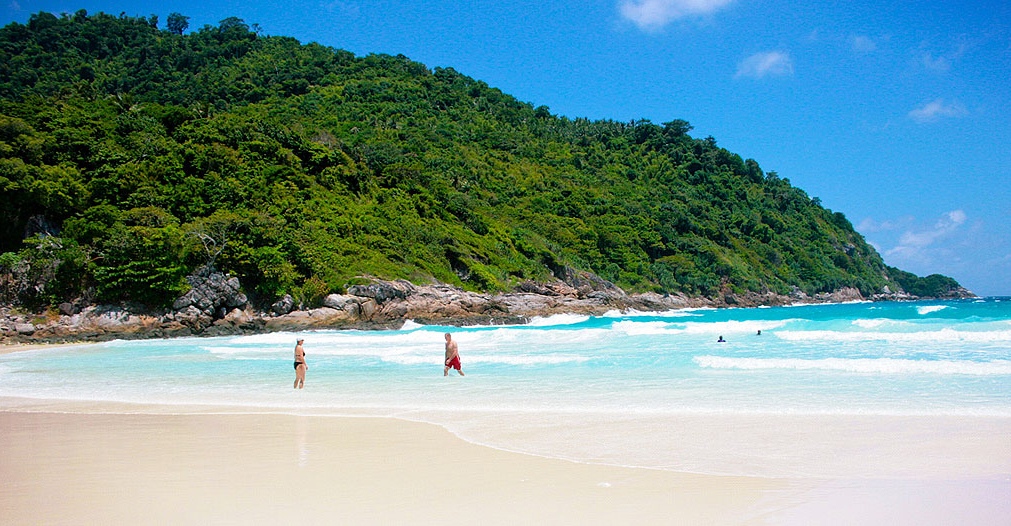 It is also becoming its own resort destination, with new bungalows being built every few years. Racha Island is one of the best islands in Thailand for families. In addition to relaxing all day on the beautiful beaches, there are plenty of other family-friendly activities to enjoy. There are numerous diving and fishing tours located at Kon Kare Bay due to the abundance of marine life that can be found along its shores.
Coral Island
This island is located only 10 kilometres south of Phuket and is filled with multi-coloured coral reefs that are home to many exotic tropical fish.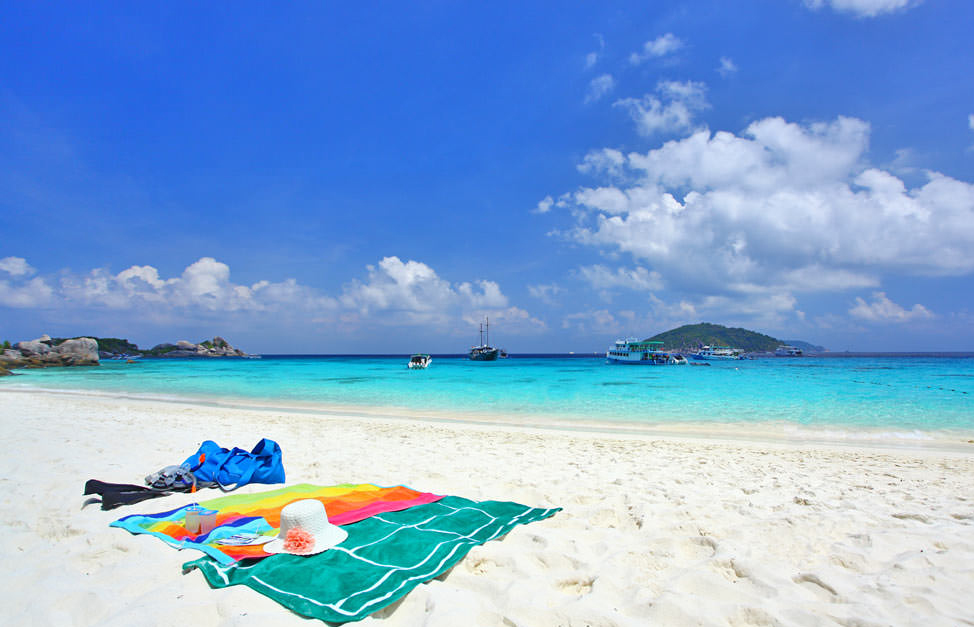 A short walk over a small hill will lead visitors to a private and quiet cove that is a great place to relax in the shade and take a break from the hot sun. There are also numerous sea activities like banana boat rides, parasailing and scuba diving.
Related Articles
ALEENTA PHUKET RESORT & SPA
33 Moo 5, Khok Kloi,
Takua Thung, Phang Nga
82140 Thailand