The incredibly beautiful Ao Phang Nga National Park in Phang Nga, Thailand, which is famous for being the land of smiles. Composed of more than 42 islands, Ao Phang Nga has an area that spans an area of 154.4 square miles or 400 square kilometres. The park is situated in the southern part of Thailand, which is along the Andaman Sea.
The sea is ecologically rich in marine and floral life. Breath-taking gigantic limestone rock formations rise dramatically above the waters. The islands that are part of the park are unspoiled and full of unforgettable cliffs, caves, forests where wildlife thrives. The place is a nature lover's delight. There is an abundance of reptiles like flying lizards, Bengal monitor lizards and tropical vipers. You will also enjoy seeing rare birds such as the streak-breasted woodpecker, black-and-red broadbill, rufous-bellied swallow and chestnut-bellied malkoha–to name a few. There are also different species of monkeys, fruit bats, water monitor lizards, fiddler crabs and many more. All in all, there are 88 species of mammals, 18 species of reptiles, 3 species of amphibian and 17 species of mammals.
Ao Phang Nga Marine National Park
Phang Nga Bay
The magnificent and celebrated Phang Nga Bay is part of the national park. It's a part of the Andaman sea and situated northeast of Phuket. Nothing on earth can compare to the grandeur of the bay. In fact, this magical place will always be associated with the blockbuster James Bond film The Man with the Golden Gun. The bay is highly recommended for boating, kayaking and sea-canoeing. It's one of the very few places in the world where the waters are always tranquil. There are no typhoons or monsoons to make it dangerous for water activities. You will see myriads of limestone cliffs that tower over everything in sight. There are mangrove swamps with many thick branches that seem to reach out from ancient times. You will never forget the gigantic and surreal rock formations with strange shapes that are in the Guinness Book of Record for their eerie beauty and uniqueness. It's a scenery that will forever be etched in your memory with wonder and appreciation. There are beautiful lagoons that are surrounded by cliffs made of calcium carbonate. The passing of centuries had made them dazzlingly white. There are many mysterious caves that are literally several square yards away from each other. Not even the famous caves in Greece can compare. You can travel from one to the next by kayaking. Most of these caves are part of a collapsed cave system that the natives call hongs.
Marine life in the bay includes endangered species like the black finless porpoise, which is the only porpoise species found in Thailand and the dugong. The dugong is a marine mammal that feeds strictly on plants. It measures 8 to 10 feet and resembles an elephant in appearance. All in all, there are 82 fish species in the bay and surrounding waters. Vibrant and colourful coral reefs abound throughout the entire area.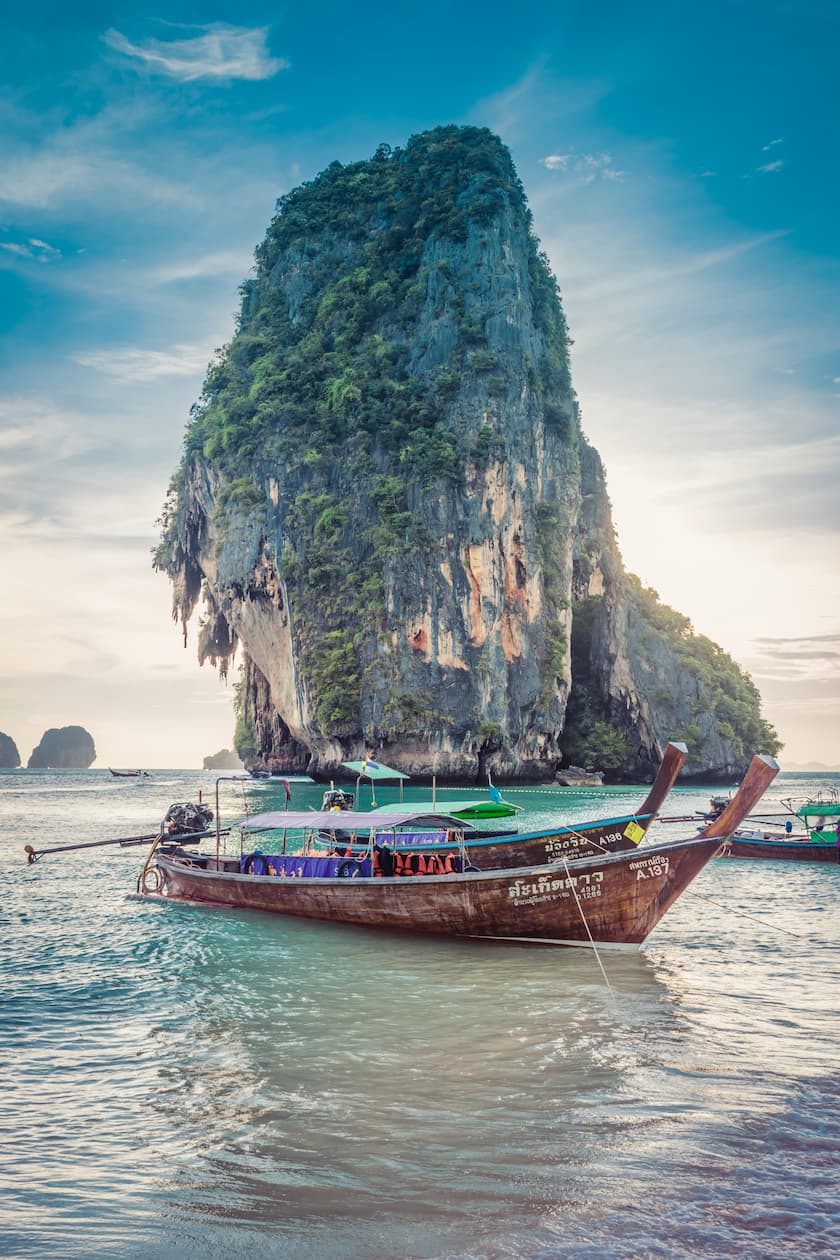 Islands in Phang Nga Bay
Most of the 100 islands in the bay are uninhabited and unknown. However, here are some of the most desirable islands to feast your eyes on and visit.
Koh Tapu
The iconic Koh Tapu is also known as the James Bond island. Measuring 66 feet or 20 metres tall, this limestone islet rises majestically above the waters. Boats and other water vehicles not allowed to get too close to this iconic nature formation because of its hazardous shape. The upper part is a lot bigger than the lower part similar to an upside down triangle. The sound and water movement caused by sea vehicles could make it tumble.
Ko Panyi
Ko Panyi is an unusual village where the houses and buildings are supported by stilts or pillars that floats above the waters. The whole community is anchored by sturdy posts, which has existed for hundreds of years. The consistent, calm waters and the absence of storms make it possible for the natives to live without the fear of the catastrophic weather. Ko Panyi is touristy, but it will give you a positive view of an unusual way of life. There is a mosque, school and clinic. There are affordable shops and restaurants.
Ko Hong
Ko Hong, which is also known as Room Island is on the coast of Krabi. Imagine swimming in an island that never gets cramped. Ko Hong is almost deserted except for the people in your tour and the sole lifeguard. The water is only 3 feet high or 1 metre. You will swim amidst a panoramic view of imposing rock formations and lagoons.
Panak Island
Panak Island is located in the Takua Thung District of Phang Nga. The place is ideal for canoeing, sunbathing and swimming. The pristine eco-system in Panak includes hornbill birds, walking fishes, fiddler crabs and mangrove forests. The island has caves and lagoons that you can visit through canoes. Diamond Cave is full of stalactites and stalagmites that form on the ceiling and the ground. Make sure to wear a hard hat when you are inside the cave.
Khao Lak
Khao Lak is a community of captivating villages. You can snorkel, swim, scuba, bike, play sports and sunbathe on its uncrowded shores and beaches. Inland, Khao Lak is filled with opportunities for hikers and nature lovers. There are hidden and elevated waterfalls, jungles, mangrove trees and inspiring Buddhist temples where you can take time from your activities to reflect and find yourself amidst the incense and silence.
To get to Phang Nga Bay, you can travel from the town. Aleenta Phuket also offers a Phang Nga Bay & James Bond Island Tour. It is the safest, most professional and knowledgeable resort and tour company. Aleenta has itineraries that include other islands and islets along the bay.
Thai Muang Turtle Sanctuary
The Thai Muang Turtle Sanctuary is an offshoot of the Phang Nga Coastal Fisheries Research and Development Center, which was established 3 decades ago by the government. Phang Nga Coastal Fisheries Research, also known as Turtle Haven is dedicated to preserving wildlife. The Center's main objective is to protect the turtles from the Andaman Sea. Both the Phang Nga Development Center and Thai Muang Turtle Sanctuary share the same facilities, an area of 37 acres, which is the equivalent of 179,080 square yards.
The turtle sanctuary has many relevant accomplishments. For starters, the organization was able to create inspection standards which are used for coastal fishing. They also created a certification process that establishes the standards for the safety of consumers and the environment. Endangered and rare turtle species like the green turtle, ridley sea turtle, leatherback turtle and hawksbill turtle are nurtured. Aside from caring for the sick and injured turtles, the sanctuary protects newly hatched eggs from predators until the turtles have grown to 8 months old. The successful Turtle Release Festival, held every year, is a testimony to the dedication and expertise of the staff. More than 500 healthy turtles are released to the Andaman sea.
Thai Muang Turtle Sanctuary has succeeded in improving the management of the country's aquaculture industry in a remarkable way. The researchers have also improved the breeding of tiger shrimps. Water irrigation was modernized and advanced, too. The Center is also responsible for the reproduction and health of seaweeds, sea snails, commercial fishes like the clown fish, sea bass, and groupers, and large tiger clams.
Since you can walk to the beach from the facility, you will be delighted to know that you can see rare and endangered turtle species swimming in their natural surroundings as you swimming, snorkelling and scuba diving next to them.
Open daily, a turtle sanctuary visit is an enjoyable and unforgettable learning experience. Bring your kids. It's a wonderful way to introduce them to the constructive things that government can do when it comes to the conservation of nature and natural resources. The entry fee is 20 THB, which is about 50 pence.
Suwan Kuha Temple
The Tham Suwan Kuha Temple, also known as Wat Tam is an ancient Buddhist temple, located on top of an enchanting mountain was built 160 years ago. A cave measures about 15 metres, which is less than a mile. It houses a magnificent and inspiring temple. The cave, a wonder of nature in itself, has centuries-old stalagmites and stalactites on its ceiling and floor. The temple is a testimony to the wonders of nature and man's ability to use it to transcend his life on earth. The entrance to the temple features a gold and peaceful Buddha that greets you and reminds you of the timelessness of your spirit. Inside the cave, you will see several Buddha statues and religious decorations including candles. There are staircases that lead to other parts of the cave.
Phang-Nga Monkey Mountain in Suwan Kuha Temple
Monkeys are free to roam inside and outside Suwan Kuha Temple. Most are very friendly while others leave you alone. The staff will advise you not to touch them since you can get bitten. However, you can feed them bananas. Fruits are sold at the entrance of the temple. Your interaction with the monkeys is a one in a million experience. The friendly ones will happily take the food you are offering and climb on you if you allow them.
Suwan Kuha Temple is located along Route 4. It's within 7 miles or 12 kilometres from Phang Nga town to Phuket. There are many vendors selling food and drinks outside the temple.
Cycling in Phang Nga
One of the best ways to acquaint yourself with the beauty of Thailand and its friendly people is through a cycle tour. You can bike for an hour or for as long as you like. Imagine biking to Phang Nga Bay. You can savour and immerse yourself with the sight of the beautiful and towering limestone rocks while the unpolluted wind blows your hair and refreshes your body. The fresh scent of the bay will fill you with wakefulness. Phang Nga, which is in the southern part of Thailand is safe and lovely. You do not need to worry your physical safety. Phang Nga is one of the safest places on earth for tourists. You will love the warmth and simplicity of the Thai people. You will not encounter hostility or rudeness.
From there, you can visit the neighbouring towns and enjoy the sights you've never seen before like a carabao or water buffalo standing peacefully in the rice fields. Water buffalos are gentle animals that have been used for centuries for rice planting. You can pedal and see amazing sceneries like hundreds of magnificent trees and plants. There are rubber trees, coconut trees, pineapples, orchids and tropical flowers. There are rainforests with waterfalls and beaches that you can visit with your bike.
Other Things to Do
There are tons of good things to do in Phang Nga National Park. You can go white water rafting at many of the rivers in the area. The market offers cooking classes, which you can attend. English speaking chefs will teach you how to cook the delicious native dishes that you have tasted. There is an evening bazaar in town. It is full of vendors, outdoor cafes, artists and performers. You can afford to buy the items that are very expensive in England in the bazaar. For example, embroidered cloths, garments and pillow covers, intricate wood carvings, lacquer ware and handmade baskets, which cost a fortune in European stores.
Phang Nga Resorts
Located on the sunset side of the Andaman Sea, this Phang Nga Resort is located on the pristine Natai beach. This luxury property is passionate about the environment. It was recently awarded the status of Thailand's Best Small Green Resort.
It is not always easy to protect the environment while creating a 5 star beach resort in Phang Nga, but Aleenta has found the perfect balance. Its innovative design is a perfect marriage of modern technology and classical Thai styling.
Aleenta Phuket's suites and villas features striking and original room designs that range from spacious lofts to grand villas with five bedroom, each very different from the last. Many of their accommodations come with a private pool or a beach front view, all will give you the ultimate feeling of privacy.
While the diamond studded beaches and crystal blue waters are the perfect remedy for the tension of modern life, you will also find that Aleenta spa facilities are second to none. The Ayurah Spa & Wellness centre's professionals work to not only rejuvenate the body but also restore spiritual balance and well-being. Experience Ayurah 'Epicurean Spa' and their exclusive line of Linda Meredith skincare products and therapies. Aleenta has also developed a special yoga program to help you get back to your spiritual center.
Related Articles
ALEENTA PHUKET RESORT & SPA
33 Moo 5, Khok Kloi,
Takua Thung, Phang Nga
82140 Thailand