The Thai Muang Turtle Sanctuary is a great destination for people who are truly interested in the wonders of wildlife and turtle conservation.
Four distinct turtle species reside in the Andaman Sea. Hawksbill turtles and green turtles are the most abundant types. Leatherback and Olive Ridley turtles also live in the sea, but they're spotted on a much less frequent basis than the other two turtle species. Populations of the Andaman Sea's turtles are dropping rapidly at the moment. This is due to a number of different reasons, specifically excessive fishing, egg poaching, habitat problems and pollution.
People who want to learn about the majestic turtles of the Andaman Sea can stop by the Thai Muang Turtle Sanctuary for an interesting and enriching experience that also happens to be extremely informative. People can visit this sanctuary on a daily basis. Admission is also completely free, conveniently enough.
If you want to get a close look at intriguing turtle hatches, they're on display inside of massive saltwater tanks. Turtle youngsters reside inside of this sanctuary until they're no less than eight months in age. Once they reach that point, they can return back to their home environment, which is the sea. Guests of the sanctuary who offer donations to the research organisation that is behind the sanctuary are allowed to actually do the honours of freeing the young turtles.
The sanctuary has numerous designated rehabilitation tanks that exist to help turtles that are either injured or ill. If you want to help these endangered turtles in any manner, a visit to this sanctuary can go a very long way.
HAWKSBILL TURTLES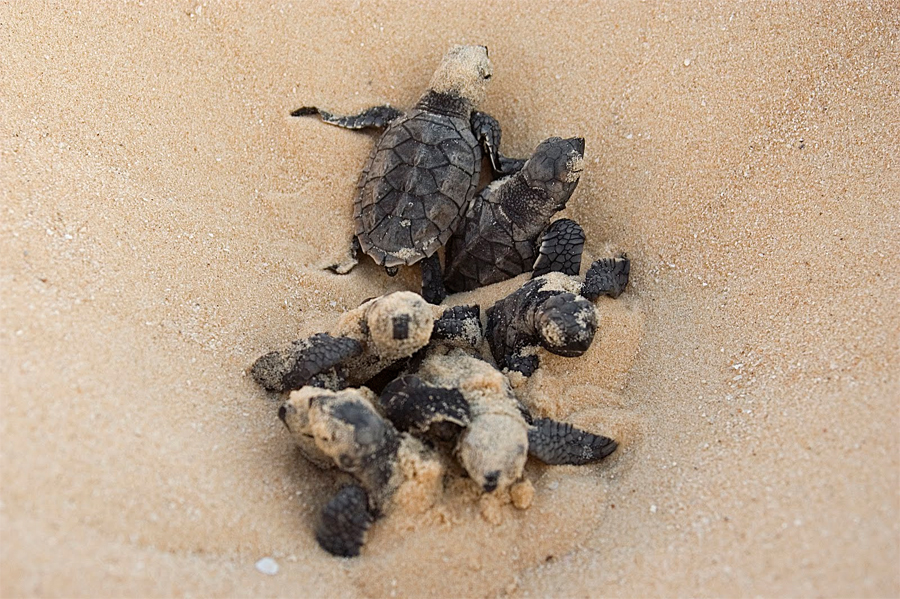 Hawksbill turtles are a big focus at the sanctuary. These sea turtles are notable due to their striking shells, which feature vivid colouration that's hard to miss. They're seen in the planet's tropical waters. They also are frequently spotted in rugged locales, coral reefs, mangroves and lagoons. As far as eating habits go, hawksbill turtles are highly specific creatures. They, for the most part, dine solely on sponges.
GREEN TURTLES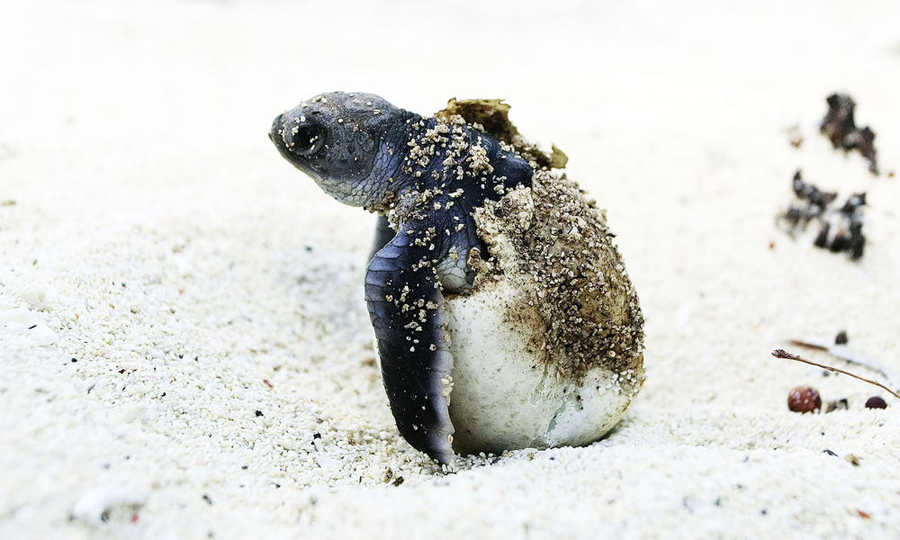 Green turtles are also front and centre at this sanctuary in Thailand. These sea turtles are among the biggest sea turtle species in existence. They're also the sole herbivores of the bunch, interestingly enough. As their name indicates, they're green in colouration. This green refers to their fat and cartilage rather than to their shells, however. Mature green turtles typically weigh anywhere between 150 and 400 pounds. They're also usually anywhere between 31 and 47 inches in length. They're at risk due to the hunting of mature specimens, excessive harvesting of their eggs and the ecrease of nesting locations for them, which specifically are beaches. Green turtles' bodies sometimes unfortunately get trapped inside of fishing equipment, as well.
LEATHERBACK TURTLES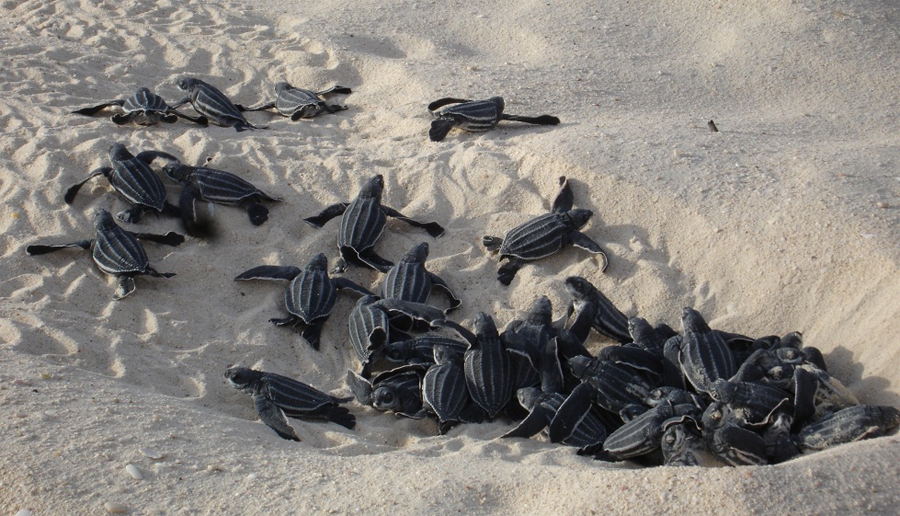 Leatherback turtles aren't as prevalent as the other two species. These sea turtles, however, do exist in the Andaman Sea. Their names are a nod to their distinctive shells. Unlike the shells of other kinds of turtles, leatherback sea turtles possess ones that are rather leathery in appearance. They're also among the biggest species of sea turtles out there. Some of them, when fully mature, weigh as much as 1,500 pounds. Some of them even grow to as long as 63 inches. Olive Ridley turtles, last but not least, also are spotted in the Andaman Sea once in a while. These sea turtles are called 'olive' thanks to their memorable shell colouration, which is a pleasant olive green. As far as sea turtles go, these creatures are without a doubt the tiniest of all.
OLIVE RIDLEY TURTLES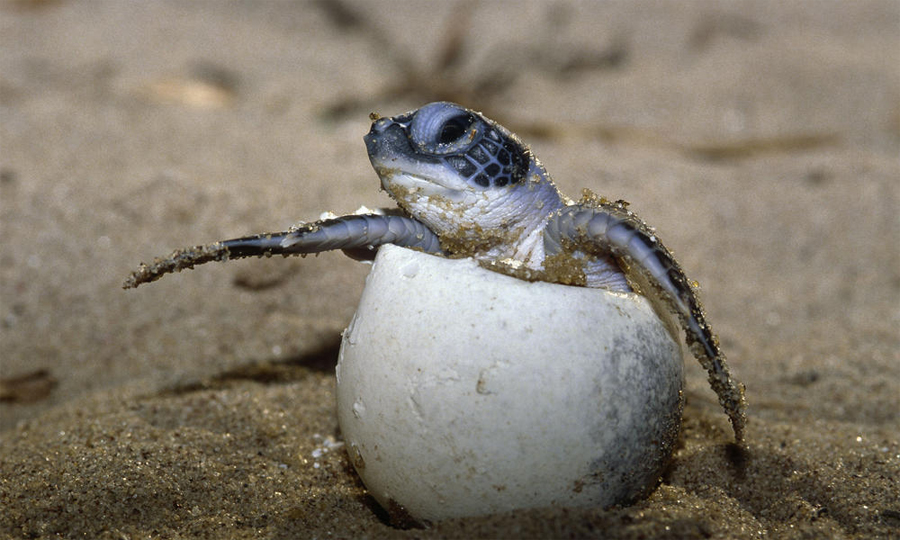 Olive Ridley turtles generally weigh no more than 100 pounds, a stark contrast to their leatherback counterparts. As solitary reptiles, Olive Ridley turtles thrive when they're in open ocean. These turtles are generally carnivores. They consume a variety of animals, specifically shrimp, crab, jellyfish and even snails. They sometimes eat seaweed and algae, too.
Visit Thai Muang Turtle Sanctuary
If you are passionate about wildlife conservation, Aleenta Phuket Resort offers visits to the Turtle Sanctuary for an unforgettable and enriching experience as you learn about these precious animals. This centre helps care for and foster the four species of sea turtles that reside in the Andaman Sea: Hawksbill, Green, Leatherback and Olive Ridley turtles.
From the time the turtles hatch to the time they have reached eight months of age, they are cared for by the local marine conservation programme and the Pure Blue Foundation. While learning about their growth cycles, the centre also educates its visitors as to why the turtles' numbers are dwindling.
If you are inclined to further show your support, the sanctuary collects monetary donations on behalf of the turtles.
Eco-Friendly Phang Nga Resort
Stay in an amazing eco-resort in Phang Nga, Phuket, where some of the world's most beautiful beaches are located and where exotic customs and people grace you with their presence, there is a beautiful eco-resort that offers both luxury and comfort for those who want to experience the wonders that Thailand has to offer and what Phuket can offer you is an experience that you will want to repeat again and again.
Aleenta Phuket is truly an eco-resort that cares about your stay and your desire to help and not hinder the planet. For anyone who is looking for a completely relaxing vacation experience in an amazingly beautiful location, Aleenta is the place where your rejuvenation dreams can come true.
Related Articles
ALEENTA PHUKET RESORT & SPA
33 Moo 5, Khok Kloi,
Takua Thung, Phang Nga
82140 Thailand