Imagine spending three days on a quiet beach in Hua Hin, Thailand, practicing daily yoga and being fully present to each moment and how this could help create or enhance a powerful practice to support health and well-being in your daily life. Such a profound experience is possible. This luxury Hua Hin resort, located on Pranburi beach offers a mindful retreats.
Commit to being present for three days in paradise and learn how to bring that awareness with you into daily life.
Yoga and Mindfulness
Mindfulness is the practice of being present in the moment. It involves consciously paying attention to what's happening right now without judgement. This practice helps temper dramatic emotional reactions to life's up and downs and promotes a more even-keeled approach to life.
Mindfulness and yoga naturally complement each other as yoga encourages tuning in and being present on the mat. Yoga offers a practice of physical poses that incorporate stretching, strengthening and awareness, along with breathing exercises and meditation. Yoga offers numerous health benefits, which have been extensively researched.
A retreat or mini vacation blending these practices offers a powerful time away from regular life dedicated to inward focus. The health benefits offered in a three-day package are immense. Practitioners will leave relaxed, tuned in and equipped with powerful tools for self-care. Together the practices of yoga and mindfulness empower students to return to their daily lives with a centered awareness.
Retreat to Support Your Practice
A yoga and mindfulness retreat offers the opportunity to sink deeper into your practice. By taking time away from the distractions and busyness of normal life, students can fully experience the benefits of yoga and mindfulness training. If you are interested in developing a practice or are ready to enhance your current practice, a structured retreat offers an ideal learning environment. Just three days of focused tuning inward can offer a transformative experience.
Hua Hin Resort
The setting and facilities of Aleenta Resort greatly enhance the overall experience. The luxury hotel is located in Hua Hin, a quiet vacation town in southern Thailand located a couple hours south of Bangkok. The benefits of mindfulness and yoga are more easily accessed when relaxing in the idyllic atmosphere of Hua Hin's Pranburi beach. The beautiful beachside setting encourages thorough relaxation and the possibility to be fully present.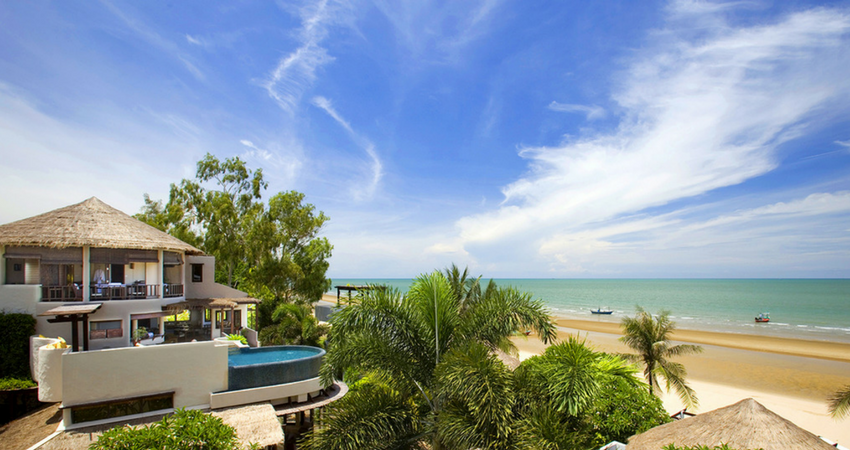 The retreat package includes healthy meals, a luxury resort suite and use of the resort's elegant pools. Daily needs are provided for, encouraging students to focus fully on their practice throughout the duration of the retreat. The quiet, natural setting supports an atmosphere of well-being. Additional services are available, including spa treatments and Thai massage.
Teachers
Two teachers, both well-versed in their respective fields, have teamed up to offer this special retreat. Masooma Kachelo, an expert in mindfulness, leads the course. Masooma is a long-time teacher of mindfulness and an experienced retreat leader. Caroline Combelles will be offering sessions in mindful movement through yoga. She is a teacher of yoga, meditation and Tension Release Exercises.
The retreat includes 17 hours of wellness sessions, weaving together mindfulness and yoga, over the three days. Masooma, Caroline and the Aleenta staff welcome students and encourage participants to thoroughly indulge in the unique experience. They also support students' exploration of an individualized experience within the retreat in order to get the most personal benefit out of it.
Schedule
Upon arriving on Friday, May 18, guests will be served lunch before attending the first session on Conscious Living and Mindful Movement. Saturday morning will begin with an early yoga and meditation class before breakfast, then a session of Tension Release Exercises. Participants will enjoy a free afternoon to take advantage of the setting and facilities. Saturday evening offers two sessions before dinner, Coming Home to Yourself and Walk of Awe. A healthy dinner will be served, followed by Dance Meditation.
Sunday begins early with a Sunrise Mindful Movement Session, followed by breakfast. Afternoon workshops include Building Inner Resilience and Mindful Cooking and Eating, offering useful tools for returning to daily life. The retreat will end with a closing session for mindful reflection.
Throughout the time spent at Aleenta, guests are encouraged to enjoy the environment and facilities. Although the retreat schedule offers many not-to-be-missed events, participants will still have plentiful opportunities to walk on the beach, swim, schedule a massage or spa treatment, and generally enjoy the area.
Join Us on a Retreat for Health
These retreats offers a potent vacation and learning experience. You will leave further equipped with tools to continue the practice in your regular life. Indulge in this special opportunity to be mindful, practice yoga, and focus on your health this season.
Related Articles: