If you're looking to visit Hua Hin in Thailand and get a feel of the natural wonders and beauty of the country, then you should visit Pak Nam Pran. Park Nam Pran is situated in the perfect location for you to get the best experience of all of Thailand's culture and all the natural beauty it has to offer.
Surrounded by lush forests, pristine beaches, historical landmarks, amazing views and scenery, caves, shrines and temples, there will be plenty for you to do, plenty of places to explore and culture to delve in to.
The area of Pak Nam Pran (Pranburi Estuary) spans from Pranburi Forest Park to Pranburi Beach. Pak Nam Pran is home to a small few fishing communities and some luxury spa resorts. The area isn't swamped with tourists and is actually quite secluded, the people believing in living a sustainable lifestyle.
Even the resorts build for holiday makers live by the same rules or preserving the nature around them, using renewable materials and working hard to preserve the lands beauty, greenery and ecosystem.
Less than half an hours drive from Hua Hin, the location is secluded from bustling cities and traffic and makes for a picturesque scene, you'll be wanting to stop for photos constantly, witnessing nature and beauty like you've never seen before. Pristine white sand beaches stretch the length of the shore of Pak Nam Pran.
Exploring Pak Nam Pran
Place Of Interest:
While you are visiting Pak Nam Pran, there will be many places you will want to visit, to get a real feel of the wonder and beauty Thailand has to offer.
Khao Sam Roi Yot National Park:
Amazing scenery like you won't find at home, the translation is 'the mountain with three hundred peaks'. The Kha Sam Roi Yot National Park is home to an abundance of wildlife and greenery. The tall limestone peaks, covered in lush greenery make for picturesque scenes over the marshes and mangrove swamps. The scenes you see here will stay with you for life.
The Pranburi River:
Get a feel of life in rural Thailand and see what life along the Pranburi River is really like. The river winds through amazing scenery, orchards, forests and beautiful countryside scenes as well as small fishing villages. You can hire a boat which will take you up and down the river, you can see and experience the locals way of life. While there you can take advantage of the villagers amazing fishing skills and purchase fresh fish from their markets, fresh fish, shrimps and squids, caught fresh that day for you to enjoy.
Koh Tao:
Koh Tao Island is just fifteen kilometres off of the coat of Khai Takiab. This isolated island is home to a fishing village who's community remains mostly untouched by modern technology. This island is home to many picturesque, secluded bays, forests and mountains, mostly untouched by man. Something definitely worth looking to see is the temple indicated by the giant golden Buddha's hidden amongst the mountains and caves of the island, some are quite hard to miss. Inside the temple is a beautiful shrine that will take your breath away. After you've finished your adventure or want a break, stop at the fishing village and enjoy some local cuisine before you go.
Pranburi Forest Park:
If you're looking for an unforgettable walk through natural forests then this is the place to go. Pranburi Forest Park is three square kilometres of natural beauty and preservation. There are two nature trails you can explore and witness scenery that will make your jaw drop, take a moment to take in each scene, because a photo will never do it justice.
Cave Exploration:
Pak Name Pran is home to so man places of natural beauty and wonder, one of these is the recently discovered Tham Kaeos. This is a cave system is one of the most beautiful in the whole of Thailand, full of colour, the cave is quite narrow to traverse and is full of stalactites and stalagmites. Beautiful scenes where the cave opens up into the air above, the natural light bringing more colour into the cave, picturesque scenes that you won't soon forget.
The Sunrise Coat:
When you are looking for a day off, to relax and soak up the sun and enjoy the beach, the Sunrise Coast is the place to go. The Sunrise Coast is home to many fine Resorts and spas you can stay at or visit, the long stretch of white sands is mostly untouched, apart from a few resorts and a handful of holiday makers, the beach will mostly be yours to enjoy. A great place to find your own spot to enjoy the sun, take in the great views and maybe even see some dolphins.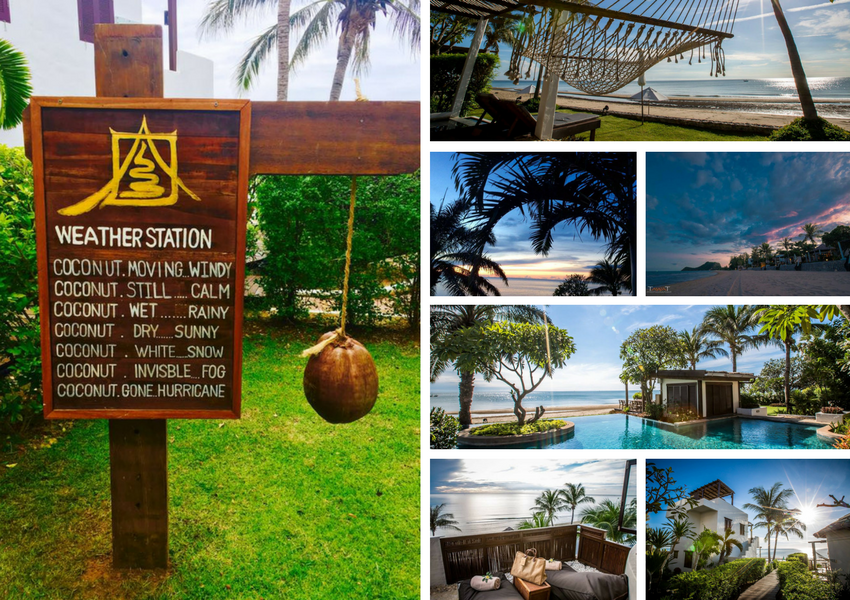 Your Pak Nam Pran Luxury Beach resort
If you're looking to visit this area of Thailand for all its amazing natural sites, then without doubt the best resort to stay at is the Aleenta Hua Hin Resort & Spa. Aleenta are are known name in Thailand and to holiday makers who have used them, they are known for the stylish and luxurious suites and villas.
This Hua Hin Resort & Spa is the first of their many resorts in Thailand, where they really made their impressions on the people that stayed with them, going the extra mile to provide the best comfort and luxury possible. Great food, drinks and service at any of the 25 residences the offer at this resort. All guests are guaranteed a luxury stay and jaw dropping views from your bedroom and pool.
Every suite and villa is just a few paces away from the fine white sands of the Sunrise Coast. The resort is ideally located to offer peace, privacy and seclusion, whilst also being a convenient distance from all the places you will want to visit on your trip.
On top of the great location, quality service and luxurious suites and villas, the resort also offers an amazing selection of spa packages and treatments, from a single massage to a seven day package, you can choose the relaxation that suits you and spend as little or as much time enjoying it as you like.
See Beauty, Stay In Luxury
Visit Pranburi in Hua Hin and see amazing scenes that will stay with you forever, you'll never be able to do it justice with photos or explain it to your friends, but the scenes will last a lifetime. Experience the amazing climate and nature and stay in the most luxurious resort and spa to make it the perfect holiday of a lifetime.
Related Pranburi Articles:
Aleenta Hua Hin Resort & SPA
183 Moo 4, Pak Nam Pran,
Pranburi, Hua Hin,
77220 Thailand
T: +66 32-618-333