Phang Nga, a coastal province on the Andaman Sea, has some of the most scenic forests and islands in all of Thailand. The natural beauty of the region has led to the declaration of a national park called Phang Nga National Park and famous for the tall limestone rock islets. A boat to Khao Phing Kan known for a 20-meter rock known as Ko Tapu or more famously titled "James Bond Island" because of it was featured in the 1974 film, "The Man with the Golden Gun."
So how do you get to Phang Nga Bay?
Getting to Phang Nga Bay by Taxi
Be Aware of Prices!
From Phuket, you have a wide selection of private car-hire services and taxi services. The problem with taking a taxi is how many of these agencies have been tied together through local "associations." These associations demand much higher prices, and they do not allow for competition. Tourists who have ridden with the taxis have complained about mandatory stops at the local gem vendors, or the drivers collecting a commission because the travel agency allowed it. You can still take a taxi, but demand the price meter to be turned on ahead of time. Also, negotiate no stops and only use licensed travel agencies with a certification. One of the honest taxis you could take is Khao Lak Taxi.
Flying to Phang Nga
The closest airport you can fly into is either Krabi or Phuket. With the right airline, you can also get minivan service included. For example, you might take a minivan from Bangkok to Phang Nga. From Bangkok to Phang Nga, you have three types of buses to depart from Bangkok's Southern Bus Terminal:
VIP Bus
Standard 1 Bus
Standard 2 Bus
The traveling time from Bangkok to Phang Nga will be a fairly long ride of 12 hours. If you'd like more detailed information, you can call the Southern Bus Terminal.
When you fly from Bangkok to Krabi, you will be transferred over to Phang Nga via a minivan. You don't necessarily need to take the minivan service, and you can save money by taking a bus from the Krabi station to Phang Nga. Keep in mind, however, these buses will not be air conditioned like the minivans. If you want air conditioning, the air conditioned buses will normally leave closer to the evening. The problem is that the frequency and times for the buses can be unpredictable in the evening. The Krabi bus station will be a better choice for those set on a concrete schedule.
After you have left the Krabi airport, you do not need to visit the Krabi bus station. Instead, you can still go to Phang Nga by going over to the south pass closer to the airport. To do this, you walk out near the highway and cross over for five meters. From there, you will see a yellow shelter found near the side of the road. Be sure to hail down the bus as it's passing.
Phang Nga by Train
Phang Nga has no train station, but the State Railways of Thailand operates a daily train service from Bangkok to Surat Thani. From there, you will be a two hours ride from Phang Nga via bus. Keep in mind with the buses, you will see fewer of them towards the evening.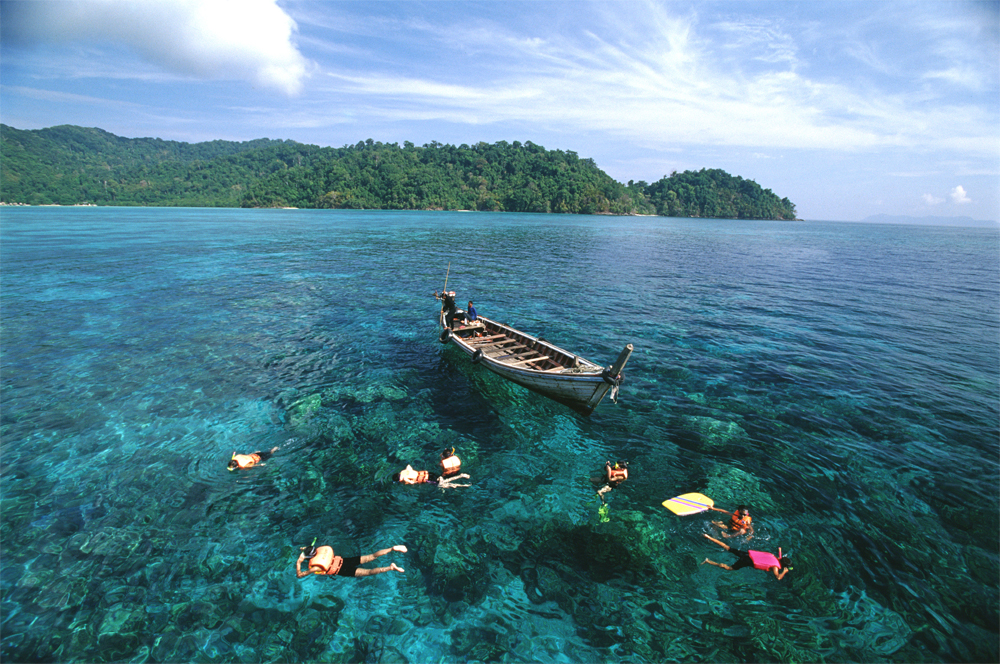 Car to Phang Nga
Should you decide to take a rental car from Bangkok, you will need to drive on Highway No. 4. You will pass through Chumphon, Prachuap Khiri Khan and the Ranong provinces. Once you have driven through these provinces, you will be taken straight to the town of Phang Nga. From Bangkok, you will drive 788 kilometers, which takes about 12 hours. You can also choose to drive a second route for new scenery from Bangkok where you take Highway No. 4 to Chumphon, but after that, you go to Amphoe Tha Chang. Once you have driven through Amphoe Tha Chang, you go straight to the intersection, make a right turn to Highway 301 and drive to Amphoe Ban Ta Khun. This takes you about 50 kilometers, and you will then take Highway No, 415 for around 30 kilometers. After that, you will be in Phang Nga.
Driving from Phuket, you will take Highway No. 402. You will pass Sarasin Bridge over to Ban Khok Kloi, and you will turn the steering wheel right for Amphoe Takua Thung. From Phuket, you have cut the distance down to 87 kilometers, which only takes an hour and a half.
Phang Nga by Boat
To get to Phang Nga via boat, you will need to visit the Tha Dan pier. This can be found nine kilometers south of the town of Tha Dan.
In and Around Phang Nga
Phang Nga's most popular transportation method will be via public passenger pickup vehicles. Important to note, you cannot rent cars in Phang Nga, however some Phang Nga Resorts in the area can provide vehicles. If you choose explore the region, motorbike rental lets you ride in style combing through the region. When you want to visit different districts, you can use the non-air conditioned bus services, and if you want a fun day out wandering the islands, you can hire long-tailed boats. It's a unique way to learn and see Phang Nga province.
James Bond Island in Phang Nga has become an iconic tourist destination with James Bond's arch-nemesis using the island as a hideout in the 1974 film that immortalized this location forever. Phang Nga is a relatively small province, but you'll find it's much cheaper than the Phuket beach resorts.
How to get to James Bond Island
James bond Island is an island, so to get a close up view you would need to use a boat tour ,kayak or longtail boat. However it can be seen from certain viewpoints, like Samet Nangshe.
If you are in Phuket, it may be easier to book a Phang Nga Bay boat tour and leave from ferry points in Phuket. If you are in Phang Nga or want to drive, then your main point is the Ao Phang Nga National Park Visitor Centre where you can then travel by boat.
From Phuket and Phang Nga
From Phuket use 402 across Sarasin Bridge
From East Phang Nga use 402 to route 4 (Phet Kasaem Rd)
On the outskirts of Phang Nga Town, turn right onto 4144 (traffic lights)
The 4144 is a dead end. Ao National Park offices on left. Tourist Info on right
You can park up and explore the strip and decide on boat tour
Related to Phang Nga
ALEENTA PHUKET RESORT & SPA
33 Moo 5, Khok Kloi,
Takua Thung, Phang Nga
82140 Thailand