Pranburi is a beach town near the resort area of Hua Hin, Thailand. Blessed with warm temperatures and a tropical climate year-round, the area offers travellers a wealth of interesting attractions and activities. In Hua Hin there are many things to do and see, whether one is interested in exploring and hiking or prefers water sports such as snorkelling and swimming. Below are some of the most popular sightseeing areas and activities in the region:
Explore Hua Hin's Beaches
Approximately six kilometres in length leading southward toward Kao Takiap is Hua Hin Beach, which is a terrific place to view spectacular sunrises and enjoy a morning coffee. Later, visitors can go swimming or simply stroll along the beaches, feeling the silky, white sand under their feet and looking forward to a day of fun in the sun.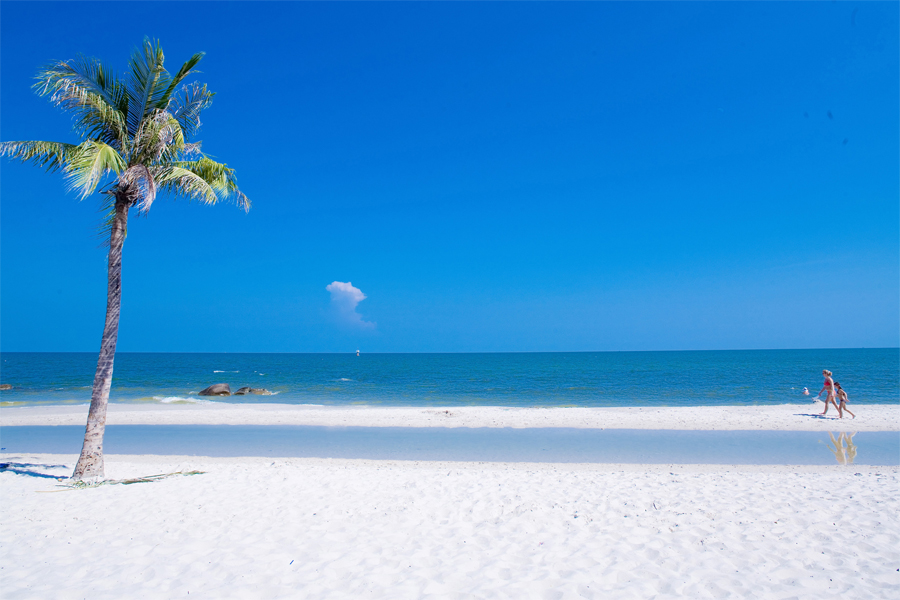 Klai Kangwon Palace & Butterfly Gardens
The Klai Klangwan Royal Palace and Butterfly Gardens are highly popular among locals and tourists alike. The Palace is a creative architectural wonder and adjacent to this outstanding structure is the Butterfly Garden, featuring plants collected from throughout the country. The Garden boasts a broad range of butterfly and bird species, as well as a wide variety of herbs and orchids. A remarkable place for photo opportunities, the Palace and Gardens should be placed on any visitor's must see list.
Pa La-U Waterfall
If you have hired a car, then head over to the western side of Hua Hin, where a beautiful 11 tier waterfall is nestled within an outstanding evergreen forest. Rich in plant, bird and butterfly species, the forest is perfect for nature lovers who enjoy hiking and bird-watching or simply taking in the mesmerising scenery.

Kite-Surfing
One of the top activities among those who do not hike or swim and prefer to avoid hiring a car is kite surfing. The steady northeasterly winds and the shallow, warm waters make this area an ideal location for this activity. From October to January wind speeds typically fall between 15 and 25 knots, which is perfect for kite surfers. Those who have never tried this activity before will be pleased to discover that learning it is not difficult.
Khao Sam Roi Yot National Park
Need to stretch you legs after a few too many beach days, think about taking a walk in Khao Sam Roi Yot National Park, located not far from the beach. The Park is one of Thailand's most picturesque national parks and features forests, beaches and private lagoons. Its name means the "Three Hundred Peaks", which refers to the limestone mountains that pepper the area. Here you will find a green, lush paradise filled with trails, caves, marshes and protected beaches.
Fishing
Another enjoyable activity in which to indulge during a Pranburi holiday is fishing. Visitors can choose from various guided or unguided fishing expeditions that allow them to bring back their own fresh catch for lunch or dinner.
Golf
The entire Pranburi region is also a favourite golf destination among fans of the sport and there are seven state-of-the-art golf courses within a mere hour's drive from most Hua Hin resorts.
Spas
After indulging in one of the many exciting and interesting activities the Pranburi region has to offer, head across to the Ayurah spa. Spa treatments on offer range from full massage, a facial or simply a manicure or sauna, it can be found at Ayurah. Many of the local spas offer outdoor services, making each treatment even more relaxing, as visitors can have their spa therapies against the backdrop of the beach while listening to the sounds of nature.
Bicycle and Motorbike Rental
Renting a bicycle or motorbike and exploring the surrounding scenery at their own pace. In most cases, a bicycle can be rented for only 100 baht per day, and motorbike rentals can be found for just a little bit more. Some visitors pack a homemade lunch and ride until they find an appealing area in which to have a picnic.
Wine Tasting Tours
You would not have thought of vineyards in Thailand, but there is a guided tour of the Hua Hin Hills Vineyard. Wine-tasting sessions and explanations of how various wines are made appeal to many Pranburi visitors. The majority of vineyards are located about 45 kilometres west of Hua Hin and tours leave from various resorts and establishments in the area. The scenic valley in which the vineyards are nestled boasts the slate soil and loamy sand required to create Rhone grape wine varieties. Beautiful scenery and delicious food and wines are characteristics of such tours, and excursions of this type are worth a try.
Hua Hin Night Market
Finish the day with a stroll through Hua Hin's famous Night Market. The market is located between Petchkasem Road and the railway line and springs to life at approximately 7pm each evening. Vendors set up colourful stalls and are more than willing to bargain with visitors and the latter will find plenty of shopping opportunities and interesting gifts to bring back for friends and family. Some of the area's best seafood establishments are also found in the market area and nothing less than superb dining should be expected by guests.
Hua Hin Railway Station
Arguably Thailand's loveliest railway station, this wooden structure was once the Nakhon Pathom Province Royal Pavilion and part of Sanamchan Palace. In 1968, it was relocated to Hua Hin where it was recognized as one of the world's most romantic railway stations. The railway always offers something intriguing to watch and is an ideal landmark for those who want to experience the true atmosphere of Hua Hin.
Hua Hin's Weather
The best time to visit Pranburi and the rest of Hua Hin it is between December and April when the region enjoys a warm, dry season. During peak season, reservations are accepted for most activities, including parasailing and scuba diving. Anyone searching for an exciting and interesting area in which to holiday will be well pleased with what he or she finds in Pranburi, in Hua Hin, Thailand.
Related Articles:
Aleenta Hua Hin Resort & SPA
183 Moo 4, Pak Nam Pran,
Pranburi, Hua Hin,
77220 Thailand
T: +66 32-618-333