If you're looking for a uniquely diverse holiday destination then, Hua Hin in Thailand is simply the best option. With sweeping beaches and the perfect variety of the city's culture, you will soon forget when your holiday started and wish for it to never end. Markets and restaurants line the streets, music and food fills the air.
Let's take you on a journey of beautiful Hua Hin. Let's rediscover our culture and community. We'll show you the best places to grab a tropical smoothie and warm meals, along with the top attractions and national parks to treat yourself to a once in a lifetime adventures. So, come along, Hua Hin never disappoints.
Where is Hua Hin?
Welcome to Hua Hin, a beach resort town, located on the shores of the Malay Peninsula in Thailand. We have over a population of over 82,000 happy residents over 323 square miles of resorts, restaurants, bars, national parks, and attractions.
Some local history you should know about us includes how we got the name Hua Hin and how we got to be the most popular resort city in all of Thailand. Believe it or not, before the name Hua Hin we were known as Samore Riang, or rows of rocks. We got this name by a group of farmers who first moved here in the 1800's after leaving their droughted towns. They found a row of rocks along the beach and from there we go the name. You may be asking yourself why we changed the name?
In the 1900's, the director of the state railway built a palace next to us known as the Ban Laem Hin palaces. In which he coined us Hua Hin since we were right next door. Due to our legacy of the most breathtaking beaches, many built around us hoping to draw in more and more attention while giving us a popular crowd to bestow our culture.
Best Ways to Get to Hua Hin
There are many ways to get here: swimming (least recommended), bus, taxi, train, ferry, and plane.
Bus: There is a multitude of bus lines that run through Hua Hin. Blue Air Con buses are the most popular form of transportation. They go to and from Bangkok, as well as the locally run orange buses that transport to the surrounding areas.
Taxi: You'll find many taxi services going to and from Hua Hin including but not limited to limousines, minivan, and small tuk-tuk.
Train: From Bangkok, you can take the main north-south train to get here This is much easier travel for those who need to travel to and from, especially those who need to travel further than Bangkok.
Plane: Luckily, for air passengers, the closest airport is only 15 miles away from Hua Hin in which you can get to by local taxi or bus.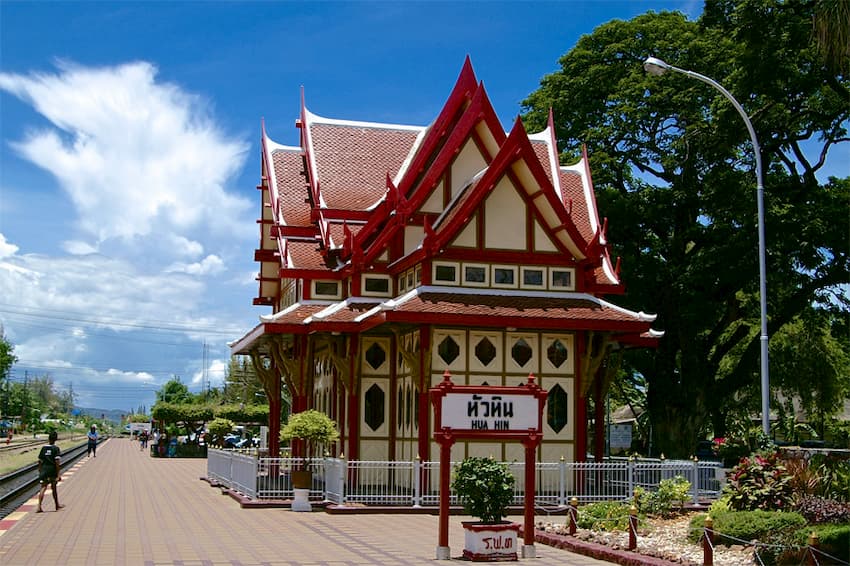 Hua Hin's Climate
Be sure to pack your shorts and tank tops, it's going to get hot! We what is known as a tropical savanna climate, meaning it is in the higher temperatures throughout the entire year. The year begins as a dry season which runs from December to April, which then merges into the monsoon in May. The weather then picks up to hotter temperatures throughout June to August and then rains continue to pick up September to November. For the best time of the year to travel, try booking at the end of the year to vacation at the start when it is warmest (and less rainy).
Top 5 Best Food and Drink Spots
1. Sea Harmony Eco Cafe
This local cafe is a favourite among tourists and local alike. The Sea Harmony serves fresh and tasty food and it has plenty of vegetarian and vegan options. If you are lucky, you may even get to play with the owner's two cute bulldogs.
2. Hua Hin Koti
A Thai-Chinese restaurant, Hua Hin Koti is nationally renowned. You will want to try their dom yam gung (shrimp soup with lemongrass), and their spicy seafood salad will leave you wanting more. Just be prepared to wait for your table!
3. Moon Smile & Platoo
This affordable restaurant provides excellent food with speedy service. For traditional Thai food that your whole family can enjoy, visit Moon Smile & Platoo.
4. Chatchai Market
This traditional day market is a must-visit location for any tourist who truly wishes to experience Thai culture. Stop by in the morning for Chinese-style donuts and ancient-style coffee or anytime during the day for noodles and wontons.
5. Jek Pia Coffeeshop
Looking to get your morning fix? Jek Pia Coffeeshop is the place to go. This is a favourite with the locals, so get ready to wait in line.
Top 10 Attractions in Hua Hin
1. Hua Hin Beach
When staying in a beach resort town, of course, the first place you will want to see is the beach! Enjoy swimming in the warm waters and walking on the warm, white sands.
2. Hutsadin Elephant Foundation
This is truly a one of a kind experience. Walk with, feed, and pet elephants at this sanctuary. Plus, you can feel good knowing your money is going to a good cause.
3. Hua Hin Night Bazaar
The Night Bazaar is the place to go to be fully immersed in Thai culture. This is also a great location to pick up souvenirs for your friends and family.
4. Hua Hin Hills Vineyard
Right in the middle of a scenic mountain valley lies the Hua Hin Hills Vineyard. Take a tour or taste a few of the local selections.
5. Black Mountain Water Park
If you are traveling with children, you won't want to skip the Black Mountain Water Park. With nine different slides, a wave pool, a lazy river, and more, you won't ever want to leave.
6. Phra Ratchaniwet Mrigadayavan
This stunning summer palace was built for Rama VI in the 1920s. Tour the gardens and take a peek inside this royal site.
7. Plearn Wan
Plearn Wan is a recreation of the old-fashioned shops that used to fill Hua Hin. Stop in at some of the shops or take some photos and experience the way things used to be.
8. Huay Mongkol Temple
This religious landmark is a truly awe-inspiring site. You would be remiss if you did not visit the Huay Mongkol Temple. Other Hua Hin Temples
9. Chinese Temple
Visit Hua Hin's own Chinese Temple, located right along the shoreline. Enjoy the distinctive architecture and take a few pictures to show your friends back home.
10. Cicada Market
See live music events, street performers, and local artists, grab dinner and a drink, or buy some traditional arts and crafts all at the Cicada Market. This is a must-visit attraction.
Visiting Hua Hin with Families
You will not find a more family-friendly beach resort town in Thailand than Hua Hin. There are tons of family oriented hotels and restaurants, plus plenty to local activities to keep your kids from ever getting bored.
Head down to the beach for a fun day in the sun. Your children will love splashing around in the warm ocean waves or building a castle from the soft, white sand. If you visit during the rainy season, beware of jellyfish as they can be a real problem here. The most popular beaches in the area are the Hua Hin Beach, the Suan Son Pradipat Beach, and the Khao Takiap Beach.
Beach not your style? There are two phenomenal water parks right in town, the Vana Nava Hua Hin and the Black Mountain Water Park. Either one will provide a day's worth of fun for the whole family.
For older kids, consider taking a bicycle tour of the area. Rent a bike and see everything this amazing city has to offer. Travelling with thrill seekers? Check out the Cha-am ATV Park. Hop on an ATV and head out on an off-road tour on the area.
For a truly immersive experience, take your children to one of the many local markets. Eat traditional Thai food, view and buy arts, crafts, and other wares, or watch the street performers. There is no better place to get a feel for Thai culture.
Take a breath and plan your next vacation here. We promise to make your family jealous and your co-workers enraged. Let's give you a tan and new sense of culture when you arrive back home. We want you to not only enrich in our culture, we want to learn yours. Didn't go to every restaurant or park? Come back next year and plan with our local tourist guides for every possible stop to partake in.
Share some history and culture along the way. Help contribute to the growing popularity of Huan Hin. Share posts on facebook, tweet about us on twitter, and tell your friends about your seemingly never ending adventure. We look forward to seeing you again soon!
Luxury Hua Hin Beach Resort
This Hua Hin resort is the original award winning boutique luxury resort upon which Aleenta started. This special boutique beach resort features 25 unique suites & villas, most with private pool. Each suite is located within mere footsteps of the beach and offers commanding views over the Gulf of Thailand. Situated on the pristine and golden sand stretch of Pak Nampran Bay, Aleenta Hua Hin Resort is a comfortable 2.5 hour drive south of Bangkok.
Aleenta Hua Hin Resort & Spa offers the perfect location for romantic beach weddings and honeymoon with its beautiful and private setting with an onsite wedding planner ready to help create the most magical celebration whether honeymoon, wedding or renewal of vows.
Resort Suites & Villas
The main resort, located along the beachfront, features white-washed buildings with thatched roofs, amid swaying palms. The picturesque Resort Wing offers a variety of residence, suites and villas, steps away from the seashore and complete with private plunge pools.
The Frangipani Wing accepts children of all ages, while the Aleenta Wing is exclusive to adults only. Nearby, the white-washed 2 bedroom Chaba Villa is an intimate hideaway with ocean views and our 4 bedroom villa shares a large living room and beautiful private garden.

Related Articles:
Aleenta Hua Hin Resort & SPA
183 Moo 4, Pak Nam Pran,
Pranburi, Hua Hin,
77220 Thailand
T: +66 32-618-333