Nestled on Thailand's gulf coast, Hua Hin is an active fishing port offering something for everyone. Tropical palms and jungle lead to white beaches overlooking bright aquamarine waters with modern beach villas, summer homes, hotels, and 18-hole golf courses, but travellers won't lose themselves in modern commercialism here. Hua Hin has maintained its traditional charm, possibly because it is still a working fishing port with local markets and night markets to explore.
Hua Hin Night Markets
For a smaller seaside town, Hua Hin's night markets are bustling with activity, each has a unique theme and collection of vendors. The Hua Hin Night Market is the most popular, just a short walk from the town center, the market runs between Petchakasem Road and Liap Thang Rotfai, the railway station road. It is open from 6 pm into the early hours, with some vendors staying open until dawn. It can get crowded with tourists on the weekends, so a weekday visit is a quieter and more enjoyable experience. Visitors can find everything from jeans, hats, to intricate wood carvings and embellished silk pillow cases to rubber chickens and novelty mug warmers. There are vendors with local handmade jewellery, silk purses, scarves, and tapestries. Negotiate, and you'll often get a better deal.
If there's one thing that no one should miss at Hua Hin's night markets, it's the seafood. Dishes to try include curried crab with spring onions, fresh smoky, grilled shrimp, sweet and sour squid kabobs; the list goes on. You can stop into one of the restaurants at the market to grab a cocktail and watch the crowd, or you can stay in the thick of things and try a variety of inexpensive street foods. Each vendor usually has an ice filled case stocked with fresh crab, fish, and lobster attached to a vending booth where you order, and it's all prepared for you right there on the street. If seafood isn't your cup of tea, there's a giant selection of other foods like sticky mango rice, roti, mango salad, noodles, spring rolls, Isaan snacks, steaks, and barbecue. For the less adventurous, there is a Starbucks nearby.
Cicada Night Market
Opened in 2010, Cicada Market is a 10-minute drive south of the Town Center and is fast becoming one of the region's most popular night markets. This market lies within a tropical garden with enchanting lanterns and strings of fairy tale lights to guide visitors. It has an artistic, bohemian feel to it and features a lot of artists, musicians, and performers. In fact, the word cicada is an acronym that stands for Community of Identity Culture, Arts & Dynamic Activities. The Cicada Art Factory is an indoor gallery located in the heart of the market for local artists and students to display work. All of the work displayed is for sale, if you are searching for something unique and artisanal, this might be the place to find it. Art A La Mode is an outdoor portion of the art market, and it's packed with local artisans and vendors. Here you can find an artisanal collection of paintings and prints, fabrics, home accessories, handcrafted jewellery, sarongs, kid's toys, pottery, and live glass blowing.
The Amphitheatre is the market's performance art section. It's adjacent to the beer garden so grab a cold one and watch some live music. Organisers book the stage with a wide array of events from bands to traditional and contemporary dance routines, to magic shows, comedy, and theatre. Catch some local musicians rocking out or maybe even a poetry reading depending on the day.
Cicada doesn't lack in the food department which is possibly the best reason to visit Hua Hin's markets. Cicada Cuisine is a section dedicated to food, and it's bulging with local delicacies. American style food alongside Thai style food is available here, Japanese, Chinese, Italian and Korean barbecue, fried mussels, Phad Thai, rice based dishes. Plus an entire dessert hall with treats likes pastries, gelato, sweet bread, cakes, coconut sweets and gourmet chocolates. For a contemporary take on a traditional Thai market, visit Cicada. It's only open Fridays, Saturday s, and Sundays from 6 pm to Midnight.
Other Night Markets
Just a short distance from the town center along Canal road there are two more night markets worth mentioning. Pae Mai Market on Klong Road next to the driving range includes a wide selection of clothing, accessories, shoes, electrical appliances, tools, car accessories, plus snack, ready meals, and desserts. This market is open Tuesday, Wednesday, and Sunday from 5 pm to 10 pm.
Keep going along Canal Road just beyond the Pae Mai Market, and you'll find the Dinosaur Market. This market is known for great prices and excellent produce. It's only open on Wednesdays and Sundays from 4 pm to 8 pm so see it while you can. It's a popular hub for locals to grab up the best locally grown fruits, vegetables, spices, and the catch of the day. This location gets muddy in the rainy season, during that time of year you could be the only tourist at the market.
A few blocks south of Town Center is the Grand Hotel Plaza and the Grand Market. Like a shopping mall, this market is in an air-conditioned, indoor space. There are fewer tourists at this market and therefore fewer touristy souvenirs. There is an assortment of home goods, clothing, wallets and other accessories, electronics, plants, and even pets. A few things that set this market apart are health food shops, perfumes, soaps, and lotions. Massage tents lure in tourists with sore feet, and there's usually a band playing or another themed event. This market has many Thai restaurants where you can get some of the rarer treats like fried insects alongside favorites like fried chicken and spring rolls.
Chat Chai Local Market
This colourful day market specialises in food and fresh produce. It's located nearby the Night Market on Dechanuchit Road. Many local residents do their daily shopping here each day, and much of what's available comes from nearby farms. It is undercover, so visit rain or shine for a homegrown medley of meat, produce, spices, fish, and the hustle and bustle of everyday Hua Hin life. There are desserts, fabric vendors, and a few noodle stands. This market opens at 4 am and closes at 7 pm.
Hua Hin's Floating Markets
Just to the southeast of Town Center is a different kind of shopping experience. Hua Hin Floating Market is in the style of the 1920's with lavish decor and uptown character. A hardwood walking path steers you through the market. Tiled storefronts line the walk with wood slatted folding doors that open to the street. Visitors can shop for artsy handmade crafts, soaps and lotions, clothing, gifts, and cards. There is a sense of quality to the items at this market and a lesser presence of the cheap souvenir trinkets. The entire market sits on a man made lake so hop aboard a boat, and tour the market by water. There are shows three times daily and a food court lined with snack and lunch locations. Additionally, the Hua Hin Market features a koi pond where you can pet the fish and a sheep pasture with real sheep next to a replica barn.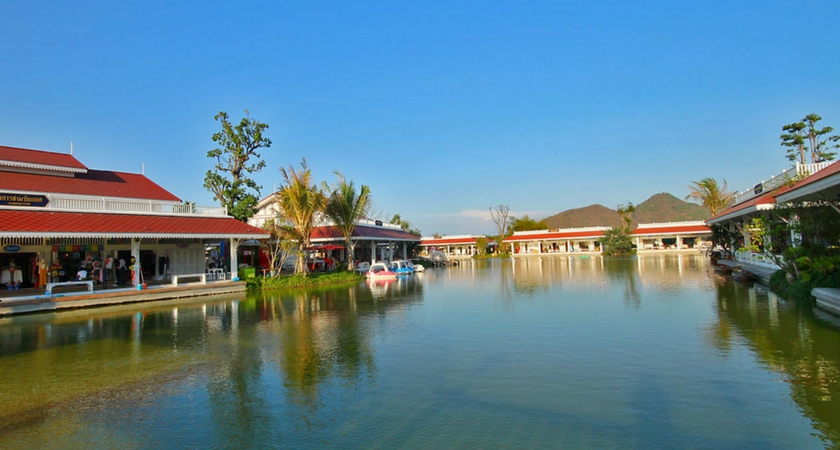 A short drive from the Hua Hin Floating market is a larger floating market which features almost 200 vendors and 40 boats for touring. The Sam Pan Nam Floating Market lines an existing lake. It may not have the quaint charm of Hua Hin, but it was similarly fashioned to resemble old-time Thailand. There are endless things to do if you tire of shopping. Have your picture taken at the market's replica lighthouse and fishing dock. Climb onto the markets replica train at the train station and take a market tour aboard an engine. This market is perfect for families and offers jam-packed fun. Snack stalls wedged in between shops and street vendors dish out barbecue skewers, noodle dishes, drinks, and of course sweets.
Most tourists opt for Sam Pan Nam if visiting only one floating market. Its sheer size allows for more things to see, do, eat, and shop for. If you'd rather avoid crowds and stay out of the buzz, then Hua Hin market may just be for you.
Each market has a style all its own and if you have time, don't miss any of them. You can't beat the selection at the Night Market when it comes to variety, and nothing compares to the art and performance at Cicada. Smaller markets and those that aren't as busy tend to have better prices, but you can often bargain for a better deal with larger vendors. Don't visit a market without trying some of the treats available, savory or sweet. The floating markets offer additional charm and activity, plus you don't have to walk them. Visit Hua Hin's markets for an unforgettable journey filled with bargain shopping, unique finds, entertainment, and delicious food.
Hua Hin Resorts
Our Hua Hin Resort is the original award winning boutique luxury resort upon which Aleenta started. This special Hua Hin beach resort features 25 unique residences, most with private pool. Each suite is located within mere footsteps of the beach and offers commanding views over the Gulf of Thailand. Situated on the pristine and golden sand stretch of Pak Nam Pran Bay, Aleenta Hua Hin Resort is a comfortable 2.5 hour drive south of Bangkok.
Aleenta Hua Hin Resort & Spa offers the perfect location for a romantic beach wedding and honeymoon with its beautiful and private setting with an onsite wedding planner ready to help create the most magical celebration whether honeymoon, wedding or renewal of vows.
The main resort, located along the beachfront, features white-washed buildings with thatched roofs, amid swaying palms. The picturesque Resort Wing offers a variety of residence, suites and villas, steps away from the seashore and complete with private plunge pools.
Hua Hin Travel Map
Related Articles
Aleenta Hua Hin Resort & SPA
183 Moo 4, Pak Nam Pran,
Pranburi, Hua Hin,
77220 Thailand
T: +66 32-618-333