Hua Hin is a lesser-known province of Thailand, but it is growing in popularity among tourists who are discovering this unique and magical destination
Beautiful beaches, a pristine landscape starring Sam Roi Yod National Park, outstanding restaurants, many of which offer the freshest seafood, excellent shopping – bustling night markets and chic boutiques included – a nightlife and friendly visages are among the destination's highlights. It long ago received the royal seal of approval when Thailand's revered Royal family established a holiday palace there..
As one of the oldest and most traditional holiday resorts in Thailand, Hua Hin has become the perfect getaway for families. This attractive and accessible destination city has numerous wide and long beaches that are characterised by their shallow depths and mild currents, which makes any of the beaches a safe and enjoyable choice for families with young children.
Hua Hin Travel Guide Tips
Thai currency is called baht, and one baht is PS0.024 / $0.030. You will find that once you are actually in Thailand, everything is very affordable!
If you fly into Thailand's capital, it is very easy to get to Hua Hin from Bangkok. There are many options, but the most convenient mode of transportation into Hua Hin is train. Trains head south from Bangkok several times per day. A four-hour train ride into Hua Hin is only about PS4.25.
Arguably Thailand's loveliest railway station, this wooden structure was once the Nakhon Pathom Province Royal Pavilion and part of Sanamchan Palace. In 1968, it was relocated to Hua Hin where it was recognised as one of the world's most romantic railway stations. The railway always offers something intriguing to watch and is an ideal landmark for those who want to experience the true atmosphere of Hua Hin.
Once you have arrived to Hua Hin, there a few ways to get around the city. Buses and taxis are always available.
Attractions in and Around Hua Hin
Beaches
Beaches in Hua Hin are magnificent. They are not nearly as crowded as beaches in Phuket or Bangkok. You have all of the beauty with none of the overwhelming tourist traps. In this more serene atmosphere, you are able to relax on your vacation.
There are several peaceful beaches in the small towns surrounding Hua Hin. However, the most beloved beach in the area is Hua Hin Beach. This beach gets busy on weekends but is calmer during the week. Vendors wander the beach, so people wanting souvenirs may find some cute trinkets to buy.
Despite the occasional crowds, people still love to lie out in the sun at Hua Hin. Visitors can also pay to ride horses or ponies along the sand, with helpful guides leading them. Riding horses and ponies is a classic Hua Hin Beach experience!
Hua Hin Hills Vineyard
If you want to splurge on a fun day trip, visit Hua Hin Hills Vineyard. Not only can you sip on unique wine and eat at the bistro, but you can spend the day enjoying the gorgeous scenery from the vineyard.
For a relaxing day and take a tour of the vineyard, where you can learn about the history and process of wine making.
For an eventful day, bring your mountain bike and hit the trails. Best of all, anyone brave enough can enjoy an elephant ride! That's a story you'll tell for years to come.
Khao Sam Roi Yot National Park
For only 200 baht, or just over four pounds, you can enter this park for the day. The Hua Hin area is known for its national parks, and Khao Sam Roi Yod is the most popular. It makes for another great day trip.
The park is filled with many small mountains, and you can take easy hiking trails to enjoy the scenery. If you visit Hua Hin in the summer, this park is ideal for relaxed swimming and water sports, such as parasailing.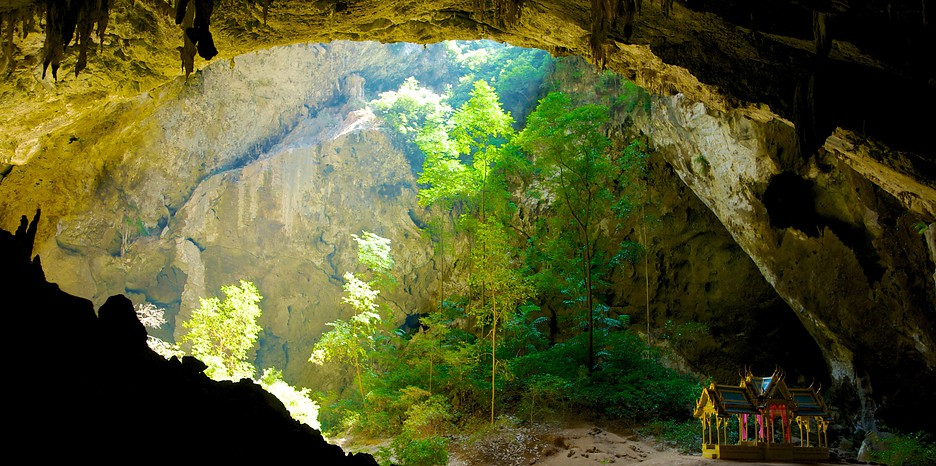 Activities in Hua Hin
Golf
Golf is extremely popular in this part of Thailand. If you are a fan of the sport, there are multiple courses you can play on. Locals would probably recommend the Royal Hua Hin Golf Course, the first golf course ever constructed in Thailand! Play on the green and see a course that is historically significant, both for Thailand and for the sport.
If you visit Hua Hin in August or September, sign up for the Hua Hin Golf Festival! Green fees vary, but most of them are under 800 baht, or just over PS16.00. This festival is open to both golf gurus and amateurs.
Kite-surfing
Kite-surfing is a huge pastime in the Hua Hin area. There are a couple different schools that give kite-surfing and kite-boarding lessons. If you want to devote a day to a lesson, go to Hua Hin Beach. Representatives from different kite-surfing schools stand on the beach and provide information to those interested.
Food & Drink around Hua Hin
Moon Smile & Platoo
If you want to try authentic Thai food, Moon Smile Platoo is the way to go! The menu is huge, as the chef dabbles in various types of Thai cuisine. We always recommend the adventurous eaters to order their dishes spicy.
O-Zone
This restaurant is located in Cha-Am, which is a quieter area outside the main part of Hua Hin. O-Zone serves amazing sea food. You can enjoy the view of the beach while listening to live music.
Monsoon Restaurant & Bar
Monsoon makes the ideal date night outing. The restaurant is set up in a beautiful old mansion, and there is a garden in the back that provides a nice romantic atmosphere. The chefs at Monsoon cook not only delicious Thai food, but also foods from all over Asia.
With its romantic restaurants and exotic beaches, Hua Hin makes a lovely romantic getaway, honeymoon destination, or wedding location. On the other hand, Hua Hin's light hiking and kite-surfing lessons make for a fun family trip, as well!
Pay the area a visit and experience something extraordinary.
Aleenta Restaurant & Bakery
Aleenta restaurant offers delicious traditional and modern Thai and international cuisine created using the freshest ingredients, organic herbs and vegetables from our very own Aleenta garden. Dining available from morning to night starring delectable dishes in delightful locations. Try the finest in Thai cuisine, Western fusion or the freshest catch from the sea with our selection of cuisine options.
The Bakery provides home-made cakes and pastries with an ocean view. Fresh bread, rolls, and croissants for take away.
Luxury Hua Hin Beach Resort
Aleenta Hua Hin Resort & Spa in Pranburi is the original award winning boutique luxury resort upon which Aleenta started. This special Hua Hin beach resort features 25 unique residences, most with private pool. Each suite is located within mere footsteps of the beach and offers commanding views over the Gulf of Thailand. Situated on the pristine and golden sand stretch of Pak Nampran Bay, Aleenta Hua Hin Resort is a comfortable 2.5 hour drive south of Bangkok.
Aleenta Hua Hin Resort & Spa offers the perfect location for a romantic beach wedding and honeymoon with its beautiful and private setting with an onsite wedding planner ready to help create the most magical celebration whether honeymoon, wedding or renewal of vows.
Beach Resort Suites & Villas
The main resort, located along the beachfront, features white-washed buildings with thatched roofs, amid swaying palms. The picturesque Resort Wing offers a variety of residence, suites and villas, steps away from the seashore and complete with private plunge pools.
The Frangipani Wing accepts children of all ages, while the Aleenta Wing is exclusive to adults only. Nearby, the white-washed 2 bedroom beachfront Villa is an intimate hideaway with ocean views and our 4 bedroom villa shares a large living room and beautiful private garden.
Related Hu Hin Articles:
Aleenta Hua Hin Resort & SPA
183 Moo 4, Pak Nam Pran,
Pranburi, Hua Hin,
77220 Thailand
T: +66 32-618-333