Even if you adore your accommodations and the staff couldn't be more helpful, nobody spends too much time holed up in your hotel or resort when a world of shopping surprises await for those eager to explore Phuket's local markets. Day or night–and on weekends–shop until you drop at varying sizes of markets located in expected and unexpected neighbourhoods, so whether your objective is bringing back a wealth of finds for yourself or you can't return home from your Thailand trip minus gifts for family and friends, we've got your locations and tips guaranteed to make your market shopping tour fun from start to finish.
Before you set off on your shopping adventures through Phuket's teeming marketplaces, the following seven tips offer a shopping strategy sure to enhance your experience:
Feel free to bargain with vendors in markets. Typically, you can save between 10-percent and 40-percent of the price of goods just by holding your ground and negotiating.
Your mum was right: a smile will get you a better bargain any day of the week, so practice that grin now.
Your market-bought goods may not be eligible for the Kingdom's Value Added Tax (VAT) refunds when purchased at small stalls. Check regulations associated with this rebate before going to Phuket.
Don't get into taxis operated by drivers promising to take you to the best shopping venues in Thailand. Chances are good they'll be shuttling you to some obscure, off-the-beaten-path stall run by their auntie.
Think twice before purchasing antiquities. Some of these objects–particularly those bearing images of Buddha and other deities–may require government approval to remove them from the country.
Know your gemstones before buying jewelry to avoid purchasing fakes. On the other hand, if you want to impress folks back home with a huge rock, be mindful of the risk you take to retain your reputation for looking posh!
Why take parcels on the plane and linger in customs when you can ship everything home? The main post office on Montri Road in Phuket City–or PostNet stations–can be life savers. The main post office offers parcel wrap service, so if you'd like to know how it feels to come home looking like a traveler, not a Sherpa, avail yourself of this service.
Make Patong, Nanai Road or OTOP your first stops
If you're only in Phuket for a short period of time, you can still cram as many hours as you like into the exploration of local markets that cover over 500 square km, so bring at least one pair of sturdy, comfortable shoes for your personal shopping adventure. Why local markets? Because you'll find the variety, unique crafts and plenty of local cuisine you seek at popular locations like Patong near Jungceylon or along the back of Nanai Road.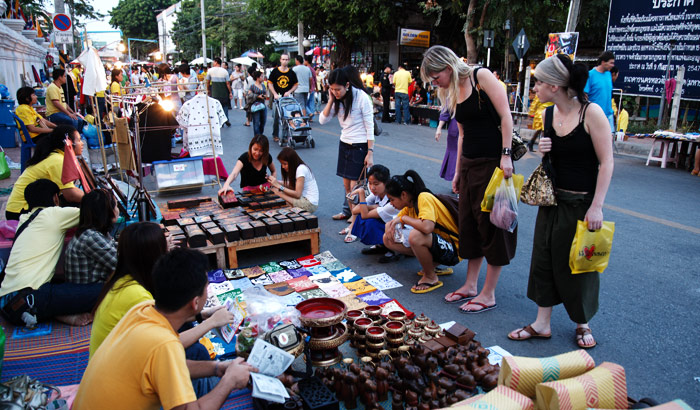 No shopping expedition in this area would be complete without tasting the fresh seafood selections at eateries at Rawai Beach, and if you're in the mood to visit a place that's a heavily-frequented tourist mecca, ask for directions to OTOP market where you could find yourself chatting up Brits on holiday, shoppers from the U.S. and just about anyone else with bargains on the brain.
Find the Indy market near the old section of Phuket Town on Wednesday, Thursday and Friday evenings between 16:00 and 22:30. If you'd like to pair dining with shopping, book a restaurant in town before or after market hours or take nourishment at Indy food stalls—particularly if a music performance has been scheduled on premises for that evening. By the way, if you can't make it to the Indy market, Phuket's Expo Market is also the darling of teens in search of hot fashion at bargain prices, so do join them.
Beachcomb, pray, shop
There's no conflict of interest when merchants set up their tables, stalls and merchandise displayers on the grounds of Karon Temple near Karon Beach on Tuesdays and Saturdays between 16:00 and 22:00. Shop for swimwear, sunglasses and beach-related clothing while snacking on fresh produce. Is this destination a bit touristy? It is–but when last were you given the chance to shop in an environment that could remind you of the Asian version of Old Testament temple market tales?
Plan to drop some money on handbags, sarongs, soap carvings, souvenirs (fluorescent Singha beer sleeveless T-shirts are so popular, vendors can't keep enough in stock to meet tourists demands). If neon shirts aren't your objectives, snap up hand-crafted, original art that runs the gamut from adorable knitted dolls and teddy bears to clever robots sure to delight children of every age. This is a great place to get skin care products made of virgin coconut oil and aloe vera as you roam the market taste testing Thai sweets, sushi, fried insects and other delights.
Weekend affairs
Phuket visitors on holiday don't always have time constrictions, but if you're in town for business reasons, you may only have the weekend to satisfy your shopping urges. The most popular weekend market is also a tourist favourite, so if crowds bother you, gird your loins. Ask passersby to direct you to Talad Naka (named for Bangkok's happening marketplace) after sleeping in, because this market doesn't start functioning until mid-afternoon, but stays open until 23:00 on weekends.
What unique treasures will you find at Talad Naka? Clothing, mobile phone accessories, art, crafts, DVDs and CDs. Take a pass on the pets and plants unless you're traveling by private jet and don't have to worry about customs! Just in case you can't get to Talad Naka, there's a Sunday evening market that will will satisfy your Phuket shopping appetite: It's the Lard Yai Sunday Walking Street Market on Thalang Road. If live entertainment is scheduled on the night you come to shop, you may return home without regrets over missing Talad Naka.
Finding the mother load
Phuket Town's main market has built quite the reputation for sights, sounds, smells and selection, particularly since it relocated to a new building back in 2010. Follow your nose and ears to the modern, four-storey beige building on Ranong Road, but expect to start your shopping expedition before you reach it, because this thriving shopping epicenter sprawls out from the building to include environs surrounding it.
The list of items you can buy here is pretty eclectic: snap up fireworks, hats, slingshots, clothing, incense, baskets and the odd lot of things you won't find elsewhere. Use your imagination. If you've posh tastes, make a beeline for the 10 gold shops in this area to see what you can add to your personal assets. Open daily between 05:00 and 11:00 (food stalls remain open until 18:00), you will want to stick around long enough to snap selfies beside quirky signs like the one inviting you to buy "Lift-Old Man/Disabled Toilets."
A final word
Frequent travelers often include one of those fold-down suitcases with wheels in their luggage to handle all of the treasures collected as they shop their way through Phuket, so do follow suit. But if you're a clever shopper, why not buy a new suitcase at one of the markets you visit? Prices are low and you'll be in a holiday state-of-mind, so keep this option in mind as you walk through more stalls than you expected to see in your lifetime!
Related Articles
ALEENTA PHUKET RESORT & SPA
33 Moo 5, Khok Kloi,
Takua Thung, Phang Nga
82140 Thailand