Thailand is known for many things: bustling cities, vibrant markets, tasty cuisine and stunning scenery. Possibly the biggest attraction for both local and international tourists, is the beautiful beaches that we find in the south.
Many of the same names pop up time and time again, and there's a regular flow of visitors to these areas. One of these places is Khao Lak on the west coast of Thailand, a beautiful, tropical area with many natural wonders to explore, adventures to have and nightlife to enjoy. You can easily understand why it has become such a popular tourist destination over past years. It is a sprawling area that stretches for 20 kilometres and is made up of three main centres dotted with numerous resorts and hotels. There is a large local community here as well as the hundreds of "falangs" who travel to the Khao Lak for their holidays.
But step outside the region, and you'll find the much quieter, more protected district of Takua Thung in Phang Nga. A deeper look into this area will throw up some amazing lesser-known spots. They may be more secluded, or offer a more unique experience, but all are hidden jewels. One of these gems is the beautiful and pristine Natai Beach in the Phang Nga province.
This ten kilometre stretch of beach is where you will find the Aleenta Phuket, a five-star resort that embodies privacy and style, and offers an experience that you'll be hard-pushed to forget. From the smallest one-bedroom loft to the most spacious five-bedroomed villa, you'll be cocooned in luxury and treated to genuine Thai hospitality. The accommodation is open-plan in design, and has a natural flow from the stylish inside areas to lush outdoor spaces.
For an added element of relaxation, the Ayurah Spa has a range of holistic treatments and therapies designed to facilitate your total wellbeing. In addition to the wonderful beauty treatments, you can consult with a health and wellness expert who will guide you as to what you could do to achieve a better wellness state. A programme such as Mind Treasured, includes periods of meditation, yoga and even incorporates a healthy eating plan prepared by the talented chefs at the resort. Purifying packages are also available, to rid the body and mind of pollution and clutter.
The two restaurants at the resort are ready to delight you with their culinary works of art. By day, you can overlook the sparkling Andaman Sea at The Edge Restaurant, and choose from their varied menu offering authentic Thai cuisine as well as a range of Western dishes. When the sun sets and night draws near, The Natai Restaurant comes alive, attracting guests with a titillating array of popular Thai dishes.
Aleenta Phuket is a special place that embraces everyone. Lovers, friends, and families are all welcome to share in this piece of paradise. While you sink into the soft white sand on Natai Beach, your children will be entertained in the kids club, where there is an array of fun and age-appropriate activities, from craft activities to Thai dance and chocolate-making.
The area around the resort, and further along the ten kilometre stretch of Natai Beach itself, is populated by dense coconut groves and lagoons. There are none of the high-rise hotels and buildings that you may find along other beachfronts. The reason for this is that Natai Beach falls within a government protected zone. The laws regulating the area are strict and you will never find a hotel with more than 80 rooms built in this area. The coral reefs off Natai Beach are possibly some of the best in the world and definitely worth preserving for the enjoyment of future generations. There has also been a recent push towards creating a turtle protection area along parts of Natai Beach, as the leatherback turtle recently returned to the area to lay eggs, for the first time since 2013. The hope is that this will encourage businesses, locals and tourists to continue to consider their impact on the environment as well as draw attention to this endangered species.
The wonderful isolation of Natai Beach means that you can relax and sunbathe in peace. With fewer people than you would find on beaches in Khao Lak, you will have plenty of space to spread your towel and settle in for some quality sunbathing. You won't find any locals peddling their wares up and down the sandy strip, nor will you be disturbed by jet skis or speedboats bouncing along the crystal sea. There is however still a bit of lively local activity to be found at the public pier, particularly in the mornings when the fishermen set off and later in the day when they arrive back with the day's catch. The pier is a sandy stroll north from the Aleenta Phuket resort and provides the perfect opportunity to marvel at the picturesque landscape.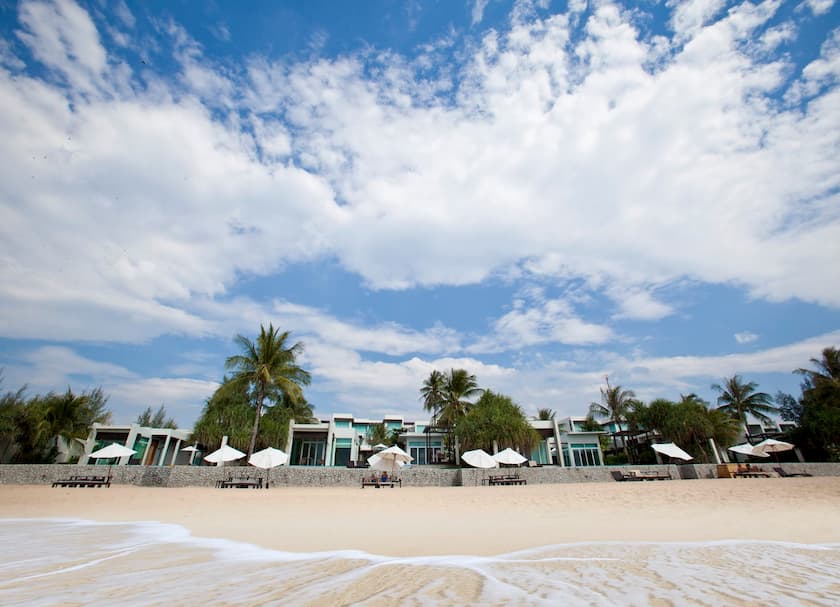 While relaxation and serenity are wonderful things that we rarely get to experience in our daily lives, there are certain attractions in the Takua Thung district that you shouldn't miss out on. Possibly the best known of these is Phang Nga Bay, in the Ao Phang Nga National Park. Here you'll find the towering limestone cliffs made famous in the James Bond movie, The Man With The Golden Gun, as well as lush, green forests of mangroves. The National Park is another of the protected areas in Takua Thung, and apart from other tourists and perhaps a handful of locals, it perpetuates the tranquillity that you find at Natai Beach. Exploring this bay with all its small beaches and interesting rock formations, is not something to be rushed, but rather enjoyed at leisure and savoured for the once-in-a-lifetime experience that it is.
With all this unspoiled natural splendour to be found in the Takua Thung district, you can't help but feel the stresses of everyday life slipping away. Escaping the hustle and bustle of real life, only to replace it with the hustle and bustle of a busy resort area, may not give you the level of relaxation that you'd expect from your holiday in Thailand. It certainly won't provide the stress-free lifestyle that you can achieve at the Aleenta Phuket Resort. When you're contemplating your next trip to Thailand, and Khao Lak seems like a great option, take a moment to consider Aleenta Resort Phuket and the unspoiled beauty of Natai Beach.
I think I know what your decision will be!
Related Articles