Nestled against the sapphire backdrop of the Gulf of Thailand, Aleenta Hua Hin Resort & Spa elevates the concept of boutique beachfront accommodations to spectacular new heights. Here, where luxury and natural beauty converge, you'll find an exceptional blend of style, serenity, and comfort that defines the Aleenta Hua Hin experience.
Situated along the Pranburi coastline, Hua Hin's captivating beach environment offers an idyllic panorama of pristine white sand merging with azure waters. The gentle murmur of the waves and the whispering tropical breeze create a symphony of tranquillity that enhances the allure of Aleenta's beachfront accommodations.
Explore the resort's various suites and villas, from the stunning Ocean View Residence to the secluded Hidden Gem. So, sit back, relax, and imagine the splendour of waking up to incredible ocean views in a space designed with your utmost comfort in mind.
Boutique Hua Hin Beachfront Accommodation:
Aleenta Hua Hin Resort & Spa proudly presents a myriad of boutique accommodation offerings, each thoughtfully designed and elegantly furnished to complement the natural beauty of their beachfront setting. Each housing option offers a unique experience of luxury, privacy, and tranquillity, from secluded garden suites to opulent beachfront villas. As we delve into each suite and villa's distinct features and allure, you'll find that every accommodation reflects Aleenta's commitment to creating unforgettable seaside retreats. This diversity caters to varying guest preferences and underscores the resort's dedication to personalised luxury.

Ocean View Residence
The Ocean View Residence is a dreamy one-bedroom escape designed with sophistication in mind. Its features, such as the plush king-size bed, expansive living area, and modern bathroom fixtures, contribute to an atmosphere of pure comfort.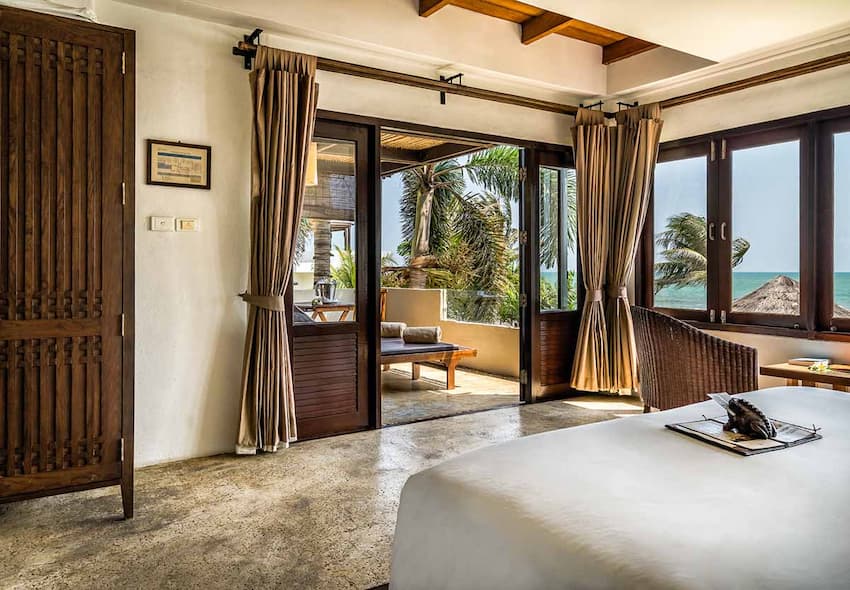 Steps away from the beach, nestled in an open-air space with spectacular views of the Gulf of Thailand. This setting creates a harmonious blend of interior luxury and stunning natural vistas.
Garden Suite
The Garden Suite is a peaceful retreat within a lush, secluded garden. Despite its tranquillity, the beach remains only a stroll away, bridging the gap between verdant seclusion and a sun-soaked shoreline.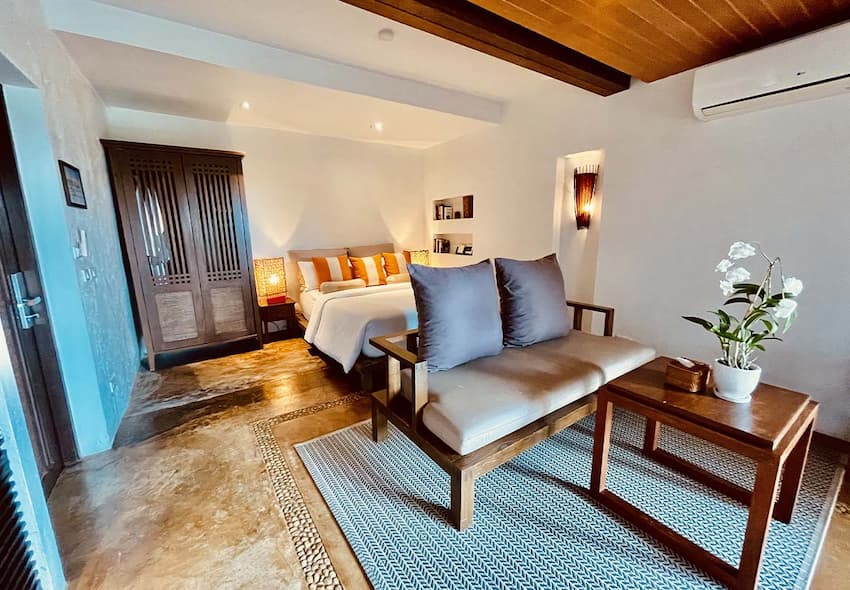 Guests can relax on the suite's private outdoor terrace, complete with a hammock, or unwind in the spacious living area with a warming fireplace, offering a homely feel amidst tropical surroundings.
Beachfront Pool Residence
The Beachfront Pool Residence is an oasis of luxury perched directly on the beach. Its privileged location enables guests to seamlessly move from the indoor elegance to the beach's raw beauty.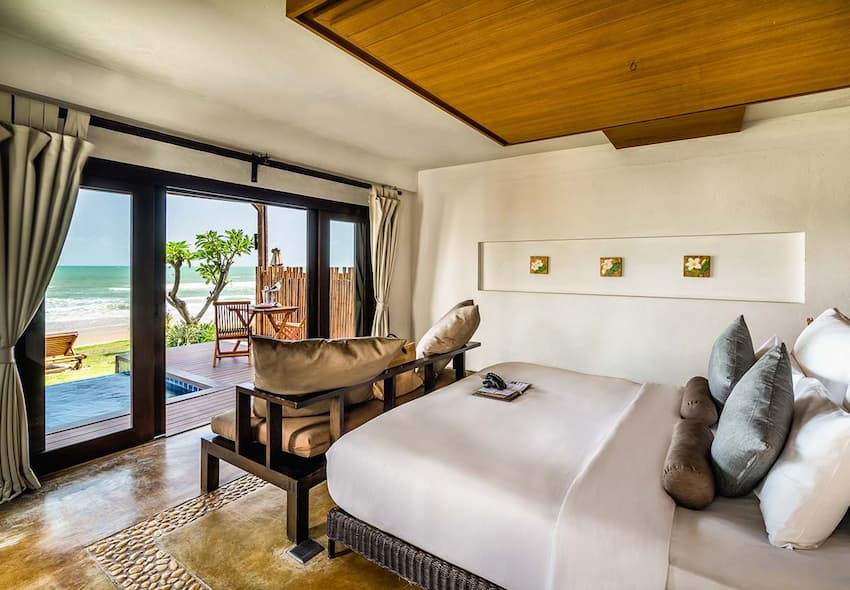 With its private plunge pool, king-size bed, and jacuzzi, this residence boasts amenities that ensure an experience of unabridged relaxation and comfort.
Penthouse
Situated on the resort's top floor, the Penthouse offers guests an unrivalled vantage point to marvel at Hua Hin's panoramic beauty.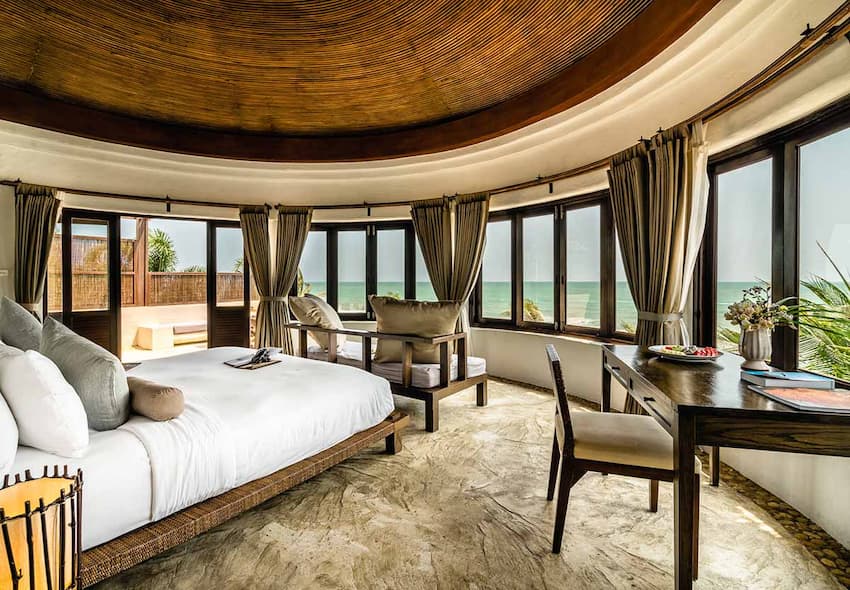 Equipped with a private rooftop terrace, a fireplace in the living room, and a fully fitted kitchen, the Penthouse is a testament to boutique living. It serves as the perfect setting for a memorable stay.
Frangipani Residences
Designed with families in mind, the two-bedroom Frangipani Residences in the family-friendly wing of the resort offers a sense of home with an added dash of luxury. Private plunge pools serve as delightful additions to these residences.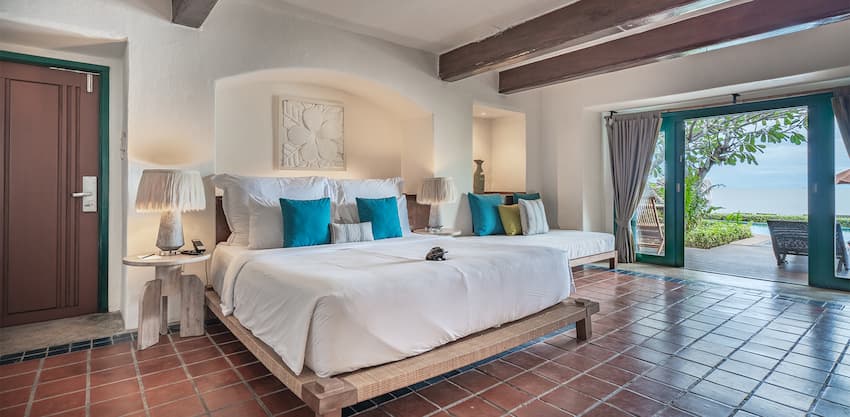 Every residence features a spacious living area and a fully equipped kitchen, ensuring the families can maintain their routines and enjoy their meals, all in the comfort of their accommodation.
Frangipani Suite
The one-bedroom Frangipani Suite combines luxury with a family-friendly environment. This accommodation option combines the comforts of home and the pleasure of a resort holiday.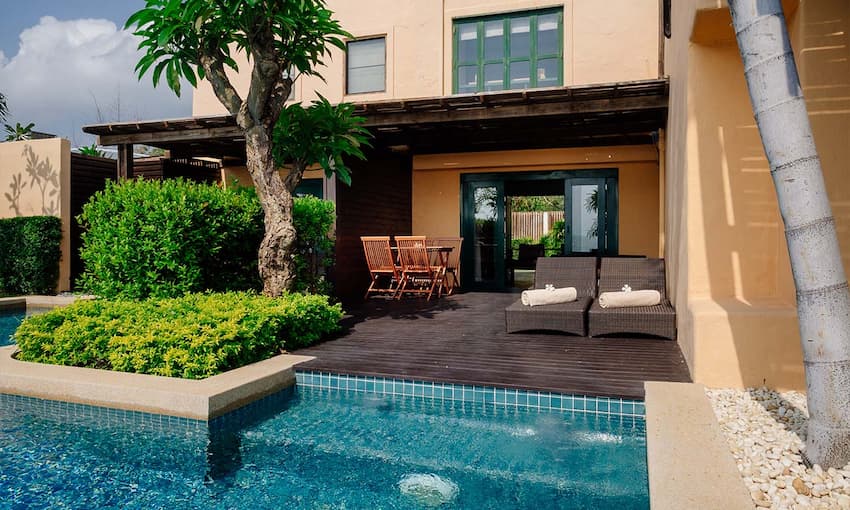 Highlighting features include a private plunge pool and a spacious living area with plenty of room for relaxation and family bonding time.
Chaba Beach Villa
The 2-Bedroom Chaba Beach Villa offers a unique blend of indoor and outdoor luxury, with its private garden and plunge pool serving as an outdoor sanctuary steps away from the beach.
The villa's spacious living area and amenities, including a king-size bed and jacuzzi, provide guests with a lavish setting for their beachside retreat.
Hidden Gem
Living up to its name, the Hidden Gem is a one-bedroom villa tucked away in a secluded beachfront location. Its private garden and plunge pool create an intimate and serene environment.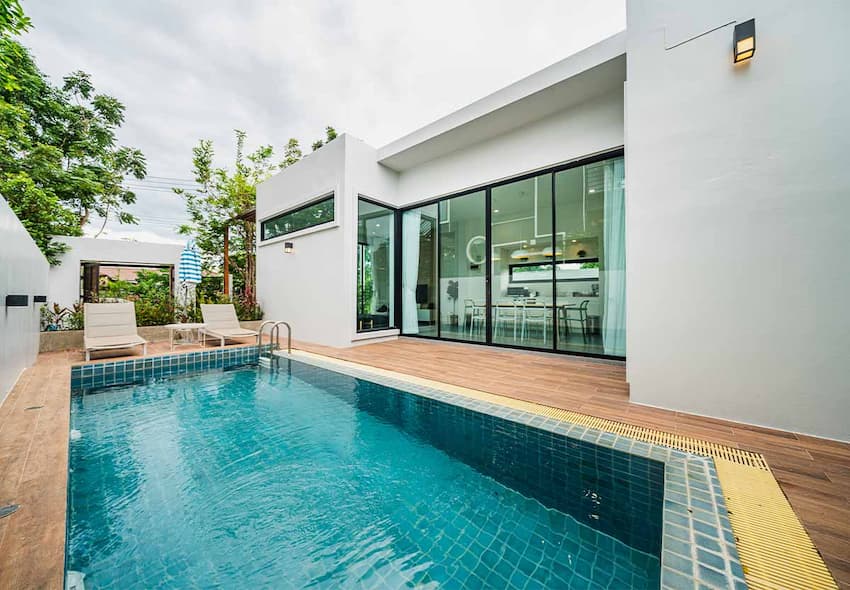 The Hidden Gem ensures a luxurious, private escape amidst the picturesque Hua Hin landscape with its spacious living area, king-size bed, and jacuzzi.
4-Bedroom Beachfront Pool Villa
The 4-Bedroom Beachfront Pool Villa is the epitome of seaside luxury. This expansive villa, situated directly on the beach, boasts a private garden and swimming pool, allowing guests to enjoy their beachfront slice of paradise.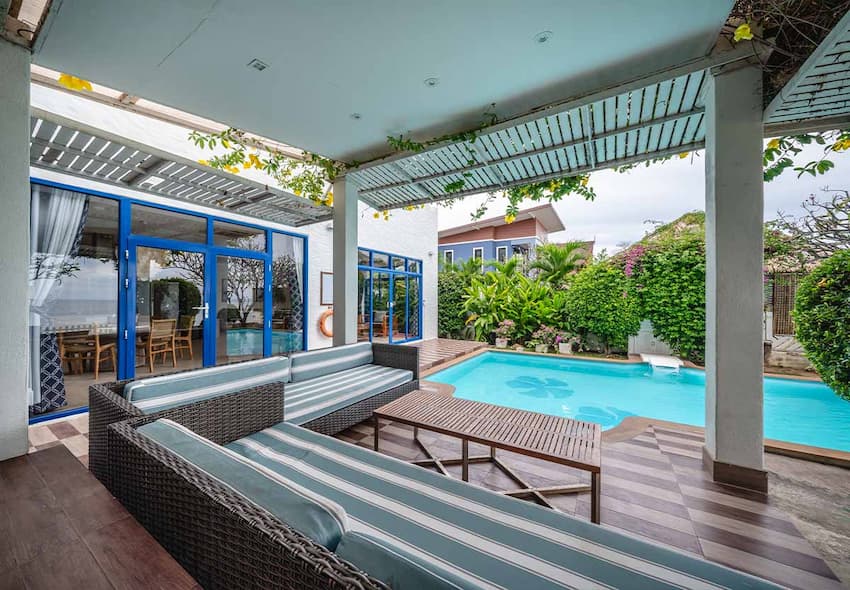 A large living area, a suite of top-tier amenities, a king-size bed in each bedroom, and a jacuzzi make this villa ideal for larger groups or families seeking an unforgettable beachside getaway.
'On the Beach' Boutique Accommodation
Boutique accommodations are increasingly becoming the choice of discerning travellers worldwide, and the reasons are clear. These establishments provide a unique personalised experience that mainstream hotels often fail to deliver. Their smaller size allows for personalised service and attention to detail that sets them apart. Choosing boutique accommodation in Hua Hin, particularly at Aleenta, means opting for exclusivity, uniqueness, and personalised hospitality.
Each beachfront suite and villa at Aleenta is uniquely designed, offering individual charm and diverse amenities. From private plunge pools to secluded gardens, beachfront access, and breathtaking ocean views, each option provides a distinct sense of place and an intimate experience. Using locally inspired design elements further adds to the authenticity and the importance of being in a "home away from home".
Beyond the physical features and amenities, Aleenta's boutique accommodations are about creating unforgettable experiences. This includes the opportunity to wake up to the sound of waves gently lapping at the shore, private dinners on the beach under the stars, or rejuvenating spa treatments in the privacy of your villa. The attentive yet unobtrusive service ensures every guest feels valued and cared for. Whether it's a romantic getaway, a family holiday, or a solo escape, Aleenta offers a truly immersive and luxurious beachfront living experience.
Related Articles
Aleenta Hua Hin Resort & SPA
183 Moo 4, Pak Nam Pran,
Pranburi, Hua Hin,
77220 Thailand
T: +66 32-618-333