Picture this – waking up to gentle waves crashing on the shore, strolling down a secluded beach with golden sands, and indulging in the freshest tropical fruits as you gaze upon a radiant sunrise. This is not a dream but a day in the life at Aleenta Hua Hin Resort & Spa, nestled in the serene beach town of Pranburi, Thailand. Here, they understand the art of relaxation and have meticulously crafted an All-Inclusive Resort Package that caters to the desires of their discerning guests. By weaving together top-tier accommodation, gourmet meals, unlimited spa treatments, and an array of refreshing beverages, Aleenta offers you a slice of paradise without worrying about planning or unexpected costs.
Pranburi is a tranquil beach paradise known for its pristine coastline and untouched natural beauty. Located a short drive south of Hua Hin, Pranburi offers a peaceful retreat away from the hustle and bustle yet is close enough to the city to enjoy its amenities. With its tranquil ambience and stunning scenery, Pranburi is the perfect backdrop for your luxury getaway at the Aleenta Hua Hin Resort & Spa.
Unveiling Aleenta's All-Inclusive Resort Package
Aleenta Hua Hin Resort & Spa's All-Inclusive Resort Package is your key to a worry-free luxury holiday. With a minimum three-night stay in one of their exquisite rooms, the resort ensures comfort and convenience from the moment you arrive. Every morning starts with a sumptuous gourmet breakfast to set the tone for the day. A wide array of lunch menu selections will delight your palate as the day progresses. And as the sun dips below the horizon, pre-dinner canapés, meticulously prepared by the chef, pave the way for an extensive dinner selection, allowing you to experience the best of international and local cuisine.
But the indulgence does not stop at your plate. The package includes unlimited spa treatments from Aleenta's award-winning Ayurah Wellness & Spa. From relaxing massages to rejuvenating facials, you can pamper yourself to your heart's content. Throughout your stay, you'll also have access to a full non-alcoholic minibar and an unlimited drinks list of smoothies, mocktails, and soft drinks to refresh you.
You can indulge in all these luxuries and more for an all-inclusive daily rate of THB 7,900++ per person. If you wish to add a sparkle to your stay, an upgrade to the All-Inclusive Package with Alcohol Beverages is available at THB 12,800++ per person, offering unlimited alcoholic beverages from their selected range.
Please note, however, that this package is not valid for the Hidden Gem room category and does not apply to events such as weddings. Also, supplement charges apply on New Year's Eve night at THB 1,700++ per person. Finally, remember that the All-Inclusive package does not include Room Service dining. Still, with the wide variety of options available in their restaurants, you're guaranteed to find dishes that will delight your taste buds.
A Culinary Journey at Aleenta Hua Hin
Your gastronomic adventure at Aleenta begins at the break of the day with a gourmet breakfast. Their buffet is a feast for the eyes and the palate, offering various hot and cold dishes. From authentic Thai dishes that let you savour the local flavours to Western favourites that provide a taste of home, there's something to suit every preference. Not to mention, the buffet also caters to young guests with a dedicated children's section. Start your day with their acclaimed Thai omelette, or the fluffy American pancakes are a delight.
As the day progresses, the lunch menu entices with its extensive selections. From live cooking stations offering freshly prepared dishes to a buffet array as diverse as the breakfast spread, lunch at Aleenta is a gourmet delight. The freshly grilled fish is among the crowd's favourites, though the traditional pad Thai is a close contender. The myriad flavours and textures will leave you eagerly anticipating your next meal.
As evening descends, dinner takes centre stage. A set menu with three courses offers a more curated dining experience. And for the little ones, there's a dedicated children's menu too. Each dish is crafted with care, using fresh, locally sourced ingredients that capture the essence of Thai cuisine and other international flavours. The options are varied and tempting, from succulent meats to fresh seafood and vegetarian delights.
You won't go hungry between meals, thanks to the selection of snacks and beverages available throughout the day. You can cool off with a scoop (or two!) of ice cream, satisfy your sweet tooth with cookies, or opt for a healthy nibble with their assortment of fresh fruit. As for beverages, the package covers a wide array, including both alcoholic and non-alcoholic options. Whether you fancy a cold beer, a glass of fine wine, a handcrafted cocktail, or a refreshing juice or soft drink, Aleenta has got you covered. The all-inclusive resort package ensures indulgence is at your fingertips throughout your stay.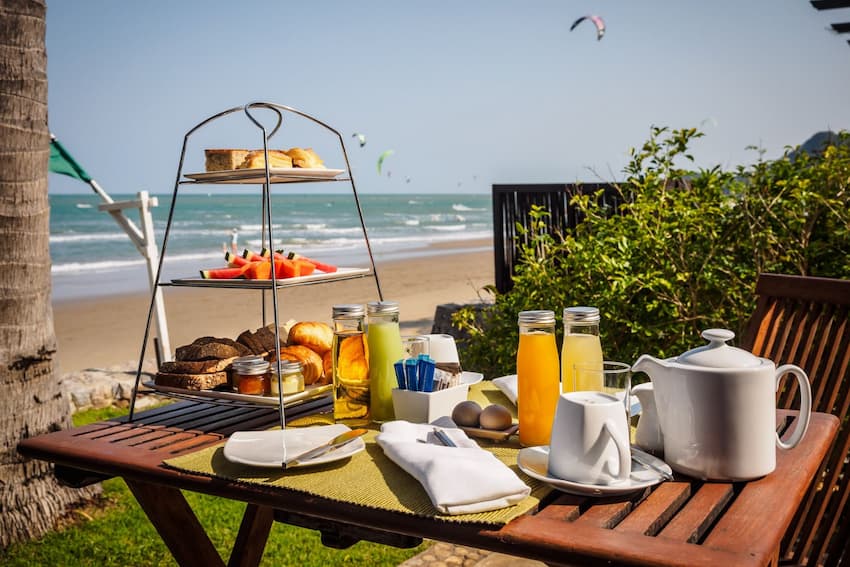 Additional Package Benefits
At Aleenta Hua Hin Resort & Spa, the all-inclusive experience extends beyond the culinary delights. One of the key attractions of the package is the unlimited spa treatments at the award-winning Ayurah Spa & Wellness Centre. Here, a team of expert therapists is dedicated to nurturing your mind, body, and spirit through various holistic treatments. From deep tissue massages that help release tension to revitalising facials that restore your skin's natural glow, the choices are as varied as they are therapeutic. Additionally, the fitness centre, equipped with modern workout equipment, ensures that fitness enthusiasts can keep up with their exercise routine even on holiday.
The resort's swimming pools are the perfect sanctuary for guests to unwind. Whether you fancy a leisurely swim or want to lounge by the pool with a refreshing drink, the tranquil pool areas offer a soothing retreat from the tropical warmth. Each pool provides a unique experience, with some boasting panoramic beachfront views while others are nestled amidst lush greenery for a more secluded feel.
Aleenta's commitment to convenience and comfort is evident in every aspect of its All-Inclusive Resort Package, allowing guests to relax and enjoy the beauty of Pranburi to the fullest.
Popular Menu Options
At Aleenta Hua Hin, breakfast is more than just the day's first meal – it's an experience. Among the many sumptuous options, two stand out as favourites among guests. The Thai omelette is a classic dish with a delicate balance of flavours that showcases the country's cuisine. Served piping hot, it's a delightful start to the day. On the other hand, if you prefer Western-style breakfast, American pancakes are a must-try. Light, fluffy, and served with toppings, they're an absolute treat. Both these dishes satisfy your morning hunger and serve as an excellent introduction to the day's culinary journey.
Lunch at Aleenta offers an array of dishes, but two choices stand out for their popularity. The grilled fish, fresh from the day's catch, is perfectly cooked and offers a taste of the sea in every bite. This dish is a favourite not just for its taste but also for its health benefits. If you prefer noodles, Pad Thai is a fantastic choice. This traditional Thai dish, featuring stir-fried rice noodles with a burst of flavours from fresh herbs and spices, offers a delightful mid-day pick-me-up. Both words are crafted using locally-sourced, fresh ingredients, offering an authentic taste of Thai cuisine at its finest.
Why Aleenta's All-Inclusive Package
An all-inclusive package, like the one Aleenta offers, is not just a holiday choice; it's an invitation to immerse yourself in an effortless and enriching travel experience. One of the most significant benefits of such a package is convenience. With all your meals, beverages, and many other amenities prepaid and planned, you can enjoy your holiday without worrying about additional costs, reservations, or schedules. Furthermore, the variety offered under the package ensures that every guest's preferences are catered to. From an extensive range of culinary delights to many activities and wellness options, there's something for everyone.
The Aleenta's All-Inclusive Package allows guests to enjoy their stay worry-free, with a focus on leisure, luxury, and exploration. You can indulge in the various offerings without a second thought, knowing everything is handled. Moreover, it lets you fully experience the resort and its surroundings without the everyday travel worries of planning and budgeting for meals or activities. Whether you're sipping a cocktail by the pool, sampling the diverse menu options, or indulging in a spa treatment, you can relax and enjoy the moment. By choosing Aleenta's All-Inclusive Package, you select an elevated, seamless, and memorable holiday experience.
Related Articles
Aleenta Hua Hin Resort & SPA
183 Moo 4, Pak Nam Pran,
Pranburi, Hua Hin,
77220 Thailand
T: +66 32-618-333