Welcome to a journey of flavour, ambience, and exclusivity set against the backdrop of the picturesque Natai Beach. When the sea whispers to the shore and the sun gently dips below the horizon, a truly unique dining experience comes to life.
As you step onto the soft, sandy beach, an intimate dining area greets you, flickering with the warm light of carefully arranged candles, a sign of the unforgettable evening that awaits. This isn't just a meal—it's a symphony of culinary delight specifically orchestrated for your enjoyment. This is the epitome of private dining, an experience that combines exquisite dishes with the unrivalled beauty of Natai Beach.
Our carefully crafted menus cater to every preference. From the 'Romantic Candle Light Dinner' offering a three-course set menu with or without a perfectly paired bottle of rosé wine, to a culinary love letter entitled 'Natai with Love,' we've covered every detail. You can embark on an indulgent seafood journey with 'The Romantic Fisherman' or a Southern Thai gastronomic adventure with our 'Thai Southern' menu.
Our 'Seafood Tower' is a testament to the sea's bounty—chilled scallops, rock lobster, king prawns, and baby squid, served with condiments that bring out the flavours of the ocean. For those with a taste for land and sea, our 'Sunset Surf & Turf' presents a sumptuous feast of grilled lobster and Beef strip loin with truffle mash potato, all drizzled in classic garlic butter sauce.
Our plant-based menu by 'The Seasons Restaurant' is not to be overlooked. With the 'Wellness & Love' selection, we cater to health-conscious foodies, serving dishes like the Beetroot Carpaccio and Sea Risotto and the deliciously decadent Chocolate & Tofu Mousse for dessert.
And as you savour each bite, remember to take a moment to appreciate the stunning Natai Beach landscape surrounding you—because dining here is more than just about food. It's about the soothing lullaby of the waves, the cool beach breeze on your skin, and the iridescent blanket of stars above. It's about creating memories that will be savoured long after the last morsels have been enjoyed.
So settle in, breathe in the salty sea air, raise your glass, and get ready for an exclusive private dining experience unlike any other on Natai Beach. This is more than a meal—it's a celebration of life, love, and the enchanting allure of this tropical paradise.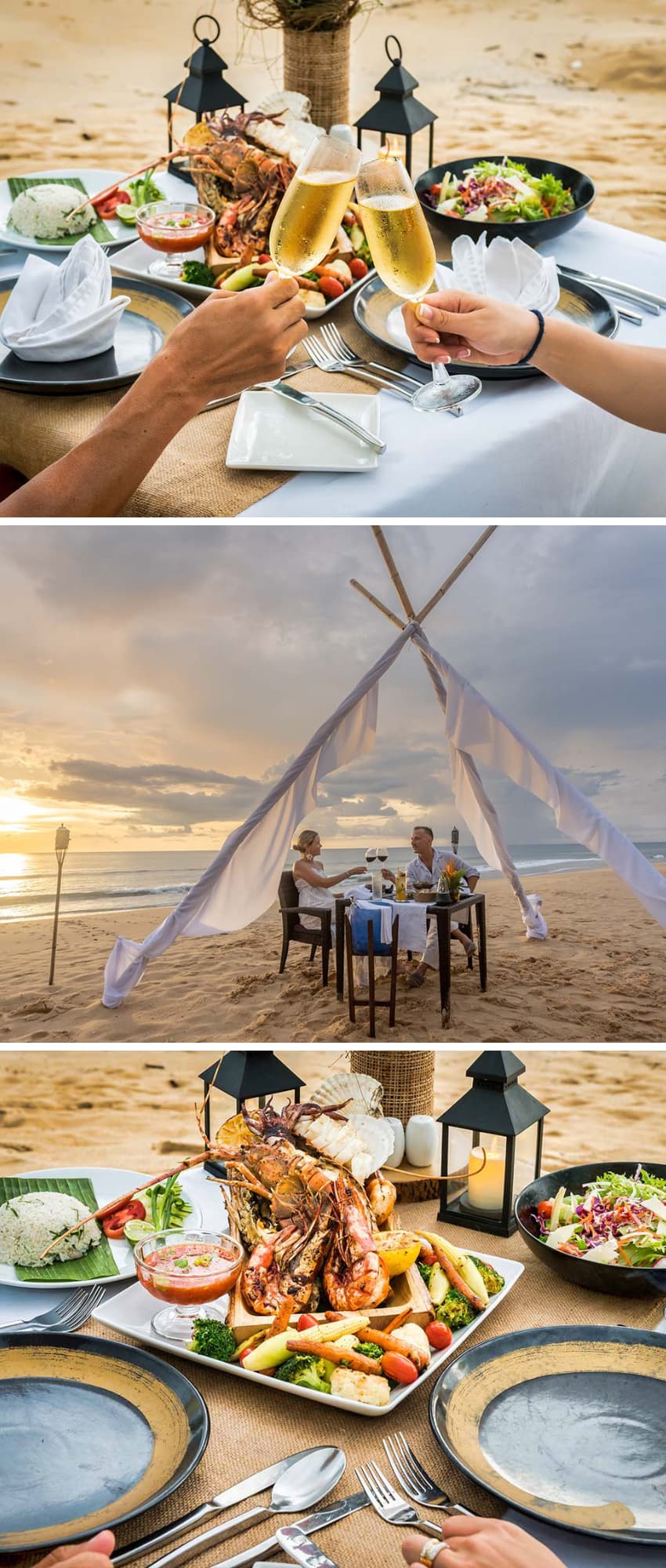 Romantic Private Beach Dining
The Romantic Fisherman
Seafood Tower
Chilled seafood with scallops, rock lobster, king prawns, baby squid and condiments
Crab Bisque Soup
Slow cooked crab bisque infused with "TumYum" spices
Natai Sea Snapper
Pan seared snapper with garlic butter spinach, baby potatoes and lemon caper sauce
Chefs Sweet Treats Selection

Natai with Love
Yaam Sa Lai Thalee
Seafood salad and grapes seaweed with lemony spicy sauce
Tom Yaam Kung Nam Khon
Hot & sour king prawn soup & coconut milk soup
Cho Chi Pla Kapong Khao Le Pack Ruam
White snapper fillet in thick red curry with wok sauteed veggies & steamed jasmine rice
Chefs Sweet Treats Selection

That's Amore
Carpaccio Di Tonno
Tuna carpaccio, capers, olives, misticanza
Capesante Gratinate
Quinines scallops au gratin
Spaghetti All' Argagosta
Lobster spaghetti with garlic, chili and cherry tomato
Chefs Sweet Treats Selection

Sunset Surf & Turf
Ceviche
Cured fish, cilantro, potatoes, sweet corn, fruit and chili
Chicken and Mushroom Soup
Creamy chicken and mushroom soup with black truffle
Ocean and Earth
Grilled lobster and Beef strip loin with truffle mash potato and classic garlic butter sauce
Chefs Sweet Treats Selection

Plant Based by SEASONS
Beetroot Carpaccio
Organic beetroot, mulberry & roselle balsamic, plant-based goat cheese, toasted peanuts and flaxseed crisps
Sea Risotto
Sea grapes, spirulina, dairy-free butter & parmesan cheese, EVO, made from kelp, risotto rice
Khao Rai Mosoon Stew
Portobello mushrooms cooked in red wine, pearl onions, cassava mash, Khao rai rice
Chocolate and Tofu Mousse
Wellness & Love
Keto Salad
Seared salmon, avocado, walnuts, rocket & chia seeds
Well Minestrone
Market organic veggies tomato-based soup with garlic & tomato whole wheat bruschetta
Steamed White Fish
Steamed white snapper with blistered greens (spinaches, asparagus & zucchini) and citrus vinaigrette
Chefs Sweet Treats Selection OR Fresh Fruit Selection

Reservation is available only at the resort, subject to availability and weather conditions.
Related Articles