Imagine the gentle caress of a sea breeze, the rhythmic sound of waves crashing onto the shore, and the feel of soft golden sand beneath your feet. Beach vacations have always been the epitome of relaxation and rejuvenation. But when you blend this natural magic with the epitome of luxury, you transcend into an experience that's more than just a holiday – an escape, a personal retreat.
Enter Aleenta's Natai Beach Villas. Nestled on the pristine shores of the Andaman Sea, these villas are not just accommodations; they're private sanctuaries designed for those on a quest for the ultimate beachfront luxury. Every corner, every view, and every amenity is meticulously crafted to give guests a taste of paradise, paired with unparalleled comfort. Welcome to your dream beach escape.
Natai Beach Villas
Natai Three Bedroom Beachfront Villa
Stepping into the Three-Bedroom Beachfront Villa is akin to crossing the threshold into a world where luxury and nature seamlessly intertwine. Set against the mesmerising backdrop of the Andaman Sea, this villa promises an experience that is both indulgent and authentically Phuket.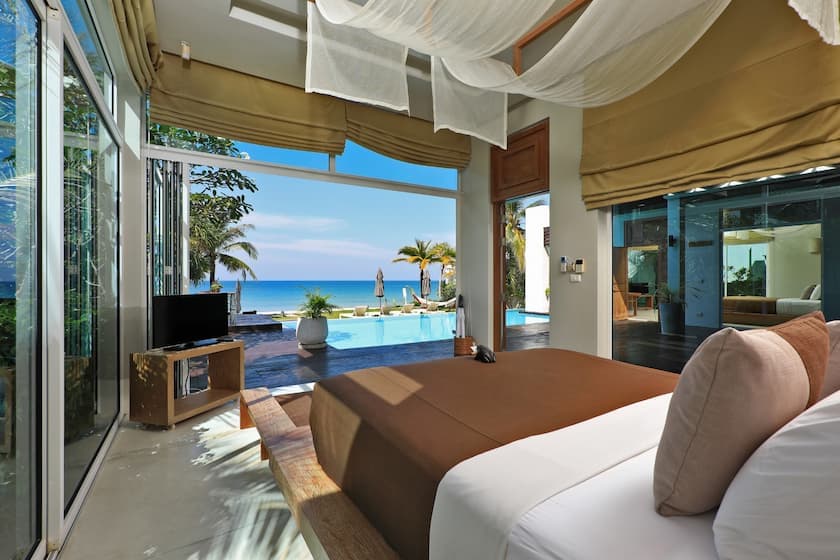 Villa Specifications:
Villa Size: A sprawling space ranging from 500-550 m2 ensures ample room for relaxation and leisure.
Bedrooms: Three elegantly designed bedrooms, each a sanctuary in its own right.
Bathrooms: Three spacious bathrooms, ensuring privacy and luxury for every guest.
Private Pool: Dive into serenity in a private pool that spans 11×6 meters.
Maximum guests: Designed for intimacy, this villa comfortably accommodates up to 6 guests.
Features:
En-suite baths for privacy: Each bedroom comes with its own en-suite bath, offering an unadulterated personal space for each guest.
Modern, Western-style kitchen: Whether you're craving a midnight snack or a gourmet meal, the fully equipped kitchen stands ready.
Expansive dining and living area: The heart of the villa, with its high ceiling, creates an ambience of grandeur and warmth, perfect for sharing stories or enjoying a quiet evening.
Wooden sundeck with uninterrupted sea views: Step out and breathe in the panoramic vistas of the Andaman Sea with a sundeck that beckons you to relax and soak in the beauty.
Signature Amenities: From complimentary Wi-Fi to ensure you stay connected to an in-room safe for your valuables to the soothing aroma of Aleenta's exclusive essential oil extracts, every detail is designed for your comfort and pleasure.
Your stay at the Three-Bedroom Beachfront Villa is more than just a holiday; it's a sensory journey where every moment is a cherished memory in the making.
Natai Four Bedroom Beachfront Villa
Imagine waking up to a symphony of waves, the horizon painted with hues of orange and pink, and a touch of luxury that feels like a dream. This is what the Four-Bedroom Beachfront Villa at Aleenta Phuket Resort & Spa promises – an elevated beachfront experience that effortlessly marries nature's beauty with human-made opulence.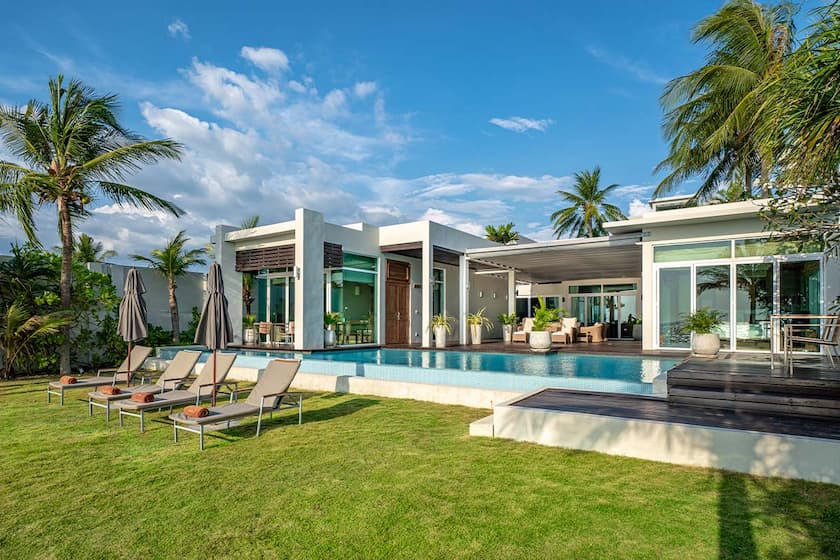 Villa Highlights:
Villa Size: An expansive 550 m2 of artfully designed space.
Bedrooms: Four, each a masterpiece of design and comfort.
Bathrooms: Four luxe bathrooms ensure every guest is wrapped in luxury.
Private Pool: A spacious 11×6 meters oasis to dip in and forget the world.
Maximum guests: A perfect haven for up to 8 guests, ensuring each one has their slice of paradise.
Features:
Andaman Sea Views: Three of the bedrooms are designed to offer unparalleled views of the majestic Andaman Sea, ensuring you sleep and wake up to nature's masterpiece.
Luxurious Jacuzzi Bathtubs: Dive into relaxation with en-suite Jacuzzi bathtubs in three bedrooms, turning every bath into a spa experience.
Refreshing Garden View: The fourth bedroom offers a serene garden view, creating a blend of beach and greenery for the guests. Coupled with an en-suite bathroom equipped with a rain shower, it's a rejuvenating retreat.
Blend of Outdoor and Indoor Living Spaces: Experience Phuket's balmy weather with an ingenious design that effortlessly fuses outdoor and indoor spaces. Whether you want to bask in the sun or relax indoors, the villa offers the best of both worlds.
Amenities for the Discerning Guest: Enhance your stay with amenities that spell luxury. From a large LCD TV equipped with cable & IPTV for your entertainment to tea and coffee-making facilities for those cosy mornings to yoga mats ensuring your wellness isn't compromised – every detail is meticulously curated.
The Four-Bedroom Beachfront Villa isn't just accommodation; it's a realm of luxury where every corner tells a story, every amenity brings comfort, and every view sings a lullaby of nature's grandeur. Welcome to an elevated beachfront experience.
Natai Beach Luxury without the Villa
For those who seek the luxury of a beachfront view without the expanse of a villa, the Beachfront Pool Suite is an epitome of intimacy and elegance. It's a testament that luxury isn't always about size; it's about experience.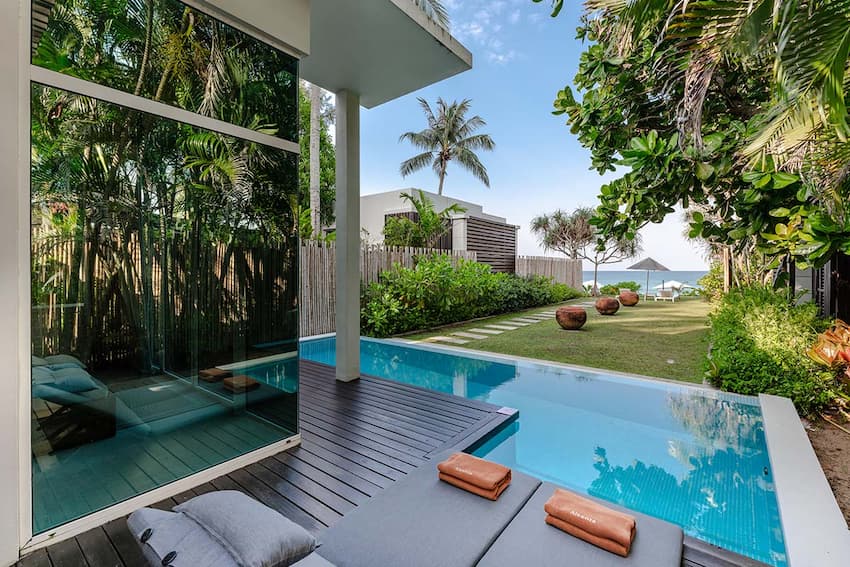 Suite Specifications:
Suite Size: A cozy yet luxurious 63-71 m2.
Bedroom: One beautifully designed space that becomes your personal cocoon.
Bathroom: One, designed for ultimate relaxation and rejuvenation.
Private Pool: A 7×3.5 meters oasis for those moments when the sea feels a tad too far.
Maximum Guests: Perfect for couples or solo travellers, accommodating up to 2 guests.
The suite's 'Outside-Living-In' design ethos comes alive with retractable glass walls, allowing guests to soak in uninterrupted views of the Andaman Sea, blurring the lines between the suite's interiors and nature's vast canvas.
Dive into the luxury of a private 7-meter-long pool, perfect for those serene swims or playful splashes.
Step out and feel the sand between your toes with a private beach terrace that brings the vastness of the beach right to your doorstep.
While the view and the private pool might steal the show, the suite has an array of amenities designed for the discerning traveller. Whether the signature Aleenta essential oil extracts or the plush Egyptian cotton sheets, the suite ensures that luxury is felt in every touch.
Ultimately, the Beachfront Pool Suite at Aleenta Phuket Resort & Spa isn't just about luxurious accommodations; it's about crafting memories, moments where the sun, sea, and luxury become one. It's a symphony of nature and human ingenuity, designed for those who believe that the best things in life come in smaller, exquisite packages.
Luxury & Style on Natai Beach
All these villas and suites are surrounded by breathtaking scenery, crystal clear sea, white sands, beautiful weather and views, nothing like anything back home, so why not escape it all today and go on a holiday you'll never forget? Aleenta Phuket Resort and Spa provides a great choice of food, drinks, cocktails, pools, sun beds, massages, spa treatments, activities, entertainment and more! Whatever you are looking for, you'll find it here.
Related Articles