The beautiful Hua Hin resort is deeply committed to existing in harmony with nature while still providing a luxurious resort experience for its guests. Recently named the Best Sustainable Hotel in Thailand, the resort already does an excellent job of reducing their carbon footprint and energy consumption in a wide variety of ways, but they are constantly looking for new and innovative methods to further reduce their impact on the environment. In addition to their comprehensive waste management, and energy and water conservation practices, they have expanded their efforts to care for the planet by offering sustainable dining through the observation of a locavore philosophy.
What is a Locavore?
The term "locavore" was coined in 2005 and pronounced the "word of the year" in 2007. Locavores are people whose diet consists primarily of locally grown food. There is no single agreed upon definition of just how "local" food must be for a locavore, but many use the standard of food which is purchased or consumed within 100 miles of where it was produced. The Aleenta resort does considerably better than that standard by using ingredients sourced within a 30 kilometer radius of the hotel. An impressive 90 percent of the ingredients used in the Aleenta's restaurants come from the resort's own organic farm and gardens.
Why Eat Locally?
The local food movement has gained popularity among numerous groups as it provides a multitude of benefits. Gourmets embrace the concept because locally produced food is fresher and tastier than food which has travelled halfway around the world before it reaches your plate. Nutritionists appreciate that food allowed to ripen naturally is healthier and more nourishing than food which was chemically ripened and kept fresh with chemical preservatives. Very little energy is required for transporting food to local consumers, and pollution is reduced when less fossil fuel is consumed in transport, which pleases the environmentalists. The local food movement is also economically beneficial for small farmers and their communities, as it creates jobs for the residents and retains within the community profits that can improve the quality of life for all its citizens.
Delicious and Nutritious
Aleenta's guests can sample the finest Thai and international cuisine created with the freshest possible organic herbs and vegetables from their own garden or from other nearby farms. The resort also raises its own chickens and grows its own mushrooms. Local fishermen provide the resort with the freshest catch of the day, and even the wine served in the resort's restaurants is produced at a local winery. The locally sourced food available at Aleenta's restaurants is often served the same day it is harvested – you can't get much fresher than that. Ingredients picked at the peak of ripeness and served almost immediately after being harvested have much better flavour and higher nutritional value than food which has been shipped over long distances. Guests will surely appreciate the delicious difference this makes to every meal served at the Aleenta eco-resort, and may be inspired to start eating locally when they return home.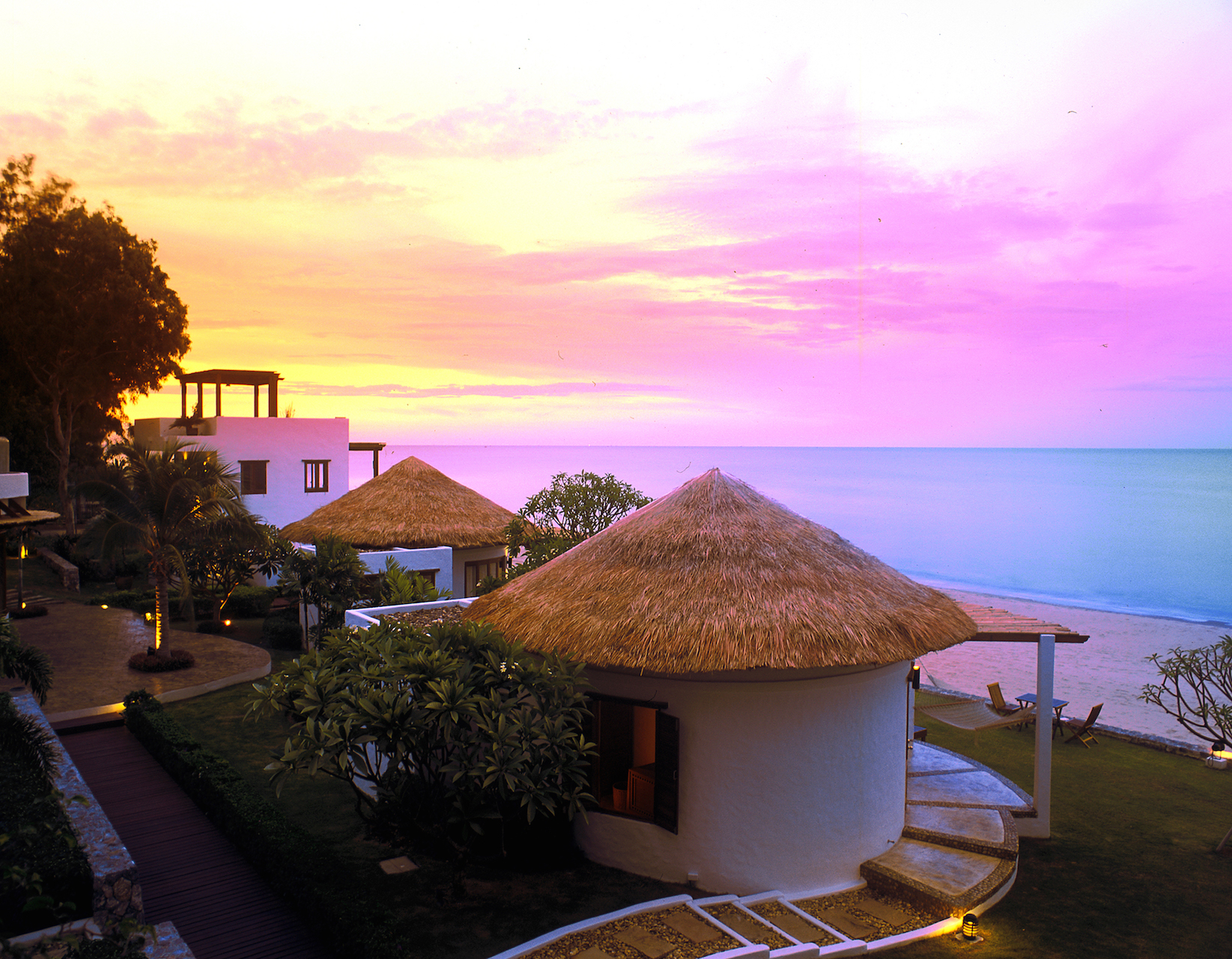 See Where Your Food Was Grown
Guests who are interested in seeing where their food was grown are cordially invited to tour the Aleenta organic farm. The resort's farm is currently growing a wide variety of vegetables, including celery, kale, tomatoes, spinach and eggplants. The beautiful herb garden contains chili, chives, coriander, lemon mint, and basil. In the near future, new fruit and vegetable crops such as cucumbers, zucchini, pumpkins, corn, dragonfruit and bananas will be added to the list. The resort is also able to arrange for tours of the beautiful mountain-ringed Hua Hin Hills Vineyard for their wine-loving guests who wish to see where the local vintages originate.
Local Food Saves Energy and Reduces Pollution
Food which remains within a short distance of where it was grown saves significant energy over food that has been shipped far away from where it was produced. Compare the typical life-cycle of crops grown on factory farms with that of food grown by local farmers for local customers. Large modern factory farms generally spray their crops with chemical pesticides and harvest them with enormous gas-guzzling machinery. The crops are then treated with chemical preservatives before being shipped long distances in trucks which consume even more fossil fuels. Additional energy is used to refrigerate these crops on their long journey, and at some point along the way to your table, many crops are artificially ripened using additional polluting and unhealthy chemicals. On the other hand, Aleenta's crops are allowed to ripen naturally without the use of chemicals. Once they've been harvested, the crops are transported to the resort's kitchens on the back of a bicycle or a tuk-tuk that runs on recycled cooking oil. Clearly, the philosophy of eating locally has much in its favour.
Carbon Free Cooking
The fresh food that arrives in Aleenta's kitchens is also prepared in ways that require minimal energy from fossil fuels. The resort's chefs are experts in molecular cooking and other carbon-free cooking techniques designed and perfected by the creative and innovative kitchen staff. The eco-resort keeps its carbon footprint to a minimum by harnessing the power of the sun. Much of the cooking and baking is done in solar ovens, and they have updated some age-old practices of burying food in clay pots on the beach and letting the heat of the sand cook the dish. The locally raised meats are even cured in solar smokehouses.
Locavores Support Small Farmers, Improve Community
Small farms had been in decline for over a century, but have seen some resurgence since the birth of the local food movement. Small farmers are more likely to use crop rotation and organic farming techniques which improve the soil instead of depleting it. People who operate small farms are an important part of every community, and they have a vested interest in keeping the earth healthy and productive. The jobs created by small farms are also an important part of the local economy. The Aleenta resort is proud to be part of its community and happy to be able to help support the small farms and wineries in the surrounding area.
An Inspiration for Us All
We are privileged to have so many wonderful and lovely places to visit on our remarkable planet, and we are also very fortunate that there are companies like Aleenta committed to protecting our beautiful environment so that many future generations will continue to be able to enjoy the beauty of our world. The innovative sustainable practices of the Aleenta eco-resort provide an excellent example for others who wish to live in balance with the natural world. Part of their mission is to educate others about the importance of living sustainably, and to demonstrate how many easy ways there are to accomplish this goal. Let us hope that many others will be inspired to follow their lead.
Related Articles
183 Moo 4, Pak Nam Pran, Pranburi, Hua Hin, 77220 Thailand