Imagine standing on an exotic beach, the dramatic rolling ocean serving as the backdrop for your dream Phuket wedding. All of your dreams are about to become true as you stand there with the love of your life in a veritable island paradise. The ocean waves lap gently at the shore, providing the most wonderful music for your ceremony. A gentle sea breeze wafts through the white gauze curtains of the wedding gazebo. Witnessed by friends and family, this is the stuff that dreams are made of.
What could be a better beginning to the start of your life together than beginning that journey with an intimate, romantic wedding resort in Phang Nga, Phuket.
This intimate and romatic Phuket resort is located on the beautiful Andaman Sea, a mere twenty minutes away from the Phuket International Airport. You can trust that choosing this location for your dream wedding is the right choice, as the resort was just awarded Thailand's Best Small Green Resort. Natai beach has been given a 5 Star status due to its exceptional cleanliness and clean water quality. Where better to start off your life together, and then experience all Thailand has to offer as an exceptional location for your honeymoon?
The Wedding
Here are 7 reasons you should consider Aleenta Phuket Resort & Spa as you begin planning your wedding day. So what can you expect of your beach wedding in exotic Thailand?
An unforgettable, unique wedding ceremony. Standing on the beach, surrounded by family and friends: what could be more special? In front of you, the ocean waves gently lap the shore; behind you, your friends and family serve as witnesses to your wedding. The air itself is exotic: the aroma of fragrant native flowers will float through the air, only adding to the atmosphere. This is a beach wedding in Thailand.
Privacy. Compared to the busy beaches in the United States or Europe, the atmosphere is totally different in Thailand. You can anticipate being the only people at your wedding, as you can have the entire resort dedicated to your ceremony if you wish. Exclusivity is very important to the staff at Aleenta, as they know it is important to you on your special day.
Extraordinary value. You will be pleasantly surprised at the amazing value you will receive as you plan your wedding with one of Aleenta's wedding planners. Professional hair dressers, florists and wedding photographers charge less than you would expect in Thailand. You will have access to the same professionals who work for major advertisers who fly in to Thailand to take advantage of the wealth of creative talent in the area.
Wedding consultation. You can contact Aleenta's wedding consultant as you gather information and plan your special event. Your consultant can answer all of your questions concerning each step of the process, such as what type of exotic flowers can be used to create your bouquet to arranging a wedding photographer. You will be able to personalize your wedding so you can create the perfect event.
Dedicated, friendly staff. The staff at Aleenta will be there to help you have an amazing day, but that's not where the service ends. Arrive early at Aleenta, so you have time to acclimate and relax: get a massage from a professional masseuse, enjoy time with friends and family before the big day arrives. The staff can arrange some amazing family bonding activities, so your family will enjoy their time in Thailand as well as experience your wedding day. How about taking the family out snorkeling, or take a walk down the beach at sunset with your bridesmaids? No matter how active (or inactive) the group wants to be, there is always something to do at the beach.
Apparel unique to the area. You don't have to wear the traditional white wedding gown and have your groom in a tuxedo in Thailand. If the more traditional wedding garb isn't quite your vibe, you have come to the right place, as this is not your ordinary wedding! You can show up for your wedding barefooted, wearing a light silk kaftan. Can you see your man in a white linen shirt and khakis? The staff at Aleenta will help you find the perfect apparel to set the scene for those amazing photographs of the two of you exchanging your wedding vows.
That summer wedding won't cost you what you might expect. Summer weddings are the best time, price-wise. Thailand's summer months, May through October, are considered the low season, which means that rates are much lower than Thailand's high season that runs from November through April.
Wedding Packages
Deciding to have your wedding ceremony in Phuket will allow you to experience all that an exotic location has to offer. Aleenta offers a variety of wedding packages to suit your every desire, and if you don't find a package that suits your every need, you can tailor your wedding so you are satisfied.
But what do the typical wedding packages include at Aleenta Phuket Resort & Spa?
The western ceremony package, for up to 50 guests, includes an altar decorated with linen and flowers, the ceremony itself, a beautiful bouquet created from local flowers, a coordinating corsage for the groom, someone to prepare the bride's hair and her makeup, the reception area (lights, sound system, flower arrangements, romantic candles), buffet-style dinner held on the soft golden sand beach, and a wedding photographer.
Want something more exotic? You can choose to have a Thailand-style wedding package instead, adding in a drum procession and flower garlands for the bride and groom.
With the amazing variety of customizable options at Aleenta, you can create the wedding of your dreams, with incredible extras to make your day special and unique for both of you.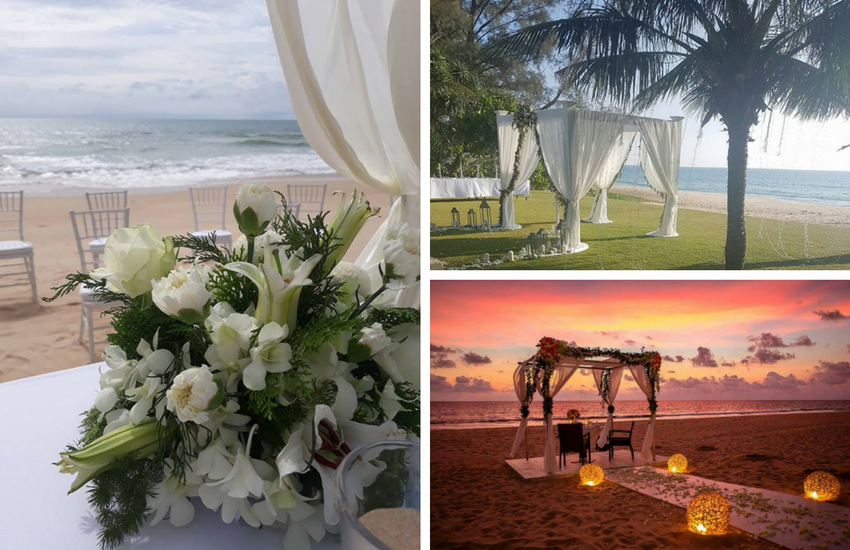 Wedding Reception
What options and venues are available for the reception?
Check out the wedding brochure for the customizable options for your reception. Fairy lights? You can have them. An incredible wedding cake? Absolutely. If you want a Thailand-style menu, there is an amazing buffet option; if you think you'd prefer a Western-style menu, well, that is available as well. Alcohol is allowed, so you can arrange for champagne, cocktails, whatever you would like.
As far as music is concerned, you can go with something classic, like a piano and violin, or you can have a local band provide the music during the reception.
But now for something extra special: you can have local Thailand-style entertainment at your wedding reception.
We are talking fire dancers….. Yes, fire dancers!
Or you can have a Thai dance performance and flying lanterns that are released at the conclusion of the wedding reception? And don't forget, Aleenta can arrange for a videographer to record your special day. You will have these once-in-a-lifetime images preserved in a video format in addition to your photographer's photos.
The Honeymoon
Since you are already in a fabulous Phang Nga, phuket, you don't have to relocate in order to enjoy your honeymoon with your new spouse. What are some of the advantages of staying at Aleenta for your honeymoon?
First, you will be able to enjoy the gorgeous surroundings in your own private villa or suite, or whatever suits the two of you. Imagine waking up to a view of the ocean in the morning? Or being able to sit outside and smell the ocean breeze while you enjoy an intimate breakfast? Or how about sharing a couple massage at the glorious spa that is on the premises?
Second, the team at Aleenta can help make arrangements for you to experience all that the area has to offer. There are caverns to explore, waterfalls to experience, kite boarding, windsurfing, exotic night life, and so much more. If you enjoy learning about new cultures, there are a number of monuments and temples to see. If you want to try something extreme, go visit the elephant preserve, where you can get up close and personal with these gentle giants. Tour a mangrove forest, or enjoy the sights and sounds as you visit a bustling local market. Tailor your honeymoon so that the two of you create memories that will be with you forever.
Third, you will not find staff anywhere else that will do whatever it takes to make you happy. The staff members at Aleenta are dedicated to make your special occasion something that goes off without a hitch, and they will work hard to help you achieve everything you have dreamed about. You will find that they are soon calling you by name: not because it is required of them, but because they want to make sure that your visit at Aleenta is personal, and to make you feel like you are part of their family. Because once you visit Aleenta, you become a part of the Aleenta family, and you will be welcomed back like a family member whenever you return.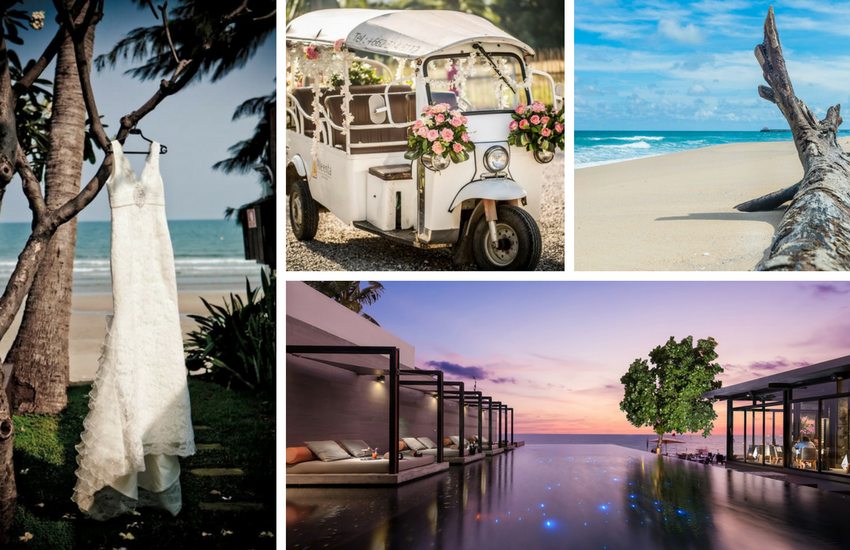 Your Wedding, Your Way
If you have been dreaming about a dream wedding ceremony on a private beach, exchanging your vows underneath the sky, with the sand underneath your feet … consider Aleenta Phuket Resort & Spa.
If you have been looking for a way to make that magical dream a reality but have found it an impossibility in your home country due to the expense and the lack of availability of what you are searching for … consider Aleenta Phuket Resort & Spa.
If you want to stretch beyond the ordinary and experience the extraordinary … consider Aleenta Phuket Resort & Spa.
If you want to have a wedding album full of photographs of you and your spouse starting off your new life together in an exotic location, sitting together on a golden sand beach, feeding bananas to elephants in a wildlife reserve, tackling wind surfing with the wind whipping your hair … consider Aleenta Phuket Resort & Spa.
If you want to personalize your wedding to make it everything you imagine, if you want your beach wedding to be done 'your way' … consider Aleenta Phuket Resort & Spa.
Aleenta Phuket Resort & Spa is your destination for the wedding that you have dreamed of, the incredible wedding reception you deserve, and the honeymoon that you will remember for the rest of your lives.
The beach wedding destination of your dreams.
Read More About Weddings
ALEENTA PHUKET RESORT & SPA
33 Moo 5, Khok Kloi,
Takua Thung, Phang Nga
82140 Thailand