Natai beach lies along the shore of Andaman Sea on the west coast of Thailand. Its coral reefs are considered some of the best preserved in the world. Just ten minutes north of Phuket, Natai is more than quiet and peaceful, you can literally walks for hours without seeing anyone. It is a ten kilometer strip of pristine beach, whose government protection ensures that it will retain its isolation from the hustle and bustle of Phuket's beaches.
Phang Nga near Phuket is accessible from many of the major airports on the Pacific Rim. Phuket International Airport HKT has become the third busiest airport in Thailand with over 15 million visitors last year. Natai Beach is a 40-minute drive north from Phuket International Airport along Thepkassatri Road, also known as Route 402. Just several kilometers north after you cross Sarasin Bridge from Phuket over to the mainland, take a take a left turn onto Route 3006. A few minutes later, you will be at the southernmost part of the beach. Route 3006 follows the beach for most of its length. The beach is only a couple minutes from the road.
Natai Beach Resort & Spa
It is not always easy to protect the environment while creating a five-start beach resort, but Aleenta has found the perfect balance. Its innovative design is a perfect marriage of modern technology and classical Thai styling.
Aleenta's suites and villas features striking and original room designs that range from spacious lofts to grand villas with five bedroom, each very different from the last. Many of their accommodations come with a private pool or a beach front view, all will give you the ultimate feeling of privacy.
While the diamond studded beaches and crystal blue waters are the perfect remedy for the tension of modern life, you will also find that Aleenta spa facilities are second to none. The Ayurah Spa & Wellness centre's professionals work to not only rejuvenate the body but also restore spiritual balance and well-being. Experience Ayurah 'Epicurean Spa' and their exclusive line of Linda Meredith skincare products and therapies. Aleenta has also developed a special yoga program to help you get back to your spiritual center.
Natai Beachfront Suites & Villas
While you come to Natai for the peace and solitude, you can still enjoy everything that southern Thailand has to offer. Experience a day trip to the destinations of your choice. The professionals at Aleenta will assist you in planning any adventure you have in mind on land or water. Aleenta offers kayaking trips to Phang Nga Bay and Phi Phi Islands where guests can explore the many limestone caves and lagoons. If you prefer to go underwater, Aleenta offer guided snorkeling and diving trips. You can chose from among the areas most popular dive spots including Shark Point and the King Cruiser ferry wreck. Finally, the area is famous for its world-class golf courses. Aleenta has made special arrangement with the Mission Hills Phuket Golf Resort which is about a half hour from the resort.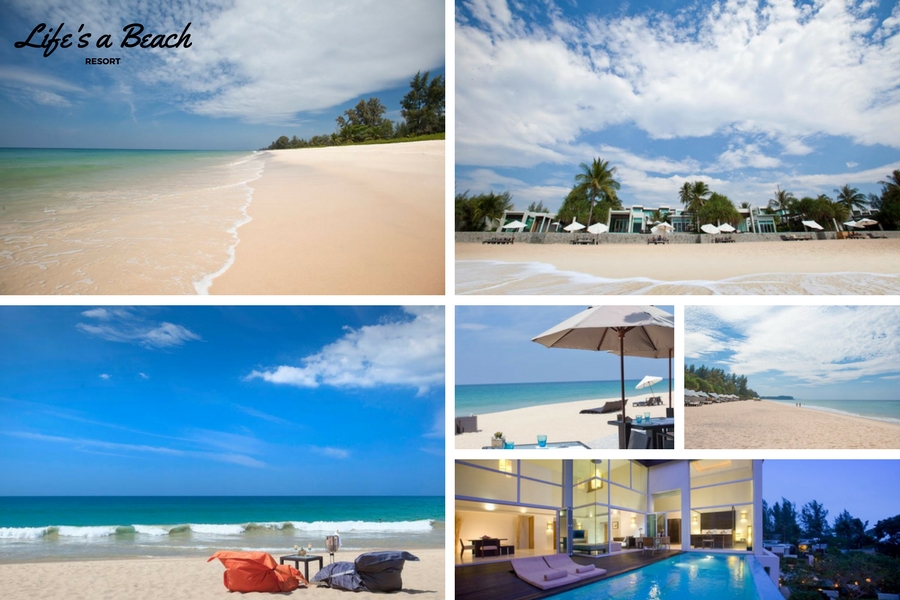 Natai Beach Weddings
Aleenta Phuket Resort prides itself on creating your wedding your way.
Quality Time with the People You Love: Given Aleenta's beauty, your guests will extend their stay, which will allow you to spend more quality time with them.
Affordable: Thailand is much more economical than other wedding destinations in the world. What is also remarkable about considering having your wedding in Thailand is that the stylists, chefs, photographers, florists, and wedding coordinators are equally as talented. This means you are getting quality professionals to help plan your wedding at a better price than your home country.
Your Honeymoon Can Be in the Same Place: Since Aleenta is also an ideal honeymoon destination, you do not have to fly elsewhere. Aleenta Resort & Spa also has many honeymoon options to choose from.
A World Class Spa is at Your Fingertips: For the Bridal Party, Aleenta Resort & Spa has several Spa packages that can make your wedding day not only special, but relaxing as well.
Natai Resort Spa
Spa services at Aleenta Phuket Spa includes:
Mind Balance: Through Yoga sessions and private consultations you will find a path for a productive and happy life.
Massage Therapy: Trained massage and body rejuvenation refers to the fine tuning and toning procedures.
Detoxification: This detoxification process is a healthy way of reducing toxins from the body and strengthening the immune system.
Hydrotherapy: The hydrotherapy sessions will eliminate wastes and help to increase the metabolic rate.
Holistic Wellness: Consultations for healthy living and Yoga practices offer a holistic path to wellness.
Aleenta Resort and Ayurah Spa is the perfect place to restore your physical and mental health while surrounding yourself with beauty and endless entertainment options. Enjoy this experience with family, friends, that special someone or just treat you.
Related Articles
ALEENTA PHUKET RESORT & SPA
33 Moo 5, Khok Kloi,
Takua Thung, Phang Nga
82140 Thailand