Ayurah Wellness Centre and Spa is a full-service sanctuary, using a holistic approach to pampering care for our guests. Our programme is four-fold. We provide:
nutritious, delicious cuisine
mind-refining practices
enjoyable exercise
blissful body treatments
Luxuriously-appointed rooms further lead guests into a state of supreme serenity. Following is an overview of our most popular offerings.
OXYGEN BAR
Oxygen therapy is a treatment providing extra oxygen, an element your body needs for optimal performance. It strengthens the immune system, improves brain function, and energises the body. It is effective in alleviating depression, migraine, and sleeping difficulty. Oxygen therapy is especially helpful for eliminating aches and pains, heat exhaustion, and jet lag. Often, discomfort is relieved with just 10 minutes of therapy.
Tip – Begin your stay at our Phuket Resort with oxygen therapy to offset jet lag and revitalise your system.
MUSIC THERAPY
Music magically relieves muscle tension, pain, and depression. We offer music therapy in sessions of 10, 20, and 30 minutes. Make your choice of music from our soothing library. Then close your eyes, and float into a space of ease and comfort.
Tip – Take advantage of music therapy any time you need a brief reprieve.
CHROMOTHERAPY
Chromotherapy is a holistic therapy employing the use of colour. Every colour of the light spectrum has a specific effect on the body, mind, and emotions. During a chromotherapy session, your body is bathed in light frequencies tailored to your needs.
Red – stimulates red blood cell production and increases circulation. Red relieves stiffness and energises the body and mind.
Orange – has antibacterial effects. Orange eases digestive discomfort and spurs enthusiasm.
Yellow – has decongestant, cleansing, and strengthening properties. Yellow prompts joy and optimism.
Green – reduces blood pressure. Green confers an overall healing effect, strengthening vision and relieving stress.
Blue – releases calming brain chemicals. Blue soothes the mind and relaxes the body.
Indigo – alleviates skin disorders. Indigo promotes harmony and balance.
Violet – suppresses appetite. Violet encourages creativity, peace, and sleep.
Tip – Tell us the effect you'd like, and we'll provide the perfect colour therapy to promote it.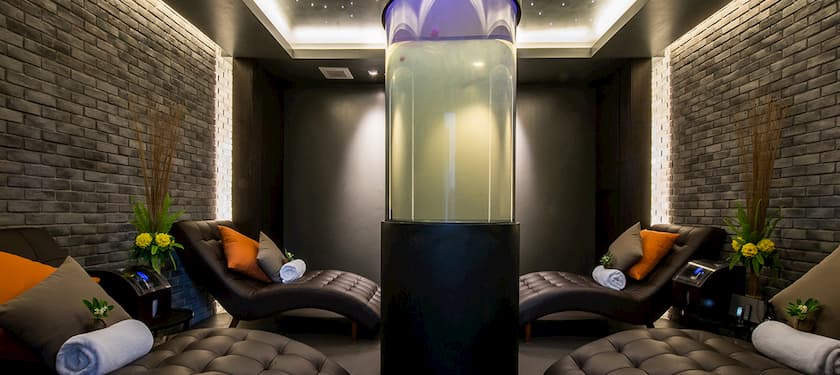 HIMALAYAN SALT GLOW – BODY POLISH
Our refined Himalayan salt scrub, rich in minerals, exfoliates and rejuvenates, revealing radiant skin.
VICHY RAIN MIST SHOWER
Seven adjustable shower jets create a soothing, full-body water massage. You control the pattern, placement, and temperature of the water for optimal comfort. Our rain mist shower will leave you feeling water-kissed and refreshed.
Tip – Rinse your cares away with our rain mist shower.
FACIAL ELIXIR
Our facials employ oxygen-enhanced treatments for anti-aging, anti-acne, and anti-pigmentation effects. We offer four types of facials.
Perfect Balance – a deep-cleansing facial for all skin types, leaving skin smooth and fresh.
Re-Vitalized Complex – for sensitive and dry skin. This is a hydrating mask, providing skin nourishment.
Lift and Glow – anti-aging, for dull, wrinkled skin. Your face will be visibly brighter, with a vibrant glow.
Home Intense Klement – for men, this treatment revitalises skin, reducing fine lines and wrinkles.
Tip – Bring us your problem skin, and leave looking luminous!
GROOMING
Our pampering spa treatments help you look your best.
Waxing
Hair Braiding With Beads
Paraffin Treatment for Hands and Feet
Manicure
Nail Art
Nail Gel Extensions
Pedicure
Make-Up Session – Casual, Special, and Wedding
Tip – Treat yourself to some beauty-enhancing TLC.
MASSAGE THERAPY
Massage therapy promotes healing by increasing circulation, lymphatic flow, and muscle tone. It also improves skin texture and relieves stress. Our spa offers five types of healing massage:
Ayurah Crown Chakra Massage – clears the mind and relieves tension with relaxing strokes to the head, neck, and shoulders.
Back Relief Massage – relieves muscle tension, knots, and stiffness from the neck through the low back.
Foot Reflexology – massage to zones on the foot, linked to specific areas and organs of the body. Foot reflexology is an effective treatment for numerous conditions, including anxiety, back pain, migraine, poor digestion, insomnia, and respiratory disorders. Foot reflexology confers a state of deep relaxation.
Lymphatic Drainage Massage – decreases water retention and cellulite.
Senses of Ayurah Massage – massage to key acupressure points, providing deep relaxation and renewal.
Tip – Enjoy a different type of massage for each day of your stay.
AYURAH HOLISTIC SIGNATURE PACKAGE
Ayurah Jet Lag Recovery
This package combines many of the above treatments for full-body pampering.
Oxygen Bar and Music Therapy
Rejuvenate Salt Glow Body Polish
Lymphatic Drainage Massage
Ayurah Crown Chakra Massage
Rejuvenate Chromotherapy Healing Bath
Tip – Get your stay off to a refreshing start with our Jet Lag Recovery Package.
YOGA
Personalised yoga classes are tailored to your ability and needs. Our skilled Yoga Masters guide you through gentle postures and synchronised breathing. Receive the benefits of a relaxed body and mind with three types of yoga.
Hatha Yoga – Gentle, progressive poses focus on awareness and alignment, promoting serenity and stamina.
Ayurah Yoga – Breathing, stretching, movement, and meditation yield total relaxation.
Vinyasa Yoga – A focus on flowing poses, synchronised with the breath, creates graceful, dance-like movement.
Tip – Take a daily yoga class to increase vitality and inner peace.
NO ORDINARY SPA EXPERIENCE!
At Ayurah Spa, several elements weave together into a tapestry of luxury.
First-class care. Few spas feature an oxygen bar, chromotherapy, and children's treatments.
State-of-the-art technology. Examples are our rain mist shower, facial air brush, and healing baths.
Scientifically-backed techniques. The benefits of the holistic therapies we employ are well-documented in medical journals.
Deluxe spa decor. Our massage beds, loungers, and chairs are designed with your ultimate comfort in mind.
High-quality products. All our treatments, including plant oils, floral mists, salt polishes, aloe powders, and herbal wraps are sourced from natural ingredients.
An a la carte menu, enabling you to make selective choices. Pick and choose treatments based on your needs.
Value-priced packages. Our "Mind Treasured" and "Memories of Ayurah" packages confer wellness at low cost.
Professional staff, including trained spa therapists and esteemed yoga teachers. Master therapists are highly skilled in holistic healing.
These are among the reasons why we've been honoured as the "Best Overseas Hotel" by China Best Design Hotel. It's also why we've been nominated for the 2015 Spa Award by World Luxury Hotel Awards. This award recognises luxury hotels for first-class facilities and superior service.
Welcome to Ayurah Wellness Centre and Spa, where we bring out the best in you!
Related Articles
AYURAH SPA & WELLNESS CENTRE