Women traveling by themselves has risen dramatically in the past few years, thanks largely in part to an increasing number of destinations deemed safe and welcoming for female solo travellers. With the prevalence of WiFi and the ability to stay connected with family members and friends via FaceTime or WhatsApp while abroad, women are able to embark on exciting solo-adventures while still maintaining a sense of safety, and without the restrictions and potential clashes that go hand-and-hand with traveling with a companion.
Thailand is an exceptionally safe place for women traveling alone, making it an ideal destination for independent and individualistic female solo travellers looking for adventure and an authentic travel experience but also wishing to feel secure. Aleenta Resorts offers a package at both of their picturesque locations in Phuket and Hua Hin created specifically for female solo travellers venturing to Thailand. Aleenta offers unparalleled luxury at both its Phuket and Hua Hin locations, and the Resort's commitment to ensuring its guests enjoy a vacation that is both relaxing and enthralling is reflected in the Deluxe Doyenne Package — Solo Female Traveller Delights. The Deluxe Doyenne Package is unique in that it caters to women traveling to Thailand by themselves, and provides several activities designed with the female solo traveller in mind, such as yoga, Thai boxing, or a visit to the Resort's organic farm, interspersed over a 4-Day-3-Night stay.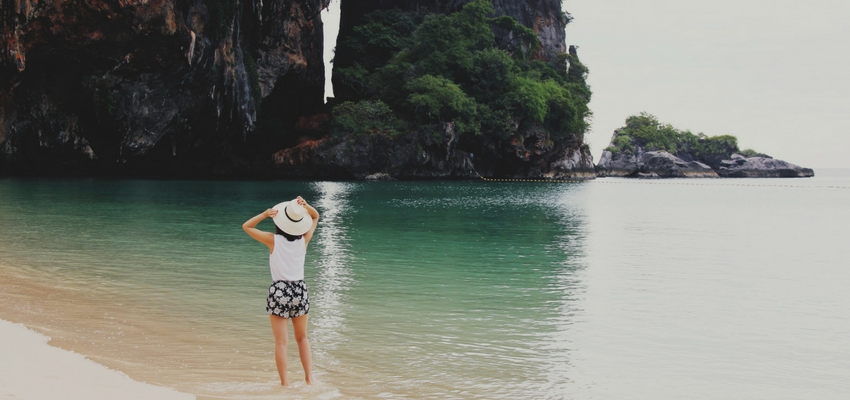 Solo Female Travel Package
Day 1 of the Deluxe Doyenne Package at both Aleenta's Phuket and Hua Hin locations foreshadows the experience that is to come. Once checked in, guests will have suitable time to relax and decompress after a long flight in a magnificent private suite, complete with extraordinary ocean views, plush beds, special oil burners to create a relaxing and tranquil ambiance and will be provided with refreshing drinks and snacks as they unwind.
Days 2 and 3 of the Doyenne Package differ depending on the resort the traveller has selected. Aleenta's Phuket resort is on the west coast of Thailand, while the Hua Hin resort is south of Bangkok and overlooks the Gulf of Thailand. Both resorts offer exceptional accommodations with magnificent sea-side views, and each offers different activities for the Doyenne Package, allowing female solo travellers the option to choose the location and activities that best suits their interests.
The Phuket resort is located along the stunning and tranquil Natai Beach, which adjoins the Andaman Ocean on Thailand's west coast. Boasting some of the most pristine and best preserved coral reefs in the world, Natai Beach is a serene enclave from bustling and booming Phuket. Despite its proximity to Phuket, Natai Beach is relatively unknown and an excellent destination for a female solo traveller looking to spend time near the ocean, but wishing to avoid more crowded areas. Along with boating and golfing, Aleenta Phuket offers several resort activities such as beach yoga and pilates, as well as tours and boat trips to nearby islands, night markers, and temples, which excellently complement the activities already included with the Deluxe Doyenne Package. Travellers who decide to visit the Phuket resort will be able to learn massage, yoga or Thai Boxing on Day 3 of their stay at Aleenta.
The Aleenta Hua Hin Resort & Spa in Pranburi is situated about two and half hours south of Bangkok, and is home to twenty five suites each steps away from the white sand beaches of the Gulf of Thailand. The Deluxe Doyenne Package at Hua Hin includes a visit to the Resort's organic farm and a demonstration of the herbs cultivated there. Travellers leave with a newfound knowledge of the uses and benefits of herbs, making the experience entertaining, authentic and practical. Herbs grown in the organic farm are used in the food prepared in the restaurant at Aleenta's Hua Hin location, which makes Aleenta a farm-to-table establishment, which will certainly appeal to female solo travellers interested in the culinary arts, herbalism or community-supported agriculture.
Both the Deluxe Doyenne Packages at the Phuket and Hua Hin resort locations include a special class called The Art of Hospitality, in which female solo travellers receive instruction in how to host modern gatherings. The class includes instruction in floral arrangement from Aleenta's in-house florists and a lesson in how to make canapes. The class is a truly unique experience in that it imparts travellers with skills they can later put to use in their home countries. The skills learned in The Art of Hospitality will be of use to travellers for many years to come, and serve as a pleasant and evocative reminder of their time spent in Thailand at Aleenta.

For female solo travellers looking for an authentic adventure in Thailand, Aleenta Resorts & Spa's Deluxe Doyenne Package offers a unique and veritable Thai experience travellers will remember fondly for years to come.
Related Articles:
ALEENTA PHUKET RESORT & SPA
33 Moo 5, Khok Kloi,
Takua Thung, Phang Nga
82140 Thailand