Phang Nga is Thailand's princess province. Ruling the southwest coast, her beauty is enchanting. Waterfalls and wilderness crown her lofty peaks. The Andaman Sea pays homage, gently bowing on her shore. Prostate at her feet is her aquamarine bay. Bright coral lies beneath, colourful royal jewels. Limestone formations rise in adoration. Water whispers her love.
Welcome to a tour of Phang Nga and Phuket
Phang Nga and Phukets Climate
Phang Nga has three seasons. The "cool" season is from November through early February. This is the best time of year to visit. Azure skies prevail, with very little rainfall. Temperatures are comfortably warm, averaging 30degC (86degF). If you're looking for a winter holiday, this is the ideal time.
The hot season is from mid-February to early May. Days are sunny, and the weather is dry. The temperatures at this time of year are warmest, averaging 34degC (93degF).
The rainy season has monsoon winds that sweep across the land. Even at this time, the sun is a regular guest. The monsoons begin in April or May, with the most rainfall occurring in September and October. May, June, and July are the best months to come for a summer holiday. Average daytime temperature is 33degC (91degF).
Attractions in Phang Nga & Phuket
Ao Phang Nga National Park, Kayak Adventure
This is a guided kayak tour of several islands, lagoons, and caves. The tour begins at 11am in the pristine water of Phang Nga Bay. From your kayak, you'll have views of the Hong and Panak islands. Back on the cruise ship, you'll enjoy a luscious buffet lunch. The cruise continues past the famous James Bond Island. Next is a stop on a serene shore to bask on the beach. The cruise ship then carries you through paradise and back to our resort. The entire trip encompasses 6.5 hours.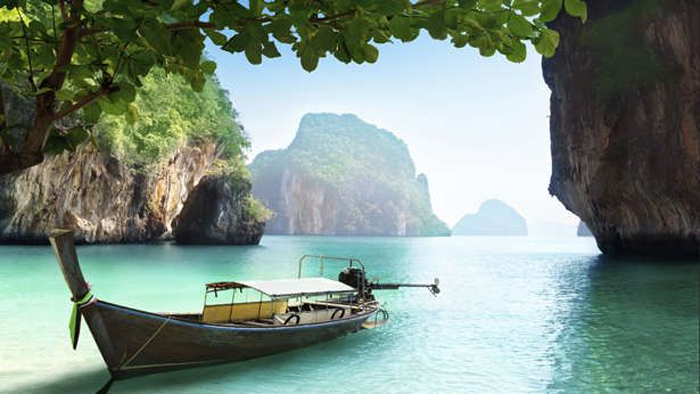 Phuket Old City, Half Day Tour
This tour reveals the captivating history of Old Phuket. It begins at 8am with a pick-up from our resort.
The first stop is a fascinating visit to a rubber plantation. There, you'll see how rubber is harvested and processed. Next on the agenda is Tong Sai National Park. You'll become acquainted with the gibbon, a small, sweet monkey native to Thailand. The park is a sanctuary for this endangered animal.
After a break of Thai coffee and treats, you'll travel to the Thalang National Museum. With five exhibit halls, the museum brings Phuket's history to life, using touch-screen technology. You'll learn about the legend of two heroines who sidelined an 18th-century Burmese invasion. Their military strategy was persuading the island's women to dress like men! In the Main Hall, you'll be greeted by a large statue of the Hindu god, Vishnu. This treasure was found in forest overgrowth in the early 1900's and dates back to the 9th century. You'll see vintage photos of the island's first inhabitants. You'll be amused by exhibits of an old-time coffee shop and general store.
From the museum, you'll travel to a cashew nut factory. The cashew nut is native to Phuket, and the process of harvest to market is an exacting one. You'll see how a cashew is extracted from its shell, baked at a specific temperature, and roasted just right. You'll get a taste of creamy nut milk, and a chance to buy cashews in a variety of flavors.
Last on the tour is a visit to Wat Prathong, one of the oldest Buddhist temples in Phuket.
The entire tour takes 4-5 hours and concludes at approximately 1pm, with transport back to our resort.
Phuket Thai Cookery Schools
Situated on beautiful Siray Beach, the Phuket Thai Cookery School offers a delightful culinary experience. The school offers daily classes from 8am to 3pm, except Wednesday, when they are closed. Each class begins with an introduction to authentic Thai cooking by expert chefs. Then you're taken on a market tour, with a lesson on local ingredients. Back in the spacious and immaculate kitchen, you'll have your class while enjoying panoramic views of the Andaman Sea and Siray Beach. After class, you can relax on their wooden sundeck, or stroll the sand.
On Monday, Thursday, and Sunday, the class is on "Basic Carving and Cooking." Tuesday, Friday, and Saturday, the menu includes "Making a Curry Paste and Cooking." Lessons are taught by congenial, English-speaking instructors. Each student has their own individual cooking station. Personalized attention is provided. Once the meal is prepared, you'll enjoy a seaside view as you relish your creation. The class includes free transportation to and from our resort.
Note: The school does not offer online payment. Their policy is to pay in person on the day of your class. A statement has been posted on their website that if a travel service requests payment by Western Union or Money Gram, the operator is fraudulent.
James Bond and Beyond Tour
This spectacular tour is led by both an English-speaking guide and a foreign host. It's a canoe exploration of the striking limestone cliffs in Phang Nga Bay. The most famous of these is the needle-shaped rock featured in the James Bond movie, "The Man With the Golden Gun."
The tour begins with a pick-up at 8:30am from our resort in an air-conditioned mini-bus. At 10am, you depart from the tour office in a speed boat. You'll breeze by the stunning Ko Tapu Rock, made famous by the movie.
Next begins a canoe exploration of the Ice Cream Cave, with its fascinating stalactites. These are icicle-like structures formed of calcium salts. From there, you'll proceed to the Mangrove Cave and its surrounding swamp.
You'll have a delicious Thai lunch at Panyee Village, followed by a tour of this "floating village." Hundreds of houses, huts, and restaurants are built on stilts over the Andaman Sea. The village also includes a school, health center, souvenir shops, and a mosque.
After the village tour, you'll enjoy snorkeling and a relaxing swim.
At 5:30 pm, you arrive back at the tour office, for transport to our resort. The entire trip takes 9 hours. Included in the tour price are beverages, tropical fruit, lunch, snorkeling equipment, flashlight, helmet, and tour insurance.

Note: Panyee Village is a Muslim community. Out of respect for the Muslim culture, it is recommended that women not wear short skirts or shorts on this part of the tour. Wearing clothing that exposes too much skin is offensive to residents, which can put a damper on your communication with them.
Sea Dragon Dive Center
This is a PADI 5-Star Dive Centre. It is a member of the Professional Association of Diving Instructors (PADI), the world's leading scuba diver training organization. The Centre offers five diving and snorkeling trips to the Similan and Surin Islands of the Andaman Sea. They also operate local day trips, with your choice of exploring a local reef, cargo wreck, or tin mining wreck.
The owners are friendly and accommodating, and all instructors give personalized attention. Equipment is purchased new and serviced regularly. Each customer is provided with a dive computer for added safety. Multiple languages are spoken, including English, Italian, French, German, Swedish, Norwegian, Dutch, Finnish, and Thai. Prices include free round-trip transportation. For further information on day trips, go to: http://www.seadragondivecenter.com/daytrips.htm.
Note: The Centre requires the completion of a medical statement, confirming you are fit for diving. If a "Yes" answer is given to any of the questions on the form, you must obtain medical clearance from a doctor. Statements from local Phang Nga doctors are not accepted. Prior to your trip, you should visit your personal physician for a signed statement of medical clearance. Your doctor's form should be dated within 6 months of your planned course.
The Centre provides a sample form in English, which you can print and use. For access to this form, go to: http://www.seadragondivecenter.com/English-medical-statement.pdf
Island Hopping in Phang Nga, Phuket
Phang Nga Bay is the perfect place for nature lovers to explore. This region is known for its sheer limestone mountain formations that extend vertically out of the pristine emerald-green water. James Bond Island is one of the most popular sites to see in this bay.
Tachai Island, also called Virgin Island, is a pristine and uninhabited island that is located 135 km northwest of Phuket. It is known as a great place to see untouched marine life, which is why it is also considered one of the top diving and snorkelling locations in all of Thailand.
On Koh Rok Nai, visitors truly value the island's captivating waterfall and the exclusive dive area. Brilliant white-sand beaches line the coastline and expansive coral reefs can be easily seen beneath the clear water.
Koh Panyee is a small island that is characterized by its huge vertical limestone cliffs. There is also a small village with about 1,485 people that has been artfully built over the top of the water.
Phi Phi Islands make up a beautiful archipelago that attracts many visitors from Phuket. The Phi Phi Islands are located about 40 kilometres southeast of Phuket and are comprised of multiple distinctive islands.
The Similan Islands can be found just 84 kilometres northwest of Phuket. These islands are known for their unique rock formations that are hidden by thick jungles and vivid vegetation.
Shopping Tips
Before you set off on your shopping adventures through Phuket's teeming marketplaces, the following seven tips offer a shopping strategy sure to enhance your experience:
Feel free to bargain with vendors in markets.
Typically, you can save between 10-percent and 40-percent of the price of goods just by holding your ground and negotiating.
Your mum was right: a smile will get you a better bargain any day of the week, so practice that grin now.
Your market-bought goods may not be eligible for the Kingdom's Value Added Tax (VAT) refunds when purchased at small stalls.
Check regulations associated with this rebate before going to Phuket. Don't get into taxis operated by drivers promising to take you to the best shopping venues in Thailand. Chances are good they'll be shuttling you to some obscure, off-the-beaten-path stall run by their auntie.
Think twice before purchasing antiquities. Some of these objects–particularly those bearing images of Buddha and other deities–may require government approval to remove them from the country.
Know your gemstones before buying jewelry to avoid purchasing fakes. On the other hand, if you want to impress folks back home with a huge rock, be mindful of the risk you take to retain your reputation for looking posh!
Why take parcels on the plane and linger in customs when you can ship everything home? The main post office on Montri Road in Phuket City–or PostNet stations–can be life savers. The main post office offers parcel wrap service, so if you'd like to know how it feels to come home looking like a traveler, not a Sherpa, avail yourself of this service.
If you're only in Phuket for a short period of time, you can still cram as many hours as you like into the exploration of local markets that cover over 500 square km, so bring at least one pair of sturdy, comfortable shoes for your personal shopping adventure. Why local markets? Because you'll find the variety, unique crafts and plenty of local cuisine you seek at popular locations like Patong near Jungceylon or along the back of Nanai Road.
Your Phang Nga, Phuket Travel Guide
What to Pack for your Holiday
personal medication – if you are allergic to bee stings, you are likely also allergic to jellyfish stings. Therefore, you should bring your own EpiPen(r) (a self-injectable dose of Epinephrine).
personal hygiene items – soap, shampoo, and insect repellent.
sunscreen or sunblock (SPF 15 or greater). Zinc sunblock is recommended for sensitive skin.
lip balm – preferably a combination protector/sunblock/moisturizer.
hats – preferably two, which are lightweight and light-colored.
sunglasses with a safety strap.
small, waterproof flashlight.
water shoes.
a lightweight, light-colored, long-sleeved shirt for protection against the sun, especially during mid-day.
a waterproof camera. If your camera is not waterproof, bring a pre-tested watertight container. Wrap your camera in a hand towel before placing it in your container. Also bring extra memory cards and batteries.
binoculars.
long shorts. As mentioned above, being scantily-dressed is offensive to Muslim people. For a week-long stay, you don't need much clothing. Sufficient is swimming attire, and a couple of shirts, shorts, and slacks.
Health
Thailand does not require any specific immunizations. However, it is recommended that you consider vaccinations for tetanus and diphtheria, typhoid, yellow fever, cholera, and gamma globulin. Obtain your physician's advice regarding inoculations.
Resorts in Phang Nga Phuket
Two amazing beach resorts situated on the pristine Natai beach in Phang Nga, Phuket
Aleenta Phuket Resort & Spa
The beauty of our Phang Nga Resort will take your breath away! Our Ocean View Lofts have a unique 2-floor design. High ceilings and glass walls give a sense of spaciousness. Pool Suites are bungalows directly on the beach. Each is complete with a private jacuzzi and terrace. Pool Villas are within steps of the beach.
This romantic setting features a bedroom, living room, terrace, and sundeck. Beachfront Suites accommodate a large group, with 3 private quarters that share a pool, lounge, dining room, and kitchen. Pool Residences are large, with a separate dining and living room, jacuzzi, and sundeck.
We offer both 1 and 2 bedroom residences, with the latter including a kitchen. Our Beachfront Villas feature 3 bedrooms, a modern kitchen, and a large dining and living area. All the above accommodations include a private swimming pool with stunning views of the sea.
Our Grand Villa Natai has 3 bedrooms, 2 swimming pools, a kitchen, and large living room. A home theatre system provides access to movies-on-demand. Its indoor/outdoor sound system can be controlled from any room. You'll also have your own private chef, 24-hour butler, and chauffeur.
The Grand Villa Satis is a 4-bedroom complex. The quarters span 2 floors. In addition to a fully-equipped, modern kitchen, this villa has an extensive outdoor entertainment area. The large deck holds loungers and umbrellas. A spacious pavilion provides a serene place to relax. A vast lawn invites sports and games. The Satis also features a private chef, 24-hour butler, and chauffeur.
Phang Nga, Phuket Welcomes You
Princess Phang Nga opens her loving arms to you. With our resorts as your private getaway, your trip will be a dream come true.
Related Articles
ALEENTA PHUKET RESORT & SPA
33 Moo 5, Khok Kloi,
Takua Thung, Phang Nga
82140 Thailand