At at this time of year, Australians have two options:
a) tough it out in Australia until spring rolls around, or
b) you can fend off the winter doldrums by chasing the sun to Hua Hin in Thailand.
A region that where long-established local shops and restaurants share space with sumptuous luxury getaways, Hua Hin is a charming resort town in the northern part of the Malay Peninsula. Only 200km south of Bangkok, Hua Hin is known for its quaint local vibe, eco-friendly resorts, cultural attractions, golf courses, water sports, and resort spas.
A longtime favorite of Thailand's elite class, back in the early 1900s, King Prajadhipok — who was also known as Rama VII — built a summer palace in the area, which was eventually named Klai Kang Wan, meaning "far from worries." Over the past several decades, since Prajadhipok's passing, subsequent monarchs have also enjoyed the residence.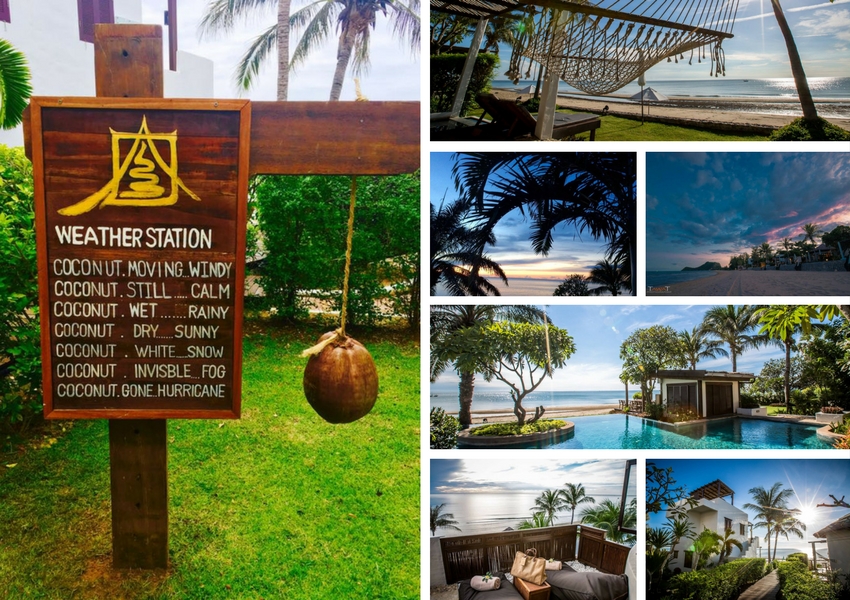 Winter Sun In Hua Hin
A thriving holiday destination for Australians looking to escape the winter malaise, not only is Hua Hin home to some of the world's most beautiful beaches, but it's also centrally located to many regional attractions.
Rajabhakti Park: A monarchical veneration commissioned by the Royal Thai Army, Rajabhakti Park is an historical square featuring giant bronze statutes of seven influential Thai kings spanning from the Sukhothai period to the current house of Chakri.
Hua Hin Railway Station: A former royal pavilion, Hua Hin's railway station is considered to be the most beautiful in Thailand. Painstakingly maintained, it is worth the trip to see, as the building represents a pristine example of classic Thai architecture.
Takiap Hill: Nestled 4km away from Hua Hin, Takiap Hill is home to stunning temples and photo-finish views of the village below. Fai Hill, which is about 3km from Hua Hin, has a lovely public park at its peak.
Pa La-u Waterfall: A short 60km drive from Hua Hin is Pa La-u. A picturesque, eleven-tier waterfall, surrounded by an evergreen forest, the area is teeming with birds and butterflies. Don't forget to bring a camera!
Wat Huay Mongkol: The former home of revered monk Luang Pu Thuat, Wat Huay Mongkol is now home to Thailand's largest statute of the spiritual leader, set in a park-like venue.
Plearnwan: Do you like to shop? Are you environmentally conscious? If you answered yes to both of those questions, then you'll probably love Plearnwan, an eco-themed, open-air market.
Hua Hin is also a world-class golf destination, boasting several tournament-level courses. Are you a fan of water sports? Thanks to the bay's shallow waters, Pranburi is ideal for kite boarding and other nautical activities.
Not the sporting type? Don't worry! Several touring companies run sight-seeing boats out of Hua Hin. Are you a jazz fan? If so, heading to Hua Hin is a must in June, the month the region hosts the Hualtin Jazz Festival.
Pranburi Beach: White Sands and Turquoise Waters
Translated it means "river mouth town," Pranburi is a picturesque region, a quick 30km south of Hua Hin, connected to both the River Pran and Gulf of Thailand. Daily, in Pranburi, guests wakeup to flawless white sand beaches that give way to breathtaking turquoise waters. In fact, when you conjure a picture of paradise in your mind, you may not realize it, but you're picturing Pranburi.
Where To Stay In Pranburi, Hua Hin
If you're escaping Australia's winter and chasing the sun down to Thailand, wouldn't it be nice if your "home away from home" rivaled paradise? That's where our Hua Hin Resort & Spa comes in.
Perfectly situated on the Pak Nam Pran Bay, the boutique luxury beach resort features twenty-five private and spacious residences, most with their own pools and beach access.
Part of what is so special about the Aleenta is that it is able to meet — and often surpass — the expectations of guests with varying needs and wants. Are you bringing the kids? If so, then you'll stay in the Frangipani section of the resort, where children of all ages, and their parents, are welcome.
Did you just grasp your pearls at the thought of having to spend your holiday, in paradise, next to a family of six? We understand your trepidation. But, never fear! The Aleenta also has an adults-only wing.
Flying To Thailand
From Australia, getting to Thailand is easy, as several airlines offer daily flights between the Antipodes and Malayan Peninsula. For example, Air Asia has two daily flights from Sydney — one in the late morning and one at night. Jetstar also operates regular flights from Sydney, Australia to Thailand that typically leave in the afternoon.
Are you taking off from Brisbane? Quantas, Jetstar, Emirates, and Singapore Airlines all have flights that typically depart in the afternoon.
You deserve it. A holiday in Thailand to escape Australia's winter is exactly what you need. And the Aleenta is the perfect place to stay, in the idyllic region of Hua Hin.
Related Articles
Aleenta Hua Hin Resort & SPA
183 Moo 4, Pak Nam Pran,
Pranburi, Hua Hin,
77220 Thailand
T: +66 32-618-333